Covering the Latest Harm Reduction Conference in San Diego
"Christian, bring Malcolm up," said the new leader of the Harm Reduction movement. Monique Tulla was taking the reins of the organization in front of 1,200 harm reduction radicals. I was crying my makeup.
(Mental note: Do not wear makeup to the Harm Reduction Conference.)
Embracing the Message
Christian, Monique's son, brought up her little grandson. He's maybe eight. She held him and we all cried. This is the face of the Harm Reduction movement: young black men whose mothers have to talk to them about how not to get shot by the police for playing with your toys.
Monique told the story of her father, Johnny Dollar, who spent his life addicted to drugs, in and out of prison. The system didn't just fail him; the system destroyed him. She told us to say the names of the loved ones we've lost. The room was dead silent except the sound of 1,200 people saying the names of those they'd lost to the prison industrial complex, to the drug war, to the violence against women and people of color and trans folks – all of us solemn, some of us sobbing.
"We are standing in the blood of our friends and family," said Asha Bandele of the Drug Policy Alliance as she took over from Monique to open our conference, the 11th Harm Reduction Coalition Conference, with a panel of women of color speaking on the topic "Harm Reduction that Harms the Most Harmed."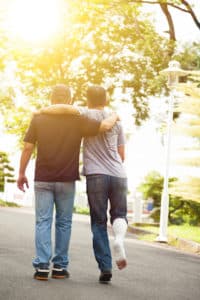 Crystal Lee, an enrolled member of the Navajo Tribe and founder of United Natives, spoke about the need to fight for justice for "our people who lost their culture and language."
"You need to acknowledge the past in order to heal the future," she said while talking about how the Native American culture had been almost erased.
Tanagra Maria Melgarejo Pulido, adjunct instructor at Universidad Tel Turabo and Permanent Housing Coordinator at Proyecto Matria in San Juan, Puerto Rico, spoke of the dangers of austerity measures as the island attempts to solve its debt crisis. She spoke of how services are being cut, and how rights are being ignored.
Deborah Smalls, Public Health Fellow at Johns Hopkins University and founder of Break the Chains, spoke of how the Drug War is enacting the rituals of slavery. "Our country's addiction is to the rituals of enslavement," she said, "White folks just don't realize they're a slave to the system.
"Black trans women who cannot pass are the single most criminalized people on this planet," she said. She told the heart breaking story of a Puerto Rican trans woman who was forced to stay in the men's section in prison. The prisoners cooked their own food in turns, but when she cooked, the men would not eat her food.
The highlight was when Black Lives Matter co-founder Patrisse Cullors, took the stage and led us in the Black Lives Matter chant to close the meeting.
 
It is our duty to fight for our freedom.
It is our duty to win.
We must love and support each other and support each other.
We have nothing to lose but our chains.
~Assata Shakur
A Very Different Conference
This was a far cry from the calm, clinical world of the classes I'm taking for my PhD program. We cried and hugged each other, strangers from around the country, as we left the plenary hall. I'd been told that the Harm Reduction Conference would be a life changing experience, and as I met friends whom I'd never met in person from all around the country, I knew it was true. In workshops and panels, we talked about the way that our friends, our loved ones, and our clients have had their lives destroyed by the unjust and ineffective Drug War.
The two quotes that stand out as the meaning of this Harm Reduction happened so fast that I didn't catch to whom they should be attributed, but I think they are worth repeating:
 
"You bring your whole, beautiful, honest, truthful self and you will be welcomed with love!"
 
"You never going in quiet and you're never going in alone. You kick the door open and you bring the whole family."
 
We are unified. We will never break.

Images Courtesy of iStock
Thank you for your feedback.
American Addiction Centers (AAC) is committed to delivering original, truthful, accurate, unbiased, and medically current information. We strive to create content that is clear, concise, and easy to understand.
While we are unable to respond to your feedback directly, we'll use this information to improve our online help.