What Every Parent Needs to Know About Teen Rehab
Gavin's family knows he needs help. Gavin knows he needs help. At 16, he is on a destructive path of addiction that will soon lead to overdose and death if he doesn't change direction – fast. But the thought of rehab is frightening – to both Gavin and his parents.
What goes on in there? What will happen to him? Is it even worth the time, effort, and money?
These are common questions among parents and teenagers. The thought of your child going to rehab can be intimidating, especially for teens. Knowing what to expect and how it can benefit your teen can help. Here's the scoop…
What Goes on in There?
Each treatment center may vary on the details, but teens can generally expect the following activities and therapies while in rehab:
Daily therapy sessions
Consistent medical check-ups
Academic work
Regular meals and snacks
Adequate exercise
Supervised free time with peers also in recovery
A strict routine and structure (possibly with tiered levels, with increasing amounts of freedom based on success)
What Are Some Benefits of Teen Rehab?
A teen recovery program can provide multiple benefits to teens and their families. A few list-toppers include: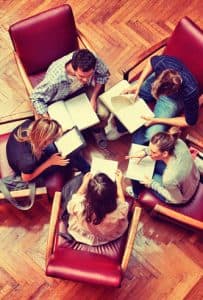 New environment: When a teen enters rehab, they enter a fresh environment. They are removed from the normal pressures of their lives, including their usual triggers to use drugs. They can focus solely on their recovery. The time away gives them a fresh start, fresh perspective and fresh opportunities.
Breathing room: When a teen is struggling with addiction, the entire family is affected. When the teen enters rehab, it gives the entire family a much-needed break. The daily storm of life quiets. Parents can step back and take a deep breath. The physical distance between family members can help start a healing process.
Open learning: Teens are often more flexible and more open to new ideas than adults. They have not lived a life filled with drug use. They are still open to change. They are often able to absorb new information better and learn more quickly than adults. When put in an environment that guides them to learn healthier patterns of behavior, many teens do quite well.
Healthy structure: While in rehab, the teen will adhere to a strict schedule. Most kids thrive on routine. They know what to expect each day, so life doesn't feel out of control. This structure helps teens develop healthy routines and focus on establishing and maintaining their sobriety.
Family support: Teen rehab typically includes family therapy. This can prove helpful during the teen's stay, as well as when it's time for the teen to come home. Final sessions cover how the teen should transition back into family life and what rules are appropriate for parents to establish. Family support can prove invaluable to creating a healthy environment at home.
Learn more about treatment options for alcohol abuse and drug addiction.
Image Source: iStock