Behavioral Addiction Treatment Program: How to Choose?
Many behavioral or "process" addictions won't resolve independently. For people who suffer from these addictions, behavioral addiction treatment or rehabilitation programs (rehabs) can help
At a treatment center for behavioral addictions, professionals can help individuals understand and overcome their addiction. Individuals will also gain the tools they need to cope with the addiction on a daily basis and live healthier, more productive lives.
If you or someone you care about suffers from a behavioral addiction, consider seeking help at an inpatient rehab center. Behavioral addictions are treatable.
Behavioral Addiction
These addictions, similar to substance abuse addictions, may follow a progressive course and generally do not resolve without formal treatment.
Behavioral addictions can include various behaviors that become maladaptive and have negative effects on various areas of life functioning, including mental or physical health, interpersonal relationships, and performance at work or school. Behavioral addictions can also give rise to financial problems or legal issues.
These addictions, similar to substance abuse addictions, may follow a progressive course and generally do not resolve without formal treatment. Often, they exist in conjunction with other mental health conditions, such as depression or anxiety.
There are many types of process or behavioral addictions, including:
Sex addiction.
Love addiction.
Gambling addiction.
Pornography addiction.
Shopping addiction.
Work addiction.
Video game addiction.
Internet addiction.
Exercise addiction.
Often-related, disordered processes seen in eating disorders, such as anorexia, bulimia, and binge eating.
The exact cause of behavioral addictions is unknown. There is no single factor that leads to behavioral addiction, but rather it can be attributed to a number of factors.
Behavioral addictions and eating disorders often develop in parallel with other mental health conditions, such as mood disorders, substance use disorders, or anxiety, although research has yet to definitively pinpoint the specific factors that contribute to the development of these sometimes overlapping issues. Some known risk factors for developing a behavioral addiction can include existing substance use issues, age, gender, genetic factors, and co-occurring mental health disorders, especially those involving mood or impulse control.
While there is no one main cause of behavioral addictions, they are similar to substance use disorders in that genetics, personality, stress, diet, and family environment can contribute to the development of behavioral addiction. Behavioral addiction rehab programs are designed to help individuals who suffer from a variety of addictions and other issues. They provide the tools required to manage and overcome the addiction.
Symptoms of Behavioral Addiction
Behavioral addictions include a wide range of conditions, and each condition has its own symptoms. There are some common symptoms associated with behavioral addictions, including:
Anxiety.
Inability to control the behavior, even after experiencing serious consequences.
Changes in mood, attitude, or behavior.
Depression.
Difficulty at work, school, or home due to the behavioral addiction.
Difficulty focusing on anything other than the addiction.
High levels of stress.
Irritability.
Loneliness.
Other mental health diagnoses, such as anxiety, mood disorders, or impulse control issues.
Preoccupation with the behavior.
Restlessness.
Risk-taking behavior, such as sleeping with strangers or increased gambling bets.
Secretiveness or lies about the addictive behavior.
Substance use.
Strained relationships due to the addiction.
The type of specific symptoms experienced depends on the behavioral addiction. Due to the wide range of behavioral addictions and co-occurring mental health issues, it is important to seek professional help. Once a medical doctor, psychiatrist, or other mental health professional has made a formal diagnosis, it is much easier to get linked to the proper treatment resources.
Treatment Process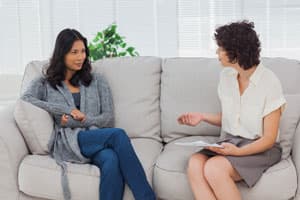 Treatment for behavioral addiction is a multi-step process. Through an inpatient program, individuals who suffer from behavioral addiction are taken out of their environments and placed into safe ones. There, they can focus on their feelings and learn more about addiction and recovery without being able to engage in the addictive behavior.
Behavioral addiction rehab centers are designed to teach individuals about their addiction as well as help them identify and address any underlying issues that may have contributed to behavioral addiction. Understanding an addiction often requires extensive individual therapy as well as group therapy. Once an individual learns more about the addiction itself, it is easier to take steps toward learning how to cope with it and live a healthy, happy, productive life.
In a treatment program, people with behavioral addictions can learn effective coping skills, practice impulse control strategies, and learn how to manage their emotions. During group therapy sessions, participants may discuss various techniques they have found effective when dealing with the symptoms associated with a behavioral addiction. Group therapy also provides peer support for individuals at all stages of recovery.
Since behavioral addictions often exist concurrently with other mental health issues, it is important to find a treatment facility that can treat the mental health diagnosis along with behavioral addiction. For example, if the underlying issue is anxiety, treating anxiety can help the person recover from behavioral addiction more effectively.
Certain facilities may also provide medication-assisted treatment, in order to help the individual cope with the symptoms of specific behavioral addictions. However, treatment methods and program rules vary by facility, and treatment plans should be tailored to each individual for the best results. Finding a treatment facility that provides medication-assisted treatment is especially important if a person has a dual diagnosis or a mental health disorder in addition to behavioral addiction. Comprehensive treatment can ease the symptoms of both issues.
Length of Treatment
Everyone responds to rehab treatment differently. Learning how to cope with a behavioral addiction can take time, especially if the addiction has been untreated for a long period of time or there are other co-occurring disorders. While one person may feel comfortable with a short stay in a behavioral addiction rehab center, another person may need more time.
Short-term rehab programs typically last for 28 to 30 days. Longer rehab programs are anywhere from 60 days to a year. However, the length of time a person spends in rehab often depends on his or her progress while in treatment, any underlying medical or mental health issues, and the severity of the addiction. When overcoming a behavioral addiction, it is vital that an individual in rehab stays in treatment until they feel prepared to manage the addiction in a less restrictive environment. The rate of recovery progress will be individually assessed and will help determine when someone is ready to leave the structured environment of the treatment program.
During the treatment process, staff will generally work with each patient to develop an aftercare plan involving the necessary supports to help each individual thrive in recovery. Aftercare can involve outpatient treatment, private therapy, self-help meetings, or recovery housing, and is tailored to the specific needs of each person to ensure the best possible outcome.
What Type of Treatment is Right for You?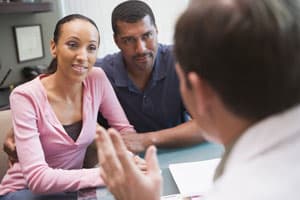 When an individual decides to go to a behavioral addiction rehab center, it can be difficult to choose the right one. Individuals should feel comfortable in their surroundings to receive the best treatment outcome possible, and they must feel at ease around the professionals who provide care as well as around other patients. Individuals who need help with behavioral addictions must also feel comfortable with the treatment methods used at the chosen facility.
Finally, the treatment facility should be familiar with and trained to handle behavioral addictions. Mental health professionals are not trained to deal with all process addictions, and most require specialized training in the specific area they are treating. Some facilities may focus on a specific behavioral addiction or include treatment strategies to manage eating disorders, in order to provide the best possible treatment for a diverse recovery population. Be sure to ask whether the facility accepts insurance for behavioral health treatment.
Any form of professional treatment for behavioral disorders will provide benefits above not seeking help at all. However, to maximize the chances of success, it can be especially important to weigh your options prior to choosing the best addiction treatment facility for your individual needs. Before selecting a facility to treat a behavioral addiction, it is important to determine what the recovering individual needs in terms of treatment offerings and, potentially, the facility type and setting. Some questions to think about include:
Are you ready for change?
Would you be more comfortable in a male- or female-only setting?
Do you have other mental health needs to be addressed?
If behavioral addiction has led to medical concerns, is the facility equipped to manage that?
How do supportive family members or friends fit into treatment?
Do you want to stay close to home or travel outside of your area for treatment?
Do you have cultural or religious needs that can be met at this program?
Is medication-assisted treatment available?
Will luxury amenities and/or private rooms be important to your recovery.
There are a wide variety of treatment techniques available, many of which are tailored for specific behavioral addictions. Facilities can be based on specific therapeutic modalities or 12-step methods, and many can also provide medication-assisted treatment. Some facilities are better equipped to treat individuals with multiple issues (or dual diagnoses), such as substance use, behavioral addictions, medical conditions, or even other mental health issues.
What to Look for in a Treatment Program
The decision to seek help for a behavioral addiction is not one to be taken lightly. It is especially important to ask questions. Before choosing a behavioral addiction treatment program:
Find out what types of treatment methods are utilized.
Find out which specific behavioral addictions are treated at the facility.
Ask about the program rules.
Inquire about medication-assisted treatment, especially if there is a co-occurring disorder or if you'd prefer to forego medication during recovery.
Ask about the staff and their qualifications in treating your specific behavioral addiction.
Getting Help for Behavioral Addiction
Living with untreated behavioral addiction is not easy. Those who suffer from behavioral addictions often feel isolated, lonely, and hopeless. But there is help available for those who want to pursue it.
If you feel that you or a loved one may be suffering from behavioral addiction, help is available. At a behavioral addiction rehab center, treatment professionals can provide people with the information and tools they need to overcome their addiction and live normal, healthy lives.
Sources
Engs, R.C. (1996). Alcohol and other drugs: Self-responsibility. Bloomington, IN: Tichenor. ("Addictive Behaviors" chapter).
Mayo Clinic. (2014). Drug addiction.
UCLA Dual Diagnosis Program. (2016). Sex Addiction, Pathological Gambling, And Other Mental Health Disorders.
Alavi, S.S., Ferdosi, M., Jannatifard, F., Eslami, M., Alaghemandan, H., & Setare, M. (2012). Behavioral addiction versus substance addiction: Correspondence of psychiatric and psychological views. International Journal of Preventive Medicine, 3(4), pp. 290-294.
Grant, J., Potenza, M.N., Weinstein, A., & Gorelick, D.A. (2010). Introduction to Behavioral Addictions. The American Journal of Drug and Alcohol Abuse, 36(5), pp. 233-241.
Substance Abuse and Mental Health Services Administration. (2005). Groups and Substance Abuse Treatment.
Wilson, A.D., & Johnson, P. (2016). Counselors' Understanding of Process Addiction: A Blind Spot in the Counseling Field.
Smith, L. (2015). Treatment Strategies for Substance and Process Addictions. Alexandria, VA: American Counseling Association, pp. 20-21.
National Institute on Drug Abuse. (2012). Principles of Drug Addiction Treatment: A Research-Based Guide (3rd edition).
More resources about
Behavioral Addiction Treatment Program: How to Choose?

: