Detox Treatment and Rehab Centers in the Mountains Near Me
If you are struggling with addiction, you might want to consider attending a drug rehab program in the mountains. The mountains offer a peaceful, serene environment for you to explore your emotions and motivation for recovery and find some healing.
What Is Rehab in the Mountains Like?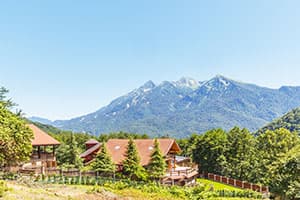 Mountains rehab programs are similar to substance abuse rehabilitation services elsewhere, with the added bonus that the mountains provide a peaceful environment, and participants in the program may be able to incorporate hiking, nature walks, outdoor meditation, and more into their stay.
Programs located in the mountains don't differ from any other inpatient rehab in that they provide intensive treatment for people who have been struggling with an addiction to drugs and/or alcohol.
They will offer round-the-clock care as well as well-rounded meals to help your body recover from the nutritional deficiencies commonly associated with drug abuse. Treatment approaches that may be utilized during your time in rehab may include:1
Your time spent in rehab may also include vocational training or assistance in resolving legal issues that may have arisen before you got into treatment.1
Drug rehabilitation programs vary in terms of their length. Often ranging from a few weeks to a few months, stays can be shorter or longer, with some lasting up to a full year.
It is also common for people to commit to a shorter program and then evaluate their progress and determine they want to continue in treatment. During rehab, staff should continually assess and reassess your treatment plan based on your progress and your goals.
Free Online Insurance Coverage Checker for Rehabs in The Mountains
Use the free online insurance coverage checker tool for rehabs in the mountains, below to find out if your health insurance provides coverage for addiction rehab and other rehabilitation treatment plans for substance abuse recovery.
Why Attend Rehabilitation Treatment Near the Mountains?
There are several advantages to attending a drug rehab program that is situated in the mountains:
Should I Travel Away or Stay Near Home for Treatment?
The decision to go to a rehab that is far away is a personal choice. Some people find it easier to go through drug rehab programs in the mountains if they live elsewhere because nobody who knows them is anywhere nearby, while other people miss their families and friends too much and don't get a lot out of the program.
You also have to consider whether the drug rehabilitation program in the mountains offers something special that other programs closer by don't offer. If so, it may be worth the extra expense to relocate temporarily to the mountains.
What Costs Are Associated With These Facilities?
Virtually all rehabilitation facilities will have a price tag attached, unless you're in a publicly funded rehab. Rehabilitation facilities in natural, idyllic locations often cost more than other programs located in cities because they tend to be the more desirable programs. Travel costs may also be a factor if you don't live nearby.
Check with your insurance company to find out if some or all of the cost of the program you're interested in will be covered by your plan. Also discuss your payment options with potential programs. Many programs are eager to work with you to help you afford your care and may offer options like financing, loans, and scholarships. Some even have sliding scales, in which your cost is adjusted based on your income.
Here are some financial resources that can help:
What to Look For in Treatment Centers
There are several factors you should consider when deciding whether to sign up for a drug rehabilitation program. Look for a program that has the following characteristics:
Putting the effort in to find the right drug rehab program in the mountains or any other locale can save your life. No matter how out of control your addiction to a particular drug may be, you can achieve sobriety it if you receive the right help.
More Questions About Detox Treatment and Rehab Centers in the Mountains?
Get personalized support and have your questions answered via text message.

Alternatively, you can visit our 
Frequently Asked Questions
 page.
More resources about
In The Mountains

: