Detox Treatment and Rehab Centers in the Mountains Near Me
If you are struggling with alcohol or drug addiction, you might want to consider attending a drug rehab program in the mountains. The mountains offer a peaceful, serene environment for you to explore your emotions and motivation for recovery and find some healing.
What Is Rehab in the Mountains Like?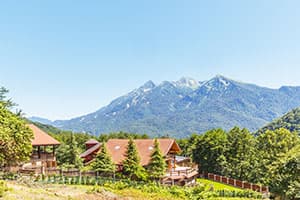 Mountains drug and alcohol rehab programs are similar to substance abuse rehabilitation services elsewhere, with the added bonus that the mountains provide a peaceful environment, and participants in the program may be able to incorporate hiking, nature walks, outdoor meditation, and more into their stay.
Programs located in the mountains don't differ from any other inpatient rehab in that they provide intensive treatment for people who have been struggling with an addiction to drugs and/or alcohol.
They will offer round-the-clock care as well as well-rounded meals to help your body recover from the nutritional deficiencies commonly associated with drug abuse. Treatment approaches that may be utilized during your time in rehab may include:1
Medical detoxification.
Individual behavioral therapy.
Group therapy.
Family therapy.
Counseling on the risk of HIV and another infectious disease transmission among drug use and prevention strategies
Your time spent in rehab may also include vocational training or assistance in resolving legal issues that may have arisen before you got into treatment.1
Drug rehabilitation programs vary in terms of their length. Often ranging from a few weeks to a few months, stays can be shorter or longer, with some lasting up to a full year.
It is also common for people to commit to a shorter program and then evaluate their progress and determine they want to continue in treatment. During rehab, staff should continually assess and reassess your treatment plan based on your progress and your goals.
Free Online Insurance Coverage Checker for Rehab
Use the free online insurance coverage checker tool below to find out if your health insurance provides coverage for addiction rehab and other rehabilitation treatment plans for substance abuse recovery.
Why Attend Rehabilitation Treatment Near the Mountains?
There are several advantages to attending a drug rehab program that is situated in the mountains:
Serene, peaceful, and isolated environment: Not only are mountainous locations likely to be very peaceful (which is conducive to recovery), they are also fairly remote. This may bring peace of mind to those who want to attend treatment but are concerned about their privacy, such as high-profile business executives.
Opportunities for holistic healing: Many drug rehabs that are located in beautiful mountain locales incorporate meditation and connection with nature for spiritual and emotional healing.
Slower pace of life: The mountain environment sometimes encourages people to take things more slowly. This is important for recovering addicts, who may have been living a very tumultuous life.
Individual attention: Most drug rehabilitation centers in the mountains have a small number of residents at a time so each resident can get more individual attention.
What Costs Are Associated With These Facilities?
Virtually all rehabilitation facilities will have a price tag attached, unless you're in a publicly funded rehab. Rehabilitation facilities in natural, idyllic locations often cost more than other programs located in cities because they tend to be the more desirable programs. Travel costs may also be a factor if you don't live nearby.
Check with your insurance company to find out if some or all of the cost of the program you're interested in will be covered by your plan. Also discuss your payment options with potential programs. Many programs are eager to work with you to help you afford your care and may offer options like financing, loans, and scholarships. Some even have sliding scales, in which your cost is adjusted based on your income.
What to Look For in Rehab Treatment Centers
There are several factors you should consider when deciding whether to sign up for a drug rehabilitation program. Look for a program that has the following characteristics:
Highly qualified staff who are experienced in treating your particular substance addiction: It's important that the drug rehabilitation center staff members are familiar not only with the type of drug addiction you're dealing with but that, if you have a dual diagnosis, you pick a program with staff who are able to treat all of your concurrent conditions.
Specialized care: Drug rehab programs in the mountains are often smaller with fewer patients, so you should be able to get a lot of individual attention. But you'll also want to make sure that your treatment can be customized to you, and that they don't operate with a one-size-fits-all approach.
A detoxification program (if needed). Some drugs have very severe withdrawal syndromes. These drugs include (but are not limited to) alcohol, benzodiazepines, barbiturates, and opioids.2 The pain of withdrawal and the associated medical risks can be mitigated with medical detoxification.
Discuss with your doctor or an addiction specialist whether you'll need to participate in this step. If so, you can choose from mountain rehabs that have medical detox programs. You could always attend detox in a separate facility; however, finding a rehab program that offers detox makes the transition into treatment smooth and easy.
The amenities and features that are important to you: You will be happier in treatment when the program you pick is in line with what you want. If certain features like day trips offsite or family visits are must-haves, don't wait until you pick out a program and begin the process of arranging travel to ask about them.
Aftercare options: Most rehabilitation programs will both help you create a plan for maintaining your recovery efforts when the program ends. They may also have their own programs that make this easier, such as outpatient therapy or vocational programs.
Putting the effort in to find the right drug rehab program in the mountains or any other locale can save your life. No matter how out of control your addiction to a particular drug may be, you can achieve sobriety it if you receive the right help.
More resources about
In The Mountains

: