Holistic Drug and Alcohol Rehab Treatment Centers Near Me

Today, there are many Americans that are choosing to turn away from traditional medicine to focus on more natural methods of treatment for a variety of reasons. As a result, there are a number of addiction treatment centers that focus on a holistic strategy for recovery. The goal of this type of treatment is the same as that of any other addiction center; they simply take a different route to get there.
What is a Holistic Rehabilitation Program?
Rehabilitation programs (rehabs) employ various therapeutic styles, including holistic approaches to substance use disorder treatment. Holistic drug treatment centers teach participants how to protect all areas of their health—mind, body, and spirit. These recovery programs focus on healing each of these areas to help people stop using drugs or alcohol.
In many cases, holistic rehab programs are considered alternative types of treatment because they don't follow the traditional model, which focuses on psychotherapy, 12-step programs, and other support groups. Instead, holistic treatment centers focus on addressing the individual as a whole—working on the mind-body-spirit connection to heal people from addiction. Some traditional addiction treatment facilities incorporate holistic treatment methods as well.
Why Holistic Drug and Alcohol Addiction Treatment?
People turn to drugs and alcohol for a variety of reasons. Some people might try to medicate physical problems, such as back pain. Others might try to numb painful feelings of spiritual emptiness, or they might self-medicate underlying mental health issues, such as dual diagnosis.
People who struggle with drug and alcohol addiction often aren't aware which exact area (or areas) of health they're misguidedly attempting to manage with their substance use behavior, so a program that focuses on improving and maintaining all 3 areas of health—as a holistic addiction treatment program does—has the best chance of targeting the problem areas so participants can become and remain sober.
According to the philosophy behind this type of program, all 3 areas of health are connected, meaning that disease in 1 area will affect the other 2. A holistic addiction treatment program will work to heal each area so the person can continue to stay sober after the main issues influencing substance use are resolved.
Benefits of a Holistic Drug Treatment Center
Almost anyone can benefit from getting help at a holistic rehab center. The only requirement for attending is a willingness to achieve sobriety.
Most holistic addiction rehab facilities offer some of the same treatment options as traditional programs while offering extra benefits. For example, like traditional programs, holistic treatment programs have trained therapists on staff to provide daily group and individual therapy sessions as well as offering support groups on site.
Some features, such as the detoxification (detox) process, might be carried out differently in rehab facilities with a holistic focus. For example, detox at a inpatient or outpatient holistic rehab may not include medications to ease uncomfortable withdrawal symptoms.
In addition to standard rehab features, holistic addiction treatment programs may also emphasize:
Organic, all-natural meal plans to improve physical health and address any nutritional deficiencies due to addiction.
Physical activities such as biking, hiking, mountain climbing, or swimming.
Meditation sessions and exercises, such as yoga, tai chi, or prayer sessions.
Complementary therapy, such as massage or acupuncture.
Alternative types of effective psychotherapy, including art, music, or animal-assisted therapy.
What to Look for in a Holistic Rehab Program
As with any rehab program, you should evaluate holistic addiction rehab programs carefully to be sure the program you're considering is right for you. Questions to consider when looking at these types of programs include:
Support Sessions in Holistic Recovery Centers
Holistic rehab centers do not always use mainstream therapeutic techniques, but they do recognize the importance of a strong support system. They give drug addicts and alcoholics in recovery the chance to discuss their addiction individually with an addiction counselor as well as with a group of other addicts in recovery. These therapeutic techniques ensure that alcoholics have the opportunity to get to the root of their addiction and address any emotional repercussions.
Executive and Luxury Rehab Facilities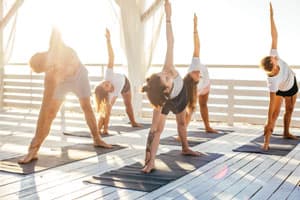 Executive rehab centers with a holistic treatment focus may be a good option when corporate responsibilities are keeping you or someone you care about from looking for help with a drug or alcohol problem or behavior-related addiction. By combining high-quality substance use or behavioral health-related treatments with the ability to connect to a computer or mobile device, these rehabilitation programs allow executives to get sober while staying productive and accessible to co-workers and clients.
Luxury rehabs centered on holistic addiction treatment provide upscale amenities a person would expect to find in the finest hotels. These facilities prioritize your personal comfort as well as your health during the rehab process. You can get addiction treatment for yourself or someone you care about while enjoying gym facilities, in-house massage therapy, housekeeping services, or fine linens.
How to Find the Right Holistic Addiction Rehab Center Near Me
If you've participated in a substance abuse treatment program but later relapsed, it doesn't mean that you failed. Holistic rehab facilities are widely available, with varying philosophies and treatment approaches. The most important part of choosing a holistic rehab is finding one that will tailor treatment to meet your needs during early recovery. If you've participated in a treatment program but later relapsed, it doesn't mean that you failed. It just highlights a need for a change to the treatment plan. A holistic rehab may provide the necessary changes to ensure long-term sobriety.
Once you find inpatient or outpatient holistic rehab programs of interest to you, try to visit the centers in person if possible. You can speak with staff members and see how you feel about the surroundings. This preliminary comfort can help increase the likelihood that the program will work for you.
Also speak on the phone to the person who handles intake and ask questions about the facility and rehab treatment process. This step allows you to get a sense of whether you will fit in and feel comfortable while attending the program and whether it matches your values and ideals. An admissions consultant can help you identify your needs and guide you in choosing a rehab program that is best for you. A mind-body-spirit connection for addiction rehab can be a life-changing way to begin your path to recovery.
Best Holistic Treatment Centers Near Me
If you're wanting to find the best holistic residential inpatient rehab centers near you, it's important to carefully consider the various types of treatment programs available to ensure your needs are met. The best and most effective treatment is that which is tailored to your individual needs, whether it's short- or long-term, residential inpatient, outpatient or dual diagnosis programs.
Depending on your location, you may find there is not an appropriate holistic treatment program in your area. However, if there are programs nearby, consider the pros and cons of being admitted to a local program versus traveling out of state. Our rehab directory can help you search through treatment providers throughout the United States. Some popular States include California, New Jersey, Florida and Texas.
More Questions About Holistic Drug Rehab?
Get personalized support and have your questions answered via text message.

Recommended Rehab Treatment Articles
More resources about
Holistic Addiction Rehab

: