Luxury Alcohol Treatment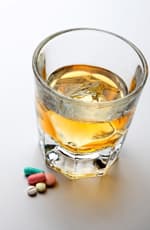 Alcohol is a way of life for many people, and oftentimes it is a mark of success. High-level executives discuss deals over glasses of scotch and connoisseurs spend thousands of dollars on bottles of vintage wine. At high-end clubs, bottles of Dom Perignon, Patron and Belvedere grace VIP tables on the dance floor. No matter where you go, it seems high-priced alcohol is often synonymous with success. For those suffering from alcohol abuse or alcoholism, it may seem that they can't get away from alcohol, no matter where they go. For these people, luxury alcohol rehab or treatment may be just what they need.
The Danger of Alcohol
According to the Centers for Disease Control and Prevention, in 2010, over 25,000 died due to alcohol-related incidents. While alcohol is often viewed as benign due to the frequency with which it is consumed in our society, it is a drug that can affect the body in seriously negative ways. In fact, excessive alcohol consumption is related to a variety of ill health effects, such as:
Neurological problems
Liver disease
Anxiety
Depression
Stroke
Forgetfulness
Intestinal issues
Cancer
Cardiovascular problems
"According to the Centers for Disease Control and Prevention, in 2010, over 25,000 died due to alcohol-related incidents."While a history of alcoholism in your family can increase the likelihood that you'll also suffer from issues with alcohol, alcoholism can occur in anyone. If you feel you are struggling with an alcohol abuse issue, it's important to get help promptly. According to the American Psychological Association, it is often incredibly difficult for alcoholics to seek help on their own. They often need the support and prompting of family and friends to seek treatment.
How Is Luxury Alcohol Rehab Different?
While some may think that treatment is treatment, whether basic or luxury, there are key differences you'll find in a luxury alcohol treatment facility. Whereas a basic alcoholism rehab center will offer rudimentary care, such as therapy and some medical supervision, you'll receive comprehensive care in a luxury center. Most luxury alcoholism treatment centers have a very low patient-to-staff-member ratio, ensuring each patient in care receives extensive attention from each staff member. Not only does this ensure the patient gets the care they need, but it also helps to make treatment more effective in a shorter period of time. In addition, luxury alcohol rehab centers often boast staff members with higher credentials and more extensive experience in their fields.
Recovery is a tough process, and it's important that you feel comfortable in the environment you are in. As a result, luxury alcoholism programs offer patients high-end accommodations, often with private living quarters, where you can feel at home. If you feel awkward in your surroundings, it's more likely that you'll leave the program early and not gain the full benefit of treatment. This makes it more likely that you will relapse to alcohol use when you leave the rehab center and return home.
Alcohol Abuse Pervasive Among Recovery Patients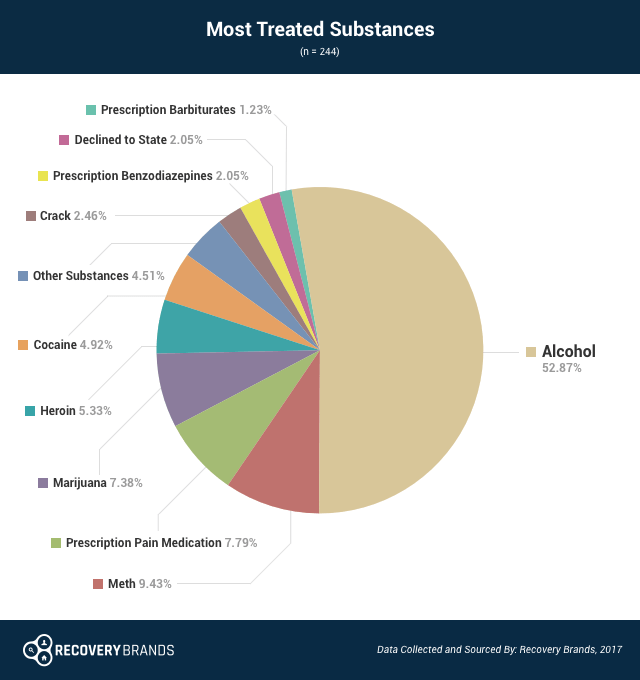 Alcohol, or ethanol, is one of the most abused drugs among people in addiction treatment, as reported by a 2017 survey from Recovery Brands. The survey found that nearly 70% of people in recovery underwent treatment for a drinking problem, and a surprising 52.87% of those that responded sought treatment for alcohol abuse more than for any other substance. Regardless of how many abused substances exist, alcohol is the most pervasive.
View Large Graph
Many luxury alcohol treatment centers are located in beautiful settings with breathtaking views. Being outside and experiencing nature's beauty without the blur of alcohol is often a key component to the recovery process. Since these luxury facilities are often located in secluded areas of natural beauty, such as in the mountains, by the ocean or in the desert, patients have the optimal opportunities to embrace nature at its best.
"Luxury programs also offer patients an array of complementary offerings that can enhance the recovery process."Luxury programs also offer patients an array of complementary offerings that can enhance the recovery process. Gourmet meals prepared by professional chefs will please the palate and contain the correct balance of nutritional sustenance; this is particularly important as many recovering alcoholics neglected their bodies' nutritional needs while they were in the depths of their abusive behavior. Patients may also experience the health benefits – both physical and psychological – associated with massage therapy. Other alternative body therapies, such as acupuncture and Reiki, are often available at luxury facilities.
The grounds of a luxury alcohol addiction treatment center may feature swimming pools, golf courses and basketball courts, where patients can exercise and embrace their new path to wellness. For many recovering alcoholics, exercise plays a vital role in their recovery. As the body releases feel-good endorphins via exercise, patients see that they can feel quite good without the numbing effects of alcohol. Not only does this take their focus off drinking but it also gives them a new hobby they appreciate.
Whereas more basic rehab centers may give off a cold, even clinical feel, luxury alcoholism treatment centers feature beautifully landscaped grounds, nicely decorated buildings and various amenities that make patients feel comfortable and safe. For those accustomed to a higher degree of living, luxury rehab programs just make more sense.
Paying for Luxury Alcoholism Treatment
Some insurance plans may cover part of a stay at a luxury alcoholism treatment center. It's important to discuss your coverage with your provider to get an idea of how much could potentially be covered. Most luxury programs will help you with this process, making it easier on you prior to entering their care. In addition, most facilities offer financing programs if needed, where you can pay the cost of your care in installments over time.
Though luxury alcoholism treatment programs are more expensive than other lower-end options, they do offer much more comprehensive care. With such a low ratio of patients to staff members, the extensive therapies lists offered, and the broad amenities available, it's no wonder why the price is higher. The ultimate price of alcoholism on your health, relationships and future is incredibly high; in light of that eventual cost, the price of luxury treatment seems quite reasonable.
Where to Find Luxury Alcohol Treatment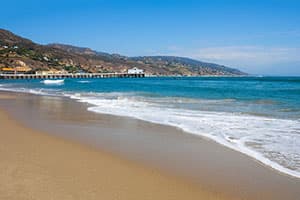 If you'd like help locating a luxury alcohol addiction treatment center that will work well for you, please call us today. We can discuss your situation with you confidentially and help you determine the best course of action. We can inform you of the luxury rehab options you have and describe their offerings to you. Don't hesitate to make the call; we are here 24 hours a day, seven days a week to help.
More resources about
Luxury Alcohol Treatment

: