Librium Addiction Rehab Treatment Centers Near Me
Librium, also known as chlordiazepoxide, is used to relieve the anxiety and agitation that may be caused by alcohol withdrawal. According to Medline Plus, this drug is often taken between one and four times a day.
Inpatient Rehab Programs
Inpatient Librium rehab centers work with patients who live at the facility. Doctors are available 24 hours a day, so patients always have someone to talk to and can receive medical assistance at any time.
Inpatient Facilities vs. Outpatient Clinics
Inpatient clinics provide patients with the therapy and medication necessary for the prevention of relapse. Patients are monitored at all times. They participate in group talk, individual therapy, and more.
Outpatient Librium rehab centers are usually best for patients with mild-to-moderate addictions or dependencies. Patients can maintain a normal home, school and work life. Patients only come to the clinic for medications and therapies.
We can help you find the right clinic for your needs, today.
Do I Need a Residential Rehab Facility?
Moderate-to-severe addictions to Librium can be treated well in a residential facility. Doctors can provide the care you need to achieve freedom from the drug and withdrawal symptoms.
Free Online Insurance Coverage Checker for Librium Rehab
Use the free online insurance coverage checker tool below to find out if your health insurance provides coverage for Librium addiction rehab and other rehabilitation treatment plans for substance abuse recovery.
Is Rehabilitation Private and Confidential?
According to the U.S. Department of Health and Human Services, HIPAA laws prohibit patient files from being viewed by a third party without the release and consent of the patient. This protects your rights as a patient when you enter a Librium rehab center.
Will I Have My Own Room During Recovery?
Many clinics offer double rooms, or they may offer rooms with more than two roommates. This helps patients develop a bond with peers going through a similar situation. Other facilities may offer single rooms for those who prefer privacy.
What Is Treated in at Librium Rehab?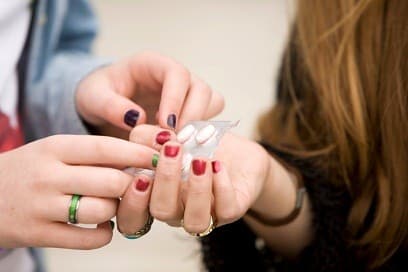 Librium treatment centers may also treat conditions that are not listed above. These centers may be specialized to treat Librium, or they can offer many types of treatment for people with all types of addictions.
How Long Does Inpatient Rehabilitation Last?
Patients can choose from a number of programs, including:
Patients with mild dependencies or addictions may prefer a shorter program. Longer programs are best for those with severe or moderate addictions, and they can provide more help for those who have severe emotional addictions as well. The Librium rehab center will have information on how to extend your stay after rehabilitation if you need more help.
What Happens During Treatment?
Treatment begins with the intake process. The Librium treatment center will take a patient's financial information, take an assessment of the patient's health, and determine which program the patient should enter. After this, the patient enters
detoxification
.
Detoxification helps a patient by slowly removing the Librium from the body. This can help prevent uncomfortable withdrawal symptoms. Medically monitored withdrawal or tapering methods are normally used to reduce and eventually eliminate the drug from the body.
Next, patients enter rehab. The Librium rehab center provides a room, meals and medical care for those at the facility while they concentrate on getting well. Therapy, group talk, activities and more are available to help the patients.
Paying for a Treatment Center
The most common ways to pay for treatment include:
Should I Travel or Stay Near Home?
Some patients like to travel, and this can help them clear their heads as they go through rehabilitation. It may help reduce stress and allow patients to focus on their health. Other patients may prefer to live close to their families or friends during treatment for moral support.
I Want to Find an Executive or Luxury Rehab Center
If business-related concerns have stopped you, a family member or a friend from getting assistance for a drug use issue or behavior-related addiction, executive rehabilitation programs may be what's needed. Combining top drug, alcohol or behavior addiction treatments with the flexibility of computer and mobile access, an executive or company president can get assistance in comfort and seclusion.
Often, current illicit substance and behavior addiction treatment facilities feature the nicest amenities you would only expect to find in 4 and 5-star hotels, with your success and enjoyment being the primary goals. From 5-star chef-prepared meals and fine linens to gym facilities and in-house massage therapy, you can get the greatest substance addiction and behavioral treatment for yourself, your family member or your friend while relaxing in comfort. For assistance in locating the perfect luxury treatment programs for Librium addiction, dial our no-cost helpline as soon as possible at .
What Happens After Rehabilitation?
A sober living environment or halfway house may be one way to maintain sobriety after rehabilitation. In a sober living environment, peers with similar issues live together in a home that is free of temptation, like drugs and alcohol.
You May Want to Learn More About:
Treatment Methods
Librium rehab centers work with many types of programs. These programs are created to help those with different morals, ideals and live circumstances. For the best program for your needs, you should discuss the possibilities with your clinic. Some programs can be altered to suit the patient, which is helpful when no program is exactly right. Some of the programs that are available include:
It's Not Too Late to Turn Everything Around
It is never too late to stop taking a drug that is interfering with your healthy lifestyle.
More resources about
Librium

: