Recovery High Schools
For adults who have been through a treatment program for a substance use problem, a strong emphasis is placed on relapse prevention and maintaining a continuum of care after treatment completion. This is made easier by the fact that adults have the freedom to make choices in the best interest of their recovery, such as by making significant changes to their surroundings geographically and socially. But what happens to adolescents who have gone to treatment and legally have to return to high school and the same pre-treatment environment? There are several reasons this can be dangerous for recovering adolescents and threatening to their sobriety.
---
When Returning to School Is Risky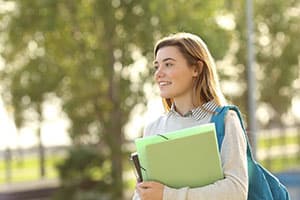 Going back to the same high school after completing treatment can be a significant risk for secondary students for several reasons, especially if they went to a school with a preponderance of substance use and availability. In other words, students returning to their previous high school might not even have to look for alcohol or other drugs upon returning to school—they may simply be offered them by peers who have provided them before. Additionally, students are immediately exposed to the same substance-using friends they had previously. Both of these factors pose a significant temptation to individuals trying to remain sober.
Furthermore, there is not much support for these students in terms of recovery maintenance or handling their academic load, which can be particularly tricky if their academic performance has been negatively impacted by their substance use or by a significant number of missed classes due to treatment. In other words, they may be treated just the same as every other student when in reality they likely need additional accommodations and support.
From a developmental perspective, adolescence can be a difficult time that might already involve identity concerns and interpersonal and emotional turbulence. Coming out of treatment, these issues may be further exacerbated by recovering students not quite knowing how to interact with their peers now that they are sober, or how to make friends who don't drink or use drugs. All of these factors combined make returning to high school particularly risky, especially when you consider the risk of relapse. For example, Cornelius et al (2003) found that 2/3 of adolescents relapsed within 6 months of completing outpatient treatment.1
Recovery High Schools Can Help
Recovery high schools are secondary schools that are designed to provide both educational and mental health or therapeutic benefits for students who struggle with substance use disorders. They have also been referred to as sober schools or alternative schools.4,6 These schools are designed specifically for these students and can offer credits for state-recognized high school diplomas. They provide more support for recovering students than traditional high schools, which may only incorporate classes or short-term training on substance use or have no programs to address this issue at all.
The first recovery high school was established in 1979 in Maryland.3,5 Years later, one of the first evaluations of a recovery high school were performed on a program in New Mexico in 1995. The program functioned more like a day treatment center, thus there was more of a focus on recovery than on fulfillment of educational objectives. Since then, efforts and adjustments have been made to that model that are more conducive to educational success.5
Many recovery high schools have closed over the years due to legislative and funding issues, but the Association of Recovery Schools (ARS), an accrediting body, lists 40 that are currently in the United States.6 Some recovery schools tend to focus slightly more on academics, considering themselves first as schools, whereas some have more of a therapeutic focus. Others work towards having an even balance between the two, so when choosing a recovery high school, think about which focus might be more important to you individually.
Most recovery high schools have programming about addiction and dealing with any underlying mental health issues which can help promote recovery and assist with relapse prevention. Although more research is needed on the effectiveness of recovery high schools, what has been done to date has shown positive outcomes for adolescents, including sustained periods of abstinence from alcohol, marijuana, and other drugs, reduced absenteeism,2-4 and a decrease in psychological issues such as depression and anxiety.3,4 Reductions in substance use have also been self-reported by teens attending these schools, with one report indicating that weekly use was reduced significantly from 90% to 7%.4
Who Should Attend?
You might want to consider exploring the option of attending a recovery high school if:
You are currently struggling with substance abuse but have a desire to quit and feel that it would be exceptionally difficult if you were to remain in your current high school.
You have already been through inpatient or outpatient treatment and are worried about returning to old temptations and peer groups at your previous high school.
You should not consider attending a recovery high school if:
You are ambivalent about or not interested in being alcohol- and drug-free.
You are struggling with a severe substance use problem that requires formal treatment. A recovery high school is not a treatment center but more like continuing care, thus it might not be the best option if you need more intensive help.
If you have decided that a recovery high school might be a good choice for you, you will want to make sure you are aware of the admission requirements for different schools, as they may vary. For the most part, an official diagnosis is not typically a requirement as long as you have a willingness or desire to quit abusing substances. Sobriety is also sometimes necessary for admission but not always. Some schools may take students if, again, there is the willingness to stop using and the commitment to maintain sobriety while enrolled. To assist in this goal, requirements may also include being willing to submit to random drug testing and participate in recovery activities while attending.
Benefits of Going to an RHS
There are many reasons why attending a recovery high school might be a good idea for you. Benefits include: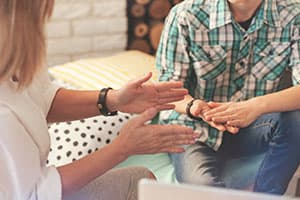 Individualized curriculums to support academic growth, which is particularly helpful if your academic performance has suffered at the hands of your substance use.
A safe haven that supports your sobriety as you are in an environment free from many temptations and triggers to use.
A supportive environment of non-using peers who may have other similar struggles like mental health issues such as depression or anxiety.
Recovery support services such as counseling and educational classes on addiction and relapse prevention.
Flexibility to help you succeed and meet your individual needs, balanced with rules and structure to help keep you accountable.
Life skills training. Schools accredited by the ARS teach "the five Social and Emotional Learning Core Competencies: self-awareness, self-management, social awareness, relationship skills, and responsible decision-making." 6
Despite all of these many benefits, as with anything there are also some potential drawbacks of which to be aware. Although it might help that classes are easier to reduce stress associated with academics, many recovery high schools meet minimal educational requirements. Thus, you might not be getting the best education or be able to experience additional academic opportunities such as higher-level classes or broader subject electives. Additionally, there will likely be limited extracurricular activities. Of course, if you are actively suffering from addiction, your educational success is likely to suffer far more than it would from certain limits on classes or other activities.
Recovery High School vs. Standard High School
Here are some things you can expect to be different from your standard high school:
A smaller number of students. Due to the complex nature and needs of recovery high school students, typical student populations have ranged anywhere from 5-80, with an average often at around 30.
Many of the students have completed a substance abuse treatment program and are in recovery, although that is not a requirement at all schools.3
Therapy services may be more intensive and specialized with regard to addiction than what you would get from a regular school counselor. There are often also individual and group sessions, as well as education about substance abuse and relapse prevention.
Curriculums are individualized to meet the needs of every student and are typically much more flexible, often offering the ability to work at your own pace (including online or packet coursework).
The 12 steps are often practiced (whether in groups at the school or in the community).
Although recovery high schools are sometimes part of another school (sharing facilities or staff), they operate in separate spaces, and everything is done at different times to prevent the chances of running into substance-abusing peers.
Example: Independence Academy
As already discussed, recovery high schools vary in what their requirements are as well as what they offer. To give you an example, here are some characteristics of one of five recovery schools in Massachusetts, Independence Academy.7
Independence Academy is a recovery high school for students age 14-21 who are struggling with substance abuse. To gain admission, you start by filling out a referral form (which anyone can do), taking a tour of the facility, and then filling out your application. After that, you will participate in an interview with staff so that they can get a sense of your commitment to sobriety and making it to graduation. Additional admission requirements include being willing to participate in all substance abuse recovery activities and to submit to random drug tests.
They offer small class sizes, with a focus on academic success, recovery, and health and wellness. They boast having an on-staff recovery counselor who works with each student to develop a personalized recovery plan, and they have an "expansive network of resources in the community," which includes several partnerships. One such partnership is with the YMCA, which highlights this school's additional focus on wellness; they incorporate other mind-body interventions and the teaching of coping skills. This latter focus is one not seen in all recovery high schools.
Locating a School
If you have decided that you want to explore recovery high schools as an option, you can go to search here for currently accredited schools in the United States. You might also be able to contact employees at local treatment centers for referrals.
---
References
More resources about
Recovery High Schools

: