Spotlight on Self-Advocacy and Alcohol
Does your doctor ask you about your drinking habits?  As a psychiatrist, I incorporate questions about alcohol and drug use into my routine consultation questions and check-in periodically with my psychotherapy patients along the way.
This is important because alcoholism is the fourth-leading cause of preventable death. It claims about 88,000 American lives per year.
Addiction Screening Falls to Physicians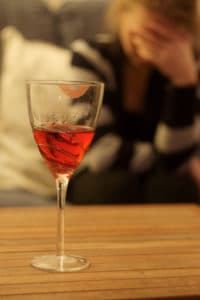 But treating addictions is hard. And despite de-stigmatization of mental illness, most people do not go to see a psychiatrist. Therefore, primary care physicians (PCP) are encountering the vast majority of patients and are responsible for screening for addictions.
But despite incredible medical advances, most PCPs are not comfortable in screening and treating addictions.
And even more alarming is the fact that while the opioid epidemic has gained national attention along with enhanced funding and support – alcohol kills more people than all illicit drugs combined.
The problem is not the doctors. Physicians do their part to undergo training and accreditation in the treatment of substance use disorders. They have standardized questions that are asked at interviews, an algorithm of useful treatment interventions to offer, and advice about lifestyle modifications.
Patient Accountability
A bad hangover is the least of worries for problematic drinkers. There are a slew of health concerns ranging from brain changes to various types of cancer.
In this era, the truth is that patients are accountable for their healthcare and are their own best advocates.-Helen Farrell
In this era, the truth is that patients are accountable for their healthcare and are their own best advocates. It is vital that people honestly bring to their doctor's attention their patterns of alcohol use – no matter how insignificant it might seem to that individual.
Physicians are trained to identify patterns and minimize problems. Remember that old saying, "An ounce of prevention is worth a pound of cure."
Only 1 in 6 patients talk to their healthcare professional about their drinking habits.
With your health and life at risk – this is no time to be complacent! Whether you believe yourself to be a moderate drinker or a teetotaler, it's up to you to provide a full background of your alcohol use. Only then can your healthcare team – of which you are the captain – can set goals and measurable outcomes for the future.
When it comes to alcohol use, there is no shame or embarrassment. Report to your doctor how much you drink, what your goals are with drinking, and ask them how they can help. Self-advocacy is your best tool in achieving the best in healthcare.