A Look at the Research Supporting Mindfulness in Addiction Treatment
I started sitting in Zen meditation long before I got sober, and I credit it with keeping me alive long enough to get my life back together.
I was working in Midtown Manhattan; the constant noise and rush of people put my natural anxiety disorder into high drive. A friend brought me to a Zendo (a place where you practice Zen) and I learned how to sit still and just breathe – to let the thoughts come in and out without judgement. While no one said anything to each other, I could feel the warm presence of other people trying to find calm. It was the first time I'd felt at peace in as long as I could remember.
Getting Out of Your Own Head
Over the weeks and months that followed, I would go to Zen almost every day. In my chaotic, active addiction life, it seemed the only constant – the only place of safety.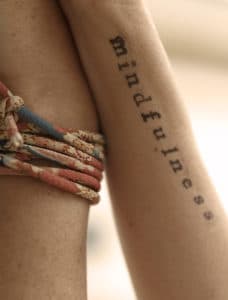 The friends I made there were quiet and calm, so unlike my wild drinking friends. I began to learn from them new ways of being, ways that I carry with me on my sober journey.
One thing that many of us with substance use problems find is that substances can get us out of our own heads. That first glass of wine can make the world go away and put us completely in the present moment, instead of regretting the past or worrying about the future. But what if something safe (and even healthy) could do the same? That's where mindfulness comes in.
What is mindfulness? It is often confused with a bunch of monks in funny robes sitting in silence for days at a time. But mindfulness is actually the process of "paying attention in a particular way: on purpose, in the present moment, and nonjudgmentally." (Kabat-Zinn, 1994)
You can mindfully eat a strawberry, take a standardized test, or resist a craving for drugs or alcohol.
The Science of Mindfulness 
In a study of 168 participants recruited from a private treatment center, some participants were assigned to a mindfulness based treatment program, while others were assigned to traditional 12-Step methods. (This is called a randomized controlled trial, where scientists attempt to compare two very similar groups given two different therapies, and see which therapy works best.)
The mindfulness group participated in eight weekly sessions of two hours each.  These consisted of meditation exercises, plus discussions of cognitive tools for facing urges. They were asked to meditate daily and do homework exercises to reinforce lessons of classes.
Those who participated in mindfulness-based treatment showed significant decreases in substance use. However, at four months, these gains started to disappear, as participants moved away from mindfulness practices and back toward traditional treatment. This could be explained by the fact that they lacked a plan for ongoing mindfulness, therefore returned to 12-Step type treatment. (Bowen S et al, 2009)
Additional mindfulness research includes:
A preliminary study showed that mindfulness-based treatment could help patients cope with depression, which often leads to relapse. (Witkiewitz, K. & Bowen, S., 2010)
A 2014 Randomly Controlled Trial of 286 patients found significantly reduced drug and alcohol use in the mindfulness based treatment group compared to traditional 12-Step treatment at 12-month follow up. (Bowen S, 2014)
A 2015 study of 93 patients revealed that those assigned to a treatment group where they practiced mindfulness at home had lower use of alcohol and other drugs. However, these gains faded at the 2- to 4-month point when they returned to standard treatment. (Grow JC et al, 2014)
What Does This Mean for You? 
Most of the people I meet in recovery circles are skeptical of meditation and mindfulness practices. They seem like a waste of time and, in our hurried culture, we rarely feel like we have time to sit for a moment in the quiet, enjoy a meal slowly, or stroll slowly through a garden.
There's no contradiction between combining 12-Step methods and meditation. In fact, the 12-Steps encourage us to stay close to our Higher Power through prayer and meditation.-April Smith
Mindfulness doesn't have to be the property of young girls in yoga pants and monks in red robes – it's for everyone. It can be an important part of your recovery toolbox, as the evidence has shown over and over again.
Don't be afraid to walk into a meditation group. You're not the first new person there, and you'll be given instructions. Refuge Recovery is a great recovery-focused meditation group, guaranteed to make you feel at home – even if 12-Step is more of your tradition.
There's no contradiction between combining 12-Step methods and meditation. In fact, the 12-Steps encourage us to stay close to our Higher Power through prayer and meditation.
Today, Zen is my primary recovery practice. I go to meditation every day and, when I don't, I know I'm in trouble. Skipping meditation is one of my clues that I have to up my recovery game before a relapse threatens. I certainly enjoy the company of people who want to make their lives better, but mostly, I enjoy the silence.
Images Courtesy of iStock