5 Ways Workplaces Can Better Support Employee Mental Health
Mondays are dreaded, weekends are cherished.
This is gospel for many who work in 9-5 jobs, and it isn't hard to see why. With five days for working and only two days for relaxing, maintaining a healthy work-life balance can be difficult. As work increases, so does stress. However, there is promising potential for companies and workplaces to turn this around in a positive direction. If administration within workplaces are able to focus on the notion that happier employees make better employees, they can begin to take strides for positive change in the workplace.
As outlined in my previous article on schools, people who are at an elevated sense of wellbeing are able to be more productive, creative, and open-minded. It is crucial for workplaces to care about their employees' mental health and wellbeing, as this will directly impact their employees' performance on the job. Below I've outlined five ideas for solutions that workplaces can offer to better support employee mental health.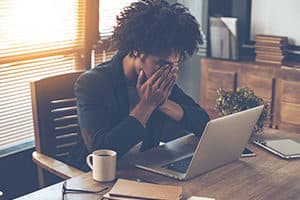 1: Implement a system of peer-to-peer awareness and safe spaces to check-in within the workplace.
Spreading general awareness about mental health within a workplace is an essential starting point. Workplaces should let their employees know that they care about how they are doing. During team or group meetings, employees can receive basic trainings on what to look out for among their peers. This way, employees are able to serve as first-responders if and when they see an employee who may be struggling. All employees will be equipped with tools on how to refer their peers to resources.
The workplace should set up their own way of checking in with employees, whether in the form of a sticky note wall where each week employees can fill out how they are doing, or in the form of a quick icebreaker at the start of a meeting, or in the form of an anonymous Google form that is sent out regularly to check-in. The exact method of checking in is open to design by the employees themselves.
Beyond this, everyone in the workplace should have training on the effects of stigma and should be trained on how to treat all employees equitably, regardless of whether or not they have mental health challenges. This allows for a "safe space" to be created at work.
2: Offer trainings to managers, and have them encourage open communication.
If managers and bosses have basic mental health training, they encourage open communication with their employees. It follows that they will be aware of their employees' mental health state and will be able to foster healthy relationships with them. Talking about their mental health state should not be a source of shame, but rather just a point of checking in. As mentioned in my article on schools, training managers does not mean they are being trained as clinicians or professionals; rather, they are simply being trained to observe what they see and refer to their employees to resources or the "Wellbeing Department" if what they see is of concern to their employees' health.
3: Hire a small team for filling the administrative position of "Chief Happiness Officer" who are responsible for overseeing employees' wellbeing.
This team is in charge of making sure employee wellbeing is thriving within the workplace. Having an entire administration position or department dedicated to employee wellbeing shows employees that their workplace cares. Furthermore, this takes stress off of other administrative positions for having to monitor their own duties as well as employee wellbeing; having this as its own standing position, will allow for more genuine focus to be placed on the job of maintaining employee wellbeing. "Chief Happiness Officers" or the "Wellbeing Department" will be in charge of conversing with employees often, reviewing employee productivity and how it correlates with their mental health state, frequently offering wellness tools and resources for employees, encouraging work-life balance, and creating an overall positive environment within the workplace.
4: If you trust your employees, give them unlimited paid days off. Or alternatively, offer a set number of "mental health days" as paid days off (separate from or in addition to other vacation/sick days).
Work-life balance supports employee mental health and may also lead to enhancement of employee performance. When employees are able to balance their time with taking care of themselves, living their own personal lives, and working, they are less likely to burn out.
Giving employees unlimited paid days off may seem risky, however, studies have shown that in these situations, employees actually take around the same number of days off than if they were restricted to a set number of days off.
When workplaces grant their employees unlimited or more paid days off, they are treating their employees as individuals and showing that they trust their employees; as a result, employees will be motivated to perform well, and their wellbeing will be supported by their workplace.
5: Have a wellness center and professional mental health resources available at your workplace, accessible to all employees.
Similar to in schools, having a physical center for wellness that employees can visit in their workplace is essential. This center can offer information, professionals to talk to, activities, and anything else that the "Chief Happiness Officer" or "Wellbeing Department" believes the workplace will benefit from.
This center should be easily accessible to all employees –– in a place that is out in the open and not hidden from view. Making this center publicly open and available takes stigma away from it. There should be no shame in visiting the wellness center, rather the workplace culture should encourage it.
Going to work can absolutely be something to look forward to every day, and when workplaces prioritize their employees' mental health by implementing solutions and initiatives like these, work can start to be less dreadful and more fulfilling for all employees.