My Client is Addicted to Prescription Drugs
My Client has a Prescription Drug Addiction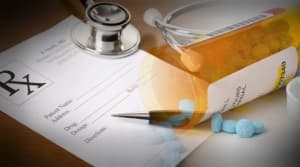 Prescription drug abuse is a significant and growing problem. According to WebMD.com, 20 percent of the American population has used prescription drugs for non-medical reasons at some point during their lifetime. Some of the prescription drugs most likely to be abused include the following: Stimulants, such as Adderall and Ritalin. Benzodiazepines, such as:
Pain medications, such as:
Addiction to prescription drugs is common and can have devastating effects, including resorting to criminal, fraudulent or illegal means to obtain more drugs.
How to Help My Client Get Off Prescription Drugs
Even though prescription drug addiction is a terrible problem, recovery is possible. Most people will need some form of assistance to discontinue a prescription drug addiction. Withdrawal from benzodiazepines can be dangerous and even life-threatening, so medical supervision is usually required to make sure your client can quit safely. Assistance can come in many forms, including a medically supervised detox program, behavioral counseling and support groups. Rehab is one of several prescription drug addiction resources for legal professionals to suggest for clients.
Health Effects of Prescription Drugs on Your Client
Prescription drugs have many effects on both physical and mental health, which can vary based on the particular drugs being abused and whether they are taken in combination with other drugs. Benzodiazepines are used to relieve anxiety and common side effects include drowsiness, dizziness, weakness, headaches and depression. Stimulants are most often prescribed to improve mental focus and promote alertness. Stimulants can also increase anxiety, cause insomnia and may cause headaches and increased blood pressure. Prescription pain medicine treats pain and causes relaxation, but side effects include drowsiness, headaches, constipation and sweating.
Inpatient facilities vs. Outpatient Clinics
"Even though prescription drug addiction is a terrible problem, recovery is possible." Inpatient facilities provide residential care for a minimum of 28 days. This secluded environment enables your client to go through a medically supervised detox, followed by a safe space to beat his addiction and learn healthy new choices. Outpatient clinics are shorter and allow the patient to go home every night, which can be a good option for people with careers or families. Although outpatient clients receive counseling and support, patients still need to work through their issues in the presence of stressful people or situations. Both treatment types are recommended by legal professionals offering help for prescription drug abusers.
What Does Executive Treatment Offer over Other Rehabs?
Executive treatment is a good option for high profile clients, including celebrities, CEOs and other business executives. Although all rehab facilities aim to protect their patients' privacy, executive level clients want to be in the absolute most discreet and private facility possible. Executive treatment also takes place in comfortable, resort-style accommodations, which can feel like a much needed getaway where the client can focus on recovery and healing.
Having a Client Fulfill Court-Ordered Rehab
Most of us hope that addicts will seek treatment on their own, but sometimes a court order is the catalyst that brings them to treatment. Court-ordered rehab is sometimes offered as an alternative sentencing option aimed at reducing overcrowding in jails by giving non-violent drug offenders an opportunity to turn their lives around. Court-ordered rehab usually has terms and conditions which must be met, and clients may be required to attend specific facilities.
Does My Client Need to Stay Local for Treatment?
Whether or not your client needs to stay local for treatment depends on the terms of the sentence and local laws. In general, most facilities that meet standards for drug treatment will be acceptable, regardless of where they are located. However, in some instances, judges may require rehab to be completed at specific locations. Check with the terms of the sentence to find more specific information about treatment resources for legal professionals to help prescription drug addicts.
Is it Private and Confidential?
Any rehab facility that receives Federal funding is bound by the requirements of the HIPAA (Health Insurance Portability and Accountability Act) law. Patients receiving treatment will be required to sign a consent form which authorizes which information may be shared and with whom. Court appointees will receive enough information to confirm that appropriate treatment is taking place, but other treatment information will be kept private and confidential from the general public unless the patient authorizes otherwise. Facilities which are completely private may have different privacy rules and your client should ask about them.
Can my client have a private room?
Many facilities do have private rooms available as an option, but they are more expensive and insurance plans (if applicable) may not cover them.
What Payment Options are Available to my Client?
Many health insurance plans do cover substance abuse treatment and may provide some payment for rehab. However, individual policies may have exceptions in place that would not cover rehab that was ordered by a court following a crime. Clients should check with their insurance company to see if coverage is available and if any restrictions apply. Rehab facilities may also have payment plans available for clients who do not have insurance coverage.
What Can my Client Expect during Treatment?
The beginning of the treatment process assesses the client's needs as a patient. Details for care will be made and a treatment plan may be created.
Patients who face significant withdrawal from their drug of choice may need a medically supervised "detox" to help them safely stop taking the drug. Abrupt withdrawal from drugs can be dangerous and even life-threatening.
Patients dealing with addiction often have underlying mental or emotional health issues that need to be addressed. Rehab provides individual and group therapy to help clients learn better coping strategies.
Many clients with addiction issues also have underlying co-morbid health conditions that need to be considered. Rehab facilities will make sure patients have appropriate medical treatment when needed.
is a lifelong process. The rehab facility will make sure your client goes home well-armed with plans for additional care that will make sure recovery is successful.
What Happens after Treatment?
Treatment doesn't end when your client leaves rehab. Most patients will have ongoing support group meetings and counseling. Some may also continue taking medications to help with underlying health issues such as anxiety. Moving into a sober living facility after treatment may also help your client to stay clean by sharing living space with others in recovery.
When Your Client is Ready to Begin Treatment
When your client is ready to begin treatment, it's important not to waste any time that could allow him to change his mind. He has decided that he wants to quit their prescription drug addiction and it's always a great time to turn his life around. When your client wants to get clean and sober, call us at to discuss the options available to your client.
Questions and Answers
Can completion of prescription drug addiction treatment affect my client's sentencing?
In many cases, yes it can. Whether the judge presiding over your client's case recommends prescription drug addiction treatment or your client is motivated on their own to do so, successful completion of drug rehab can indicate to the courts that future crimes may be preventable.
Could jail time result if my client leaves prescription drug addiction treatment early?
Yes it could, if your client made a bargain with the courts in which he agreed to complete treatment. Judges may offer a delayed sentence or waive charges upon completion of a drug rehab program. However, if the client does not complete the program as promised, he will still serve a jail sentence appropriate to the original offense. Can client charged with (drug possession, manufacturing, cultivation, trafficking, distribution, DUI/DWI, public intoxication) attend
rehab to reduce sentence?
Depending on the specifics of the crime and the background of the offender, some courts may allow your client to reduce their sentence upon completion of an approved rehab program. Most prison systems are facing issues of crowding and courts are looking to reduce prison time for non-violent drug offenders who may be able to be rehabilitated instead.
More resources about
My Client is Addicted to Prescription Drugs

: