American Family Insurance Coverage for Cocaine Addiction Treatment
American Family Insurance
American Family Insurance offers health insurance policies to individuals and families. Prior to 2014, and before the healthcare reform law, coverage for cocaine addiction treatment was heavily limited, if it was even covered at all.
Substance Abuse and mental health coverage are considered one of the "ten essential benefits" required to be covered by the new law.
As of July 1st, 2014, all insurance companies that offer mental health and substance abuse coverage are required to offer addiction treatment benefits similar to other benefits it offers. This includes coverage for cocaine addiction treatment.
What Kind of Coverage Does American Family Insurance Offer for Cocaine Addiction?
American Family Insurance will pay for different types of treatment programs including:
Residential inpatient treatment programs
Outpatient treatment programs
Aftercare programs
Rehabilitation services in a doctor's or therapist's office
In most cases, your doctor will diagnose your condition and recommend a type of treatment. After that, the facility you are referred to will work with American Family Insurance to pre-authorize the treatment you'll be receiving. Once the treatment has been pre-authorized, you'll be able to rest easy knowing you'll have coverage.
How Much of the Cost is Covered?
Cocaine addiction treatment is covered in a similar way to any other injury or illness. This part of the new health care law is referred to as "mental health parity."
In other words, if the health plan you choose covers inpatient hospital stays at 80 percent after you've paid a $1,000 deductible, cocaine addiction treatment will be covered the same way.
Also, since American Family Insurance limits other types of rehabilitation to 30 days, and it has chosen to offer mental health benefits, coverage from American Family Insurance for Cocaine Addiction Rehab is limited to 30 days.
Can I Pay Above What My Insurance Company Will Provide to Receive Treatment?
If the treatment costs more than American Family Insurance will pay, you can pay more and continue to receive treatment. For example, if you need another 30 days in an addiction treatment center, and you've already exhausted your insurance benefits, you can pay the extra cost and continue your stay.
Your treatment is not limited to the benefit length or dollar amount paid by American Family Insurance Coverage for Cocaine Addiction Rehab/Treatment.
Inpatient Addiction Treatment vs. Outpatient Therapy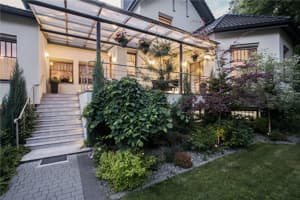 Inpatient addiction treatment is the most intense and focused type of treatment for recovering cocaine addicts.
It is typically offered for 30, 60, 90 or 180 days, depending on the amount of treatment that is needed. Inpatient treatment allows a full-time staff to closely monitor a recovering addict throughout their recovery, giving them a better chance of breaking their addiction.
Outpatient therapy is usually offered in situations where inpatient therapy is not an option, insurance benefits are not available or as a follow-up treatment to inpatient therapy.
Should I Choose a Residential (Inpatient) Rehab Center?
Many people will choose a residential rehab center based on whether or not their insurance company will cover the cost. However, there are other criteria this decision should be based on such as; the severity of the addiction, the doctor's recommendation and the history of the recovering addict.
Will American Family Insurance Pay for Local Rehab and Out-of-State Treatment?
"Prior to 2014, and before the healthcare reform law, coverage for cocaine addiction treatment was heavily limited, if it was even covered at all."
The mental health parity law requires insurance companies to cover cocaine addiction treatment outside of the network. The disadvantage to using an out of area or out of state rehab center is that it may be covered under your out-of-network benefits. In addition, you could be balance billed, which means that the facility can charge you more than your insurance company normally allows. This is because there is no contract for services between your insurance company and the out of network rehab center. This could leave you with thousands of dollars in out-of-pocket costs.
Does American Family Insurance Pay for Private or Luxury Treatment?
Like most insurance companies, American Family Insurance does not provide coverage for private or luxury treatment. Private treatment is typically done on a one-on-one basis, rather than in a group. Luxury treatment centers usually offer more amenities, spa treatments, exclusive locations and other extras that increase cost. While it may be easy to get caught up in the amenities and extras, it's important to make sure that recovery program at the treatment center you choose is based on sound fundamentals. Often times the biggest difference between a standard treatment center and a luxury treatment center is increased cost.
What Does Executive Treatment Offer Over Other Rehabs?
Executive treatment offers substantial differences over standard addiction rehabilitation. It provides a certain amount of confidentiality and exclusivity for the recovering addict. This allows them to treat their addiction without fear of public scrutiny or media attention. High profile individuals, celebrities, and people in the media spotlight sometimes opt for executive treatment programs.
What Treatment Lengths Will American Family Pay For?
American Family Insurance covers the following lengths of treatment for addicts recovering from cocaine addiction:
However, it does not cover treatment programs longer than 30 days, including the following standard lengths of treatment:
What if I Have No Insurance?
Being in a situation where you need addiction treatment, but don't have insurance, can be a difficult one. According to choosehelp.com, inpatient rehab centers charge between $4,000 and $80,000 for 30 days of treatment, with most charging between $18,000 and $32,000. Many rehab centers will treat someone without insurance, but may require a credit check to open a credit line or up-front payment. Luckily, there are other options.
Many city and state governments offer cocaine addiction treatment centers that are supported by local tax dollars.
Likewise, many churches offer addiction recovery help.
Another option to explore is online programs and support groups.
Lastly, you may find several local meetings for Cocaine Anonymous, which is an Alcoholics Anonymous based 12-step program.
American Family Insurance for Cocaine Addiction Treatment
If you are ready to start the cocaine addiction recovery process, call our helpline now at and we'll help you learn more about American Family Insurance for Cocaine Addiction Rehab.
Questions and Answers on American Family Insurance for Cocaine Addiction Treatment
More resources about
American Family Insurance Coverage for Cocaine Addiction Treatment

: