Getting Help for Nicotine Addiction
How Do I Quit Smoking Cigarettes?
If you struggle with an addiction to smoking cigarettes, you are not alone. There are nicotine rehabs available so that you don't have to quit on your own. The nicotine from smoking cigarettes is highly addictive and is one of the most widely abused substances in the U.S. It is also currently the leading preventable cause of death in the country.1 Despite these facts, however – national research, policy-making, and focus on tobacco addiction treatment has traditionally lagged behind other prevention and treatment topics. Nonetheless, the past decade has shown significant and successful advances in behavioral and pharmacological treatments for smokers trying to quit.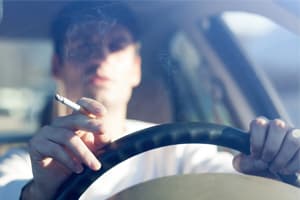 Do I Need Rehab for Nicotine Addiction?
Assessing whether you are addicted to nicotine is something best conducted by a trained practitioner. If you answer "yes" to any of the following questions, it would be wise to to consult your healthcare provide as to whether you might benefit from tobacco treatment:
Despite previous attempts to quit smoking, have you been unsuccessful in stopping?
When you have cut back on smoking, have you experienced any nicotine withdrawal symptoms? Withdrawal symptoms may include:
Rapid heart rate.
Sweating.
Shakiness.
Irritability.
Have you continued smoking despite having been advised by a medical practitioner that continuing to smoke will exacerbate your health problem?
Do you feel that you need to smoke cigarettes during times of stress or even simply to feel normal?
There are numerous resources available to help you or someone you love overcome tobacco addiction. But navigating the best tobacco addiction recovery plan for you can be confusing and even nerve-wracking.
We would love to help make this process easier and more comfortable for you. Call to discuss any questions you may have and to learn more about cutting edge treatment options for tobacco addiction.
What to Expect from Tobacco Treatment?
Quitting by yourself and maintaining a tobacco-free lifestyle can be tricky. If you seek expert support and professional guidance, however, you can dramatically increase your potential for lasting recovery success dramatically.
Effective Treatment
One of the most effective treatments for nicotine addiction includes a combination of:
Behavioral therapy.
Medications.
There are a wide variety of medications and nicotine replacement therapies (NRTs) available. A smoking cessation expert can work with you to tailor your treatment plan to your specific needs and circumstances.
Medications
Frequently Asked Questions About Rehab

To acknowledge a personal addiction and, next, commit to attending a rehabilitation program can be a daunting first few steps of anyone's recovery journey. Many individuals worry about how the rehabilitation process will affect their lives. Like anything else in life, the unknown can be scary.
Read More
Medication-assisted treatment for smoking addiction can drastically improve long-term recovery rates. NRT and other smoking cessation medications play a critical role – alongside of ongoing therapy – in relieving the physical stress of the withdrawal and recovery process.
Entering Nicotine Addiction Treatment
What happens when you enter tobacco addiction treatment?
Intake Assessment. Trained medical practitioners conduct a comprehensive physical and psychological assessment. The results of this assessment then inform the development of a treatment plan that is tailored to your particular smoking triggers and needs.
Treatment Planning. A smoking cessation expert works closely with you to determine what types of NRTs or medications would be most effective for you. Examples of NRTs might include nicotine patches, inhalers, lozenges, gum, or nasal sprays. Medications such as varenicline (Chantix) and bupropion (Zyban) might also be considered.
Therapy and Medications. Based on the high success rates of combining pharmacological support with behavioral therapies, you will likely begin engaging in intensive therapy and counseling – both in individual and group contexts.
Education and Coaching. Health education on nicotine addiction and recovery is often a helpful addition to nicotine addiction treatment. Personalized coaching may take place during one-on-one therapy sessions and often covers topics such as stress management, wellness, and relapse prevention.
Family Involvement. You will typically be given the option to involve family in your recovery from nicotine addiction. Depending on your permission and on your family members' availability – family members may be invited to participate in specialized training and education sessions with counselors trained in smoking cessation.
The prospect of entering tobacco addiction treatment may feel overwhelming at first. The best thing you can do for yourself is to learn as much as you can about the resources available to you for when you're ready to take the next step towards recovery. Call today to get your questions answered. We'd love to help you learn more about what kind of treatment options might be best for you.
How Long Does Nicotine Addiction Rehab Take?
Nicotine addiction may be treated either on an outpatient (nonresidential) or an inpatient (residential) basis – with inpatient tobacco addiction treatment programs typically lasting 7-15 days.
However, nicotine dependence is often part of a larger group of substance dependence and mental health issues that need holistic treatment sometimes lasting longer than 15 days.
NIDA research demonstrates that the longer you are compliant with treatment, the higher your quit rates will be, and the better your chances of not relapsing.2 Effectively modifying your life to live without nicotine involves significant behavior modification. The longer you commit to positive changes, the longer you will likely remain sober from tobacco.
Choosing the Right Rehab

The process of choosing the best rehab facility — whether for alcoholism, drug addiction or behavioral addiction issues — can be difficult. There are so many options out there, it can be tempting to just pick any facility. While most facilities will employ similar treatment models, it's essential to take some time to weigh your options. Finding a program that fits well with your individual situation and preferences increases the likelihood that you'll achieve recovery.
Read More
Recovery from Nicotine Addiction is Ongoing
Remaining smoke-free over the long haul is a greater challenge than a one-time quitting. Nicotine addiction can lead to frequent episodes of chronic relapse even after quitting – often requiring multiple attempts to quit for good. As with overcoming other substance dependences, you are never "cured" of a smoking addiction.
You can, however, strengthen your skills to overcome smoking urges and sustain the ongoing process of recovery. The longer a smoking cessation protocol is followed, the better the outcomes for living a tobacco-free life.
If you are concerned that you or a loved one is unable to stop using tobacco, call to speak with someone about the different types of treatments and resources available to help make your transition to a smoke-free life permanent.
Types of Rehabs for Tobacco Addiction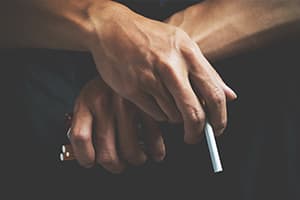 Smoking addiction treatment is typically provided through your primary care physician, at community health centers, and at specialized smoking cessation clinics. It can be treated through:
Outpatient programs. These programs offer treatment plans as you live at home and make visits to a clinic or health center.
Residential programs. These programs have you come in and live at the program to undergo more intense 24/7 treatment.
Individuals without long-standing addiction and without coexisting medical or mental health conditions tend to be the best candidates for outpatient treatment programs. Residential programs often provide more adequate help for those with more serious addictions and with those who have coexisting medical or mental health conditions.
Standard Residential
Standard residential rehab facilities provide staff personnel who can monitor your progress around-the-clock. Hospital-based facilities offer 24/7 access to healthcare professionals and medical resources – while facilities located outside of hospitals may offer intermittent access to healthcare professionals. Standard residential facilities are usually the most cost-effective inpatient treatment option.
Luxury
Luxury rehab facilities are more expensive than standard residential treatment centers because they provide additional high-end amenities such as:
Secluded settings.
Private rooms.
Wellness programs.
Special nutrition.
Executive
Executive rehab facilities offer the same treatment and much of the same resort-like amenities as luxury facilities. However, executive rehabs are additionally designed to allow busy professionals to continue engaging in regular work life as normally as possible.
Other Specialized Rehab Programs
Specialized rehab facilities focus on specific sub-populations. Programs may be:
Paying for Treatment to Recover from Tobacco Addiction
Identifying resources to stop smoking can be a challenge. Although keep in mind that for every day you remain nicotine-free – you do save considerable money just on the purchase of cigarettes.
A few of the ways in which you can pay for tobacco addiction treatment include:
While insurance should cover much of your costs, it is important to review your policy closely to be aware of out-of-pocket costs that may be incurred for certain medications and behavioral interventions.

Check policy terms, deductions, exclusions and reimbursement terms prior to entering treatment. An excellent resource to check whether nicotine addiction treatment services are covered under the Affordable Care Act and your specific insurance is the American Lung Association.
Public or Private Loans. If you are uninsured, one potential option is to obtain loans – either publicly from the public sector or privately from friends and family.
Employee Benefits. If you are a full-time employee, check with your employer's human resources department to determine if your benefits include participation in an employee assistance program.
What Happens After Tobacco Cessation Rehab?
A key component in long-term recovery from nicotine addiction is the pursuit of healthy activities that make taking smoking back up much less likely. Sometimes referred to as "smoking prevention activities" – these activities may include lifestyle changes that replace your previous smoking habits, and may include:
Exercise. In particular, aerobic exercise has been shown to improve affect and reduce tobacco withdrawal symptoms – although research is also in progress that shows potential positive outcomes for yoga as well.3
Retraining your brain. In addition to a healthier lifestyle, one key to sustaining a smoke-free life for the long-term may be predicated on whether you perceive yourself as a non-smoker.4
Continuity of care. Once your formal program of smoking cessation has completed, it's important to continue to access resources and participate in Nicotine Anonymous or other online/telephone support groups when relapse triggers are acute. Making this significant behavioral health change is a challenge. Long-term recovery is best accomplished with the support and guidance of a trained therapist or with a smoking cessation practitioner even after you have successfully stopped smoking.
How to Pick a Top Smoking Cessation Treatment Program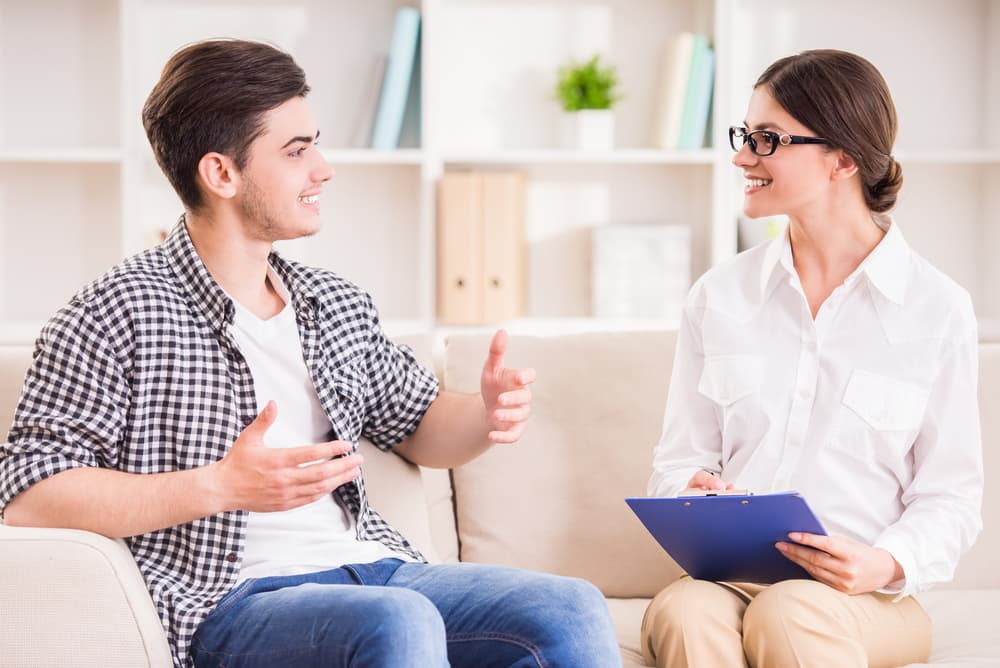 The good news is that you have an array of effective options for overcoming your smoking addiction. At least 9 medications and 3 different psychosocial treatments have shown significant success in helping one stop smoking.5
Sorting out the pros and cons of various approaches is best done with a healthcare professional who has tobacco cessation training. Individual factors that play a role in shaping one's treatment program include:
Prior attempts at quitting.
Concerns about potential adverse effects such as weight gain.
Self-analysis of relapse triggers (e.g., physical cravings or stress).
Coexisting medical or mental health conditions that may require additional or more intensive treatment.
As with selecting the most appropriate treatment program for any drug of abuse, you should consider the following factors when evaluating a treatment program:

The program's proof of positive outcomes and success rates.
Caliber of trained practitioners.
Treatment philosophy (abstinence versus medication management).
Cost.
Accreditation by the Commission on Accreditation of Rehabilitation Facilities (CARF), the Council on Accreditation (COA), or the Joint Commission on Accreditation of Healthcare Organizations (JCAHO).
Location and ease of incorporating the treatment schedule into your daily life.
Learn More and Find a Treatment Program
Trying to find the best tobacco addiction treatment program for your particular needs is not always easy. We would love to help clarify your choices and discuss what particular needs or circumstances you may have. Call at any time to speak to a treatment support team member about your nicotine addiction treatment options. We are available to answer your questions 24 hours a day.