Workplace and Recovery

With approximately 23.5 million Americans currently addicted to drugs or alcohol, and an additional 22 million Americans in recovery from drug or alcohol use disorders, the chances are good that most employers will find themselves – if they haven't already – supporting an employee struggling with addiction or seeking treatment. Addiction in the workplace can have high costs, not just on a person's individual livelihood but also to the productivity of a company, so everyone benefits when a person with an addiction chooses to enter treatment. But are workplaces set up to help a person in recovery succeed when they return to work?
Surveying 737 American employers and employees about their experiences with recovery in the workplace, we set out to see just how equipped employers are to support employees recovering from substance use disorders. We asked employers whether they have had to deal with these issues and how they handled them. Had these bosses ever said anything to an employee about a drinking or drug problem? How did they hope to support employees returning to work after recovery?
We also asked employees in recovery if they have ever had to leave work for treatment and, if so, what that was like. How was their experience returning to the workforce newly sober? Read on if you've ever wondered how to balance recovery and the workplace, or if you want to learn how to be more supportive to an employee who may have an addiction.
Taking Time for Treatment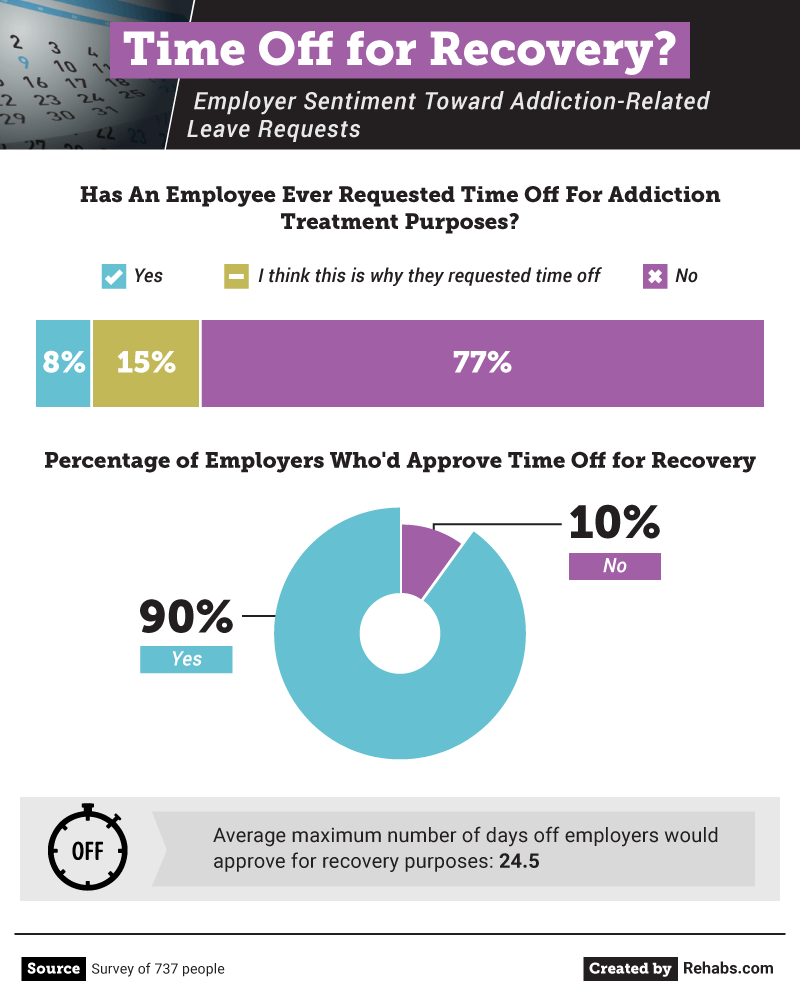 Given that over 70 percent of people with drug or alcohol use disorders maintain employment, employees who have an addiction are likely to seek solutions for their struggles, including treatment that may require time off from work. Time off for treatment is often in the best interest of employees and their employers – studies show that people in recovery are likely to perform better at work, take fewer days off, and keep their jobs longer compared to workers who have not sought addiction treatment. Therefore, it's important for employers and employees to understand the laws in place to help workers seeking recovery while on the job.
We first surveyed employers to see what percentage of their employees may have needed time off from work for addiction treatment purposes. Eight percent of bosses said they knew an employee had taken time off work to go into recovery, and another 15 percent said they thought addiction treatment might be the reason an employee needed time off of work.
Under the Family Medical Leave Act (FMLA), employees are entitled to protected leave for personal medical treatment, including treatment for substance use disorders. If you're looking to take time off for treatment and you've worked at a qualifying job for at least a year, you may not get paid, but your job will be protected for up to 12 weeks. Some workplaces even offer an Employee Assistance Program (EAP) that can help employees access treatment resources. It's also important to note that the Americans With Disabilities Act (ADA) protects worker privacy, meaning employees do not need to disclose the reason for their leave with their employers.

If you haven't been at your job for very long, or your job doesn't fall under FMLA protections, you may worry your job won't be there for you when you return from leave. Among the employers surveyed, 90 percent said they would grant workers time off for recovery purposes and would approve an average of 24.5 days off for recovery.
Guilt and Employee Addiction
So how do employers feel about dealing with employees who have a drug or alcohol use disorder? Among the employers surveyed, 70 percent felt guilty about how they had handled an employee's drug or alcohol addiction-related problems. Specifically, the majority of bosses felt they could have reacted to their workers' drug-related problems sooner.
When an employee exhibits signs of drug or alcohol abuse in the workplace, such as frequent unexplained absences, a change in personal appearance, or decreased productivity at work, employers may hesitate to speak with employees if they think addiction might be the cause. However, a conversation about work performance might be the first step in helping an employee share his or her problems with addiction. Such early interventions might even help employees on the path to recovery before a crisis such as an overdose impels them to seek treatment.
If you're dealing with addiction in the workplace, maybe these data will encourage you to talk to your boss about it. It can be scary to open up about a problem as personal and challenging as substance use disorders, but if you study your rights and company's policies, you might benefit from an open conversation about your addiction with your boss or HR representative. This conversation might even be the first step to finding solutions, including treatment, that can help you keep your job and even thrive in it.
Keeping Your Job After Treatment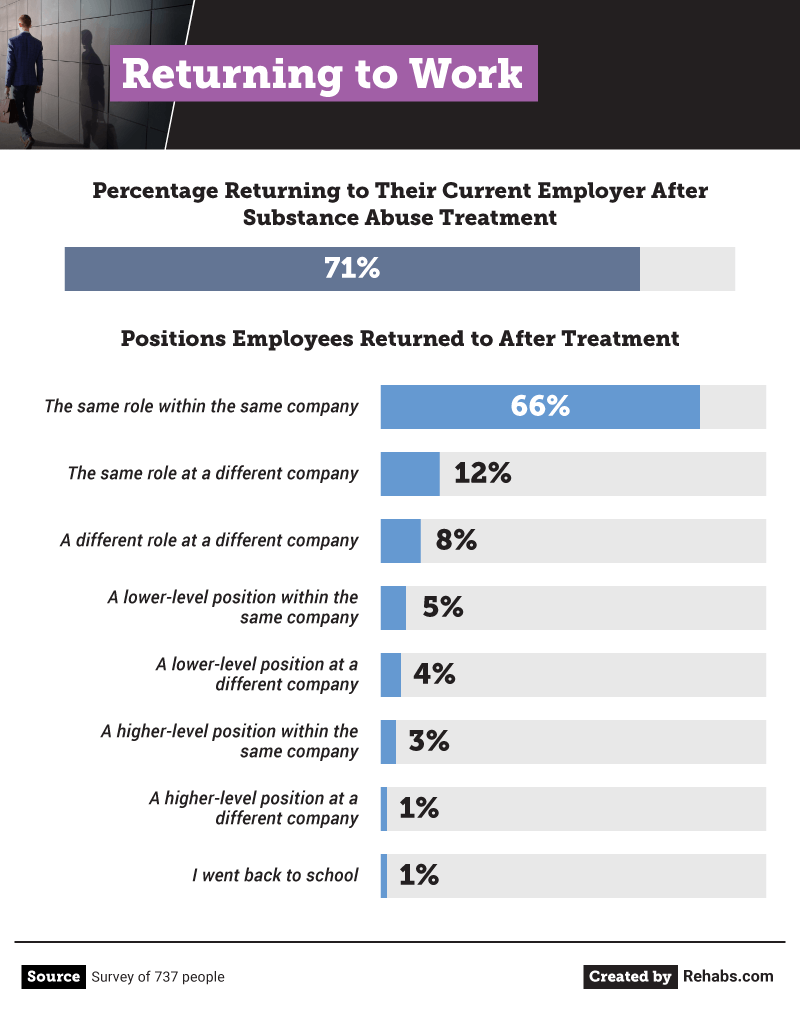 We've already outlined some strategies to help you keep your job if you need to take time off for addiction treatment – but how often do workers in recovery return to their former jobs?
Seventy-one percent of employees who took time off from work for recovery reported returning to the same company after treatment. Among employees in recovery, 66 percent returned to the same role at the same company. A total of 25 percent of respondents said they went back to work at a different company, but it is unclear to what extent these job changes were voluntary.
Given the stigma that is often associated with drug and alcohol addiction, employees in recovery might choose to avoid going back to their old jobs in favor of a fresh start with co-workers who don't know their past. While returning to the job you had before treatment can sometimes restore familiarity, you might choose to avoid old routines in favor of building new, healthier ones now that you're in recovery.
Reality of Returning to Work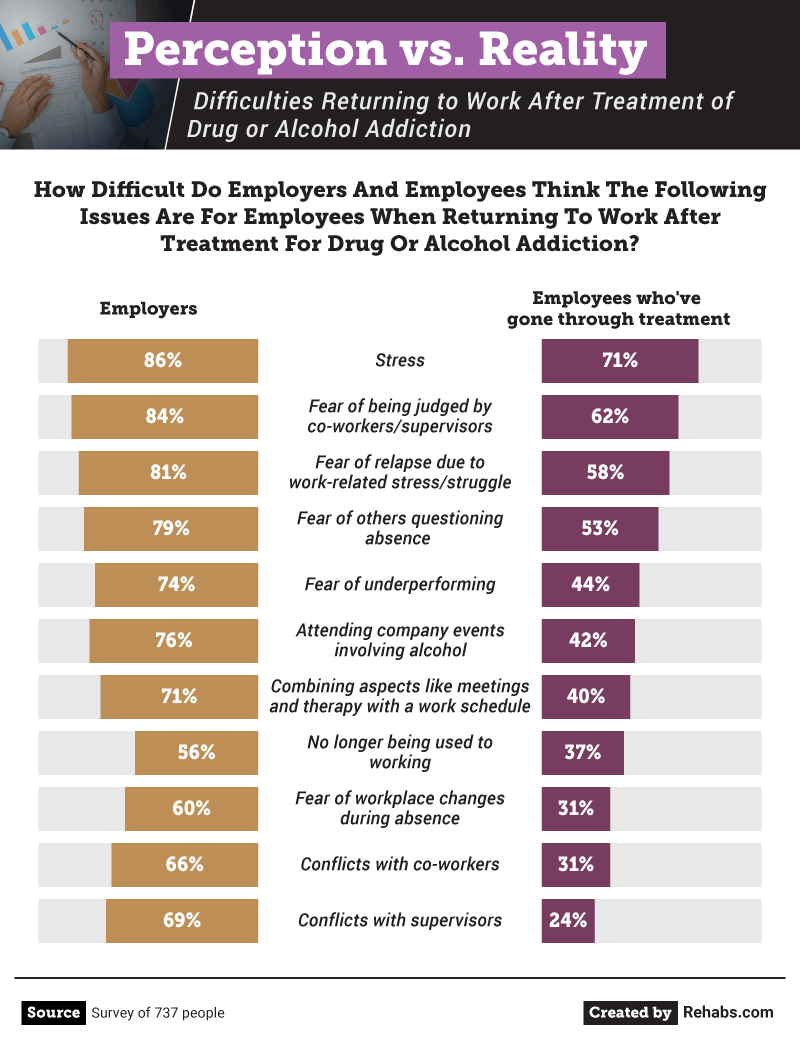 Employers and employees both might worry what the return to work will be like for someone in recovery. How will co-workers treat the employee after a long absence? Will they fall back into good work routines or struggle to keep up? Will the stress of work make staying sober more difficult?
While these are real concerns, it seems there is a gap between what employers think will be most difficult for employees returning to work compared with what employees actually experience. Employees rated stress and being judged by co-workers as the biggest challenges when coming back to work. Employers, however, vastly overestimated the difficulties their employees faced. Employers were especially likely to overestimate the challenges of getting along with supervisors and co-workers after returning from treatment: They respectively expected stress to be 21 percent more challenging and being judged by co-workers 35 percent more difficult than employees actually experienced these challenges to be.
This gap in perception may go back to employer guilt – if you feel like you could have done more to support an employee with alcohol or drug use issues before they went into treatment, you might work extra hard to try and support that employee when they return from treatment. One of the ways to prevent these gaps between employer perception and employee reality is for the employer to set a return-to-work conference with the employee. During this conference, the employer can talk about changes to the workplace that may have happened while the employee was in recovery, and the employee can discuss the support he or she might need to get back to work successfully after leaving.
Job Well Done?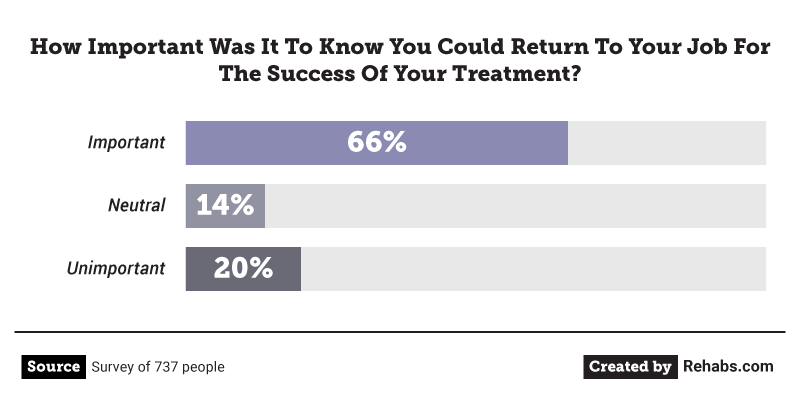 If you have an alcohol or drug addiction but are worried you might lose your job while in treatment, it might affect the success of your recovery. Sixty-six percent of workers said knowing they could return to their job was important to the success of their addiction treatment. It's hard to take a leap and pursue the difficult path to recovery without knowing how you'll support yourself financially when you make it to the other side. What's more, returning to work after treatment can be a key step to staying sober because it provides a structured routine, a safe social environment, and stimulation for your brain.
Welcome Back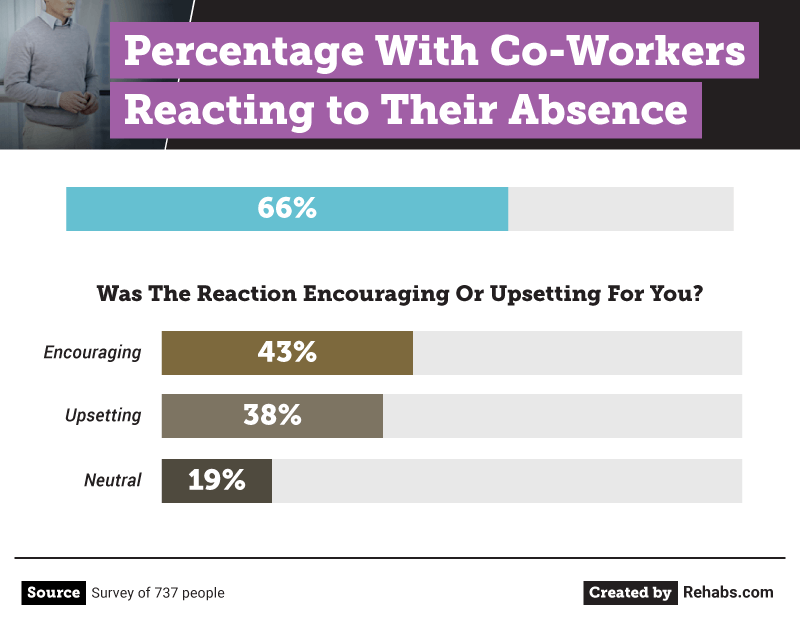 As mentioned, 62 percent of workers returning to their jobs after treatment feared how their co-workers would judge them. But do the real reactions of co-workers live up to that fear?
Sixty-six percent of employees who returned to work after treatment had co-workers react to their absence. Among those, 62 percent reported co-workers' reactions being positive or neutral, while 38 percent reported their co-workers had an upsetting reaction to their return from treatment.
Of course, co-worker treatment when you return to work will depend on what they know about your situation and on what terms you left your company before entering treatment. Alcohol and substance use disorders can often affect your performance and relationships in the workplace, and if you left on bad terms, you will likely have to work to rebuild trust when you return. Sometimes, being honest about your recovery status can help to reestablish good terms with your company and co-workers because it can help you make a plan to make things right. Remember, though, that the Americans With Disabilities Act (ADA) protects you from having to reveal why you went on medical leave, and if co-workers do know about your past addiction, the ADA also protects you from discrimination based on your medical condition.
To Party, or Not to Party?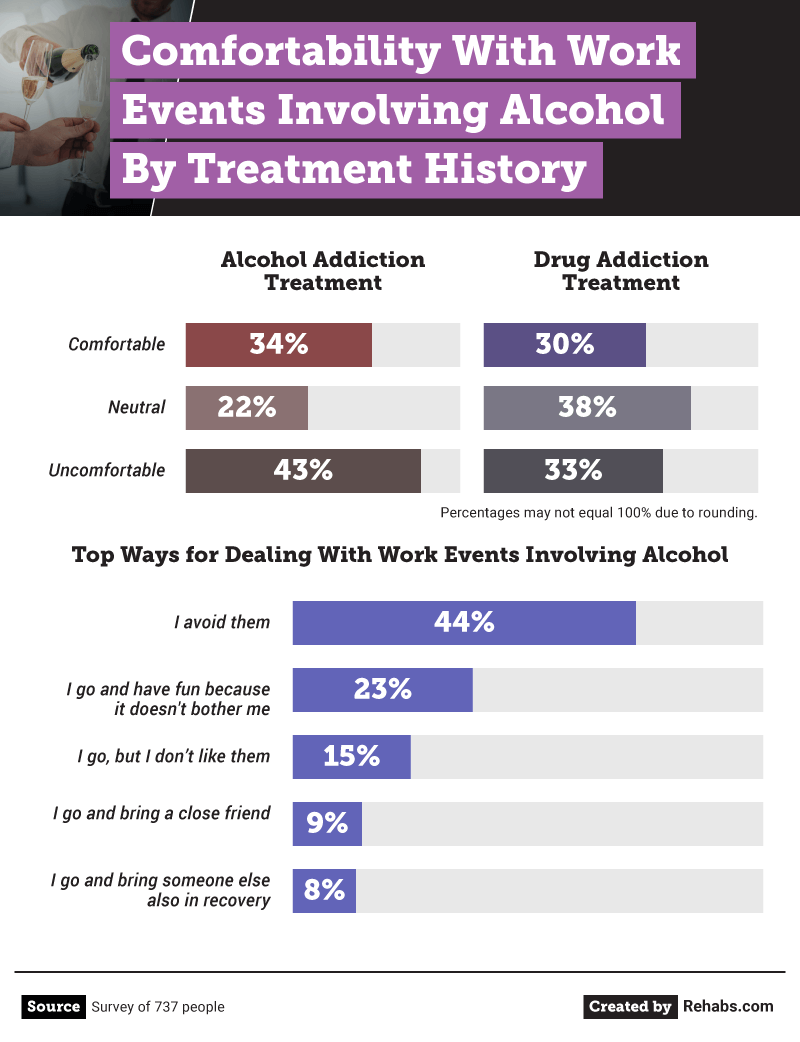 If you're in recovery and rebuilding relationships now that you're back at work, you might find that work functions with alcohol can stand in the way. While many workplaces avoid events that serve alcohol for safety and inclusion reasons, alcohol remains de rigueur for many company functions; in fact, a recent survey of human resources managers showed 70 percent of HR professionals thought drinking was acceptable at a holiday party.
Since functions with alcohol can often be a trigger for people in recovery for drug or alcohol addiction, we wondered how employees in recovery dealt with alcohol-related work events. Forty-three percent of employees who received alcohol addiction treatment and 33 percent of those who received drug addiction treatment were uncomfortable with work events involving alcohol.
We then asked how employees in recovery dealt with work events that served alcohol, and our findings show that alcohol-related work events exclude employees in recovery – only 23 percent of those surveyed reported going to these events and not minding that alcohol was served. Employees in recovery generally avoided these events or felt uncomfortable if they did attend, but some shared strategies for coping, including bringing a friend or someone else in recovery to help avoid temptations that can lead to relapse.
Talking About Work and Recovery
Our data show returning to work after treatment for drug or alcohol addiction isn't always easy and that employers can do more to ease this transition for their employees. It's important for employers and employees to understand the laws that protect workers with substance use disorders. Once they do, it seems the key to helping a returning employee in recovery is communication. Employers and employees should sit down and talk about their fears, expectations, and how the workplace can best support the worker during this transition.
Clear communication and workplace guidelines can help the merging of work and recovery to occur successfully. If you currently have a drug or alcohol addiction, or know someone who does, and are ready to take your first step toward recovery, visit Rehabs.com to find the best addiction treatment program for you.
Methodology 
We collected 737 responses from employers and employees. 102 employers had experience dealing with employees' drug and alcohol addiction problems, while 481 employers didn't have any experience with this. Questions explicitly addressing employers' experiences only included answers from employers who've dealt with employees' drug or alcohol addiction issues in the workplace. We collected 154 responses from employees who currently or have had a drug or alcohol addiction in the past. Ninety respondents said they had an alcohol addiction, while 64 respondents said they had a drug addiction. Fifty-one percent of respondents identified as female, and 49 percent identified as male. Participants ranged in age from 18 to 84 with an average age of 36.3 and a standard deviation of 11.6.

The data we are presenting rely on self-reporting. Some issues can occur when using self-reported data. These issues include but are not limited to: selective memory, telescoping, attribution, and exaggeration.
Fair Use Statement
Do you want to share these findings on workplace and recovery to educate others? The graphics and information found here are available for noncommercial reuse only. Feel free to share them as much as you'd like – just make sure you link back to this page.