Drug and Alcohol Rehab Centers for Seniors and Elderly Adults Near Me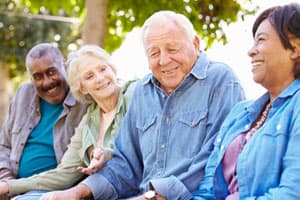 There are more than 43 million older adults aged 65 and up living in the United States. Accepting help for substance abuse and addiction is fraught with stigma for many people, especially for the large population of seniors. Being in addiction treatment with younger generations often is not an optimal recovery situation.
Elderly individuals have shown to be more comfortable, participate more, and have better outcomes when sharing their stories with other seniors who are also in addictions recovery. However, older adults may need additional help when it comes to overcoming addiction problems.
Through specialized rehabilitation (rehab) programs, many seniors are finding the help they need to overcome an addiction to drugs or another substance.
What is Addiction Rehab for the Elderly?
Addiction in seniors can be difficult to deal with due to how the body reacts as it ages.
Many people find it surprising that so many older adults suffer from addiction to drugs or alcohol. Isolation, loneliness, untreated depression, stigma, and lack of mobility are some of the barriers for elderly individuals who have substance abuse and addiction issues to access treatment.
The aging of the baby-boom generation is resulting in a dramatic increase in levels of illicit drug use among adults 50 and older. These increases may require the doubling of substance abuse treatment services needed for this population by 2020. Now decades later, there is an senior population in need of age-specific addiction rehab.
Addiction in older adults can be difficult to deal with due to how the body reacts as it ages. For example, while a younger person may not experience severe symptoms of withdrawal from a substance during the detoxification (detox) process, an elderly individual may react much differently.
Mental decline in seniors can also lead to taking a prescription drug more or less often than prescribed or in the wrong amount. Due to the way an older person handles the rehab process, monitoring from medical professionals who are specifically trained in addiction rehab for the elderly is needed.
Substance Abuse in Seniors
Each stage of life presents us with challenges as well as opportunities. For older adults, common obstacles to life satisfaction and happiness include declining health, social isolation, grief, loss, family discord, and financial uncertainty. Loneliness and isolation place elderly individuals at a high risk for emotional distress, physical discomfort, substance abuse, depression, despair, and suicide. To further complicate matters, seniors may be prescribed a myriad of medications that when mixed with alcohol or street drugs can have lethal consequences.
Like others, seniors are often reluctant to seek treatment or they don't know where to turn for help. Professional addiction treatment and community support can often alleviate the pain and distress that many older adults struggle with on their own.
Unfortunately, addiction in the elderly is often missed by family, friends, and even medical professionals partly because symptoms are often described as nagging physical pains, inability to sleep, or low energy. Symptoms of addiction in seniors are often seen as the inevitable result of growing old and not signs of substance abuse or addiction.
Addiction Treatment Process for Older Adults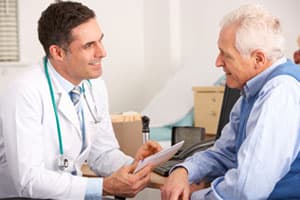 Recovery from an addiction involves treatment for physical dependence along with treatment for psychological addiction. Often, before a senior commences with therapy to address the numerous psychological aspects of addiction, he or she must first complete a detox period, wherein physical withdrawal from the abused substances occurs.
Many addiction rehab centers incorporate a structured and supervised detox program to slowly wean elderly patients off addictive substances rather than simply forcing them to stop using all at once. The time it takes to wean a patient off a substance will depend on the specific person along with the nature of the substance. When dealing with addiction in seniors, it's important that the older adults is monitored at all times by a professional during the process to ensure safety.
Once an elderly patient successfully detoxes from a substance, ongoing drug and alcohol abuse therapy begins. Most often, senior patients can expect to work with addiction counselors both on a one-on-one basis and in group sessions in an effort to help combat the addiction fully.
Like other addiction treatment facilities, elderly rehab centers are designed to cater to each individual patient. While one older person may find success by working extensively in a group setting, another may find success working with a therapist individually.
Many senior rehab facilities try to involve not only the patient in therapy, but also the person's family and other loved ones. Family therapy, in conjunction with individual and group therapy, help form a solid foundation for drug and alcohol addiction treatment.
Inpatient vs. Outpatient Treatment Facilities for the Elderly
When you're ready to get help for a drug and alcohol addiction problem, you will need to decide if inpatient or outpatient rehab is the best option. There are benefits and disadvantages to each type of addiction treatment program. It's important to consider all the factors involved so you or your senior loved one can get the right treatment to meet your specific needs. Older adults need to feel comfortable in their surroundings, which is why choosing an addiction treatment facility that specializes in the elderly is the best option for most people.
Another major factor that should be considered when looking at drug and alcohol rehab programs for seniors is the number of treatment options available to a highly diverse population. The type of treatment administered to an older patient can play a significant role in how successfully the patient overcomes addiction.
For example, if an elderly individual goes to an addiction rehab facility that doesn't offer a treatment plan that is right for them, he or she may be less willing to complete the program. However, when a senior patient is provided with a treatment plan that works well with his or her unique needs, they are more likely to complete rehab successfully.
Best Rehab for Seniors Near Me
A solid drug and alcohol addiction rehab program for the elderly needs to treat their patients holistically because seniors with other psychological, physical, and medical issues must be treated concurrently in order for recovery to be successful. A number of treatment options exist that offer comprehensive services geared toward older adults with substance abuse disorders.
If you're wanting to find the best inpatient residential rehab center for the elderly near you, it's important to carefully consider the various types of treatment programs available to ensure your needs are met. The best and most effective treatment is that which is tailored to your individual needs, whether it's short- or long-term, residential inpatient, outpatient or dual diagnosis programs.
Depending on your location, you may find there is not an appropriate treatment program in your area for seniors. However, if there are programs nearby, consider the pros and cons of being admitted to a local program versus traveling out of state. Our rehab directory can help you search through treatment providers throughout the United States. Some popular States include California, New Jersey, Florida and Texas.
Recovery from addiction is possible at any age or stage in life.
Luxury Rehabilitation Centers for Seniors
If work-related circumstances have hindered you or a spouse from getting care for addiction, an executive rehab may be of interest. Leveraging upscale addiction treatments with the flexibility of occasional computer and phone access, an elderly individual can get sober and begin recovery away from the company spotlight and stress.
Many luxury rehab facilities provide amenities one would normally expect in four- and five-star hotels, with the older adults' success and health being the biggest goals. From fine linens and gym facilities to in-house massage therapy and private rooms, patients can get the best drug and alcohol addiction treatment while also enjoying lush surroundings.
Choosing a Drug and Alcohol Rehabilitation Program for Older Adults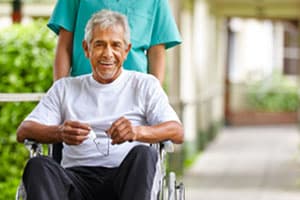 Choosing the right senior addiction treatment center can be difficult. Programs that specialize in working with the elderly population are highly desirable not only because issues of accessibility are addressed but staff members are trained in gerontology.
Accessibility, such as accommodations for wheelchairs, hearing loss, and visual impairment is often a key concern and should be addressed by any rehab center working with older adults. In addition to drug and alcohol abuse disorders, many seniors have pre-existing, co-occurring or dual diagnosis health issues that need to be assessed and addressed by rehab programs that treat the elderly population.
Dual Diagnosis Treatment for the Elderly
Some seniors could suffer from both substance abuse (such as drug or alcohol addiction) as well as mental health disorder (such as depression, bipolar and anxiety). A tailored program can be created to help with the treatment of both, which is commonly referred to as dual diagnosis treatment.
Dual diagnoses require integrated and comprehensive care to fully address and rectify both conditions. This type of treatment is offered by treatment centers that provide rehab for substance abuse and help with mental health related issues. You can find out more on our dual diagnosis treatment guide.
---
More resources about
Drug and Alcohol Rehab Centers for Seniors and Elderly Adults Near Me

: