When They Just Don't Want Your Help…
Dealing with someone else's chemical dependency is complicated. You want to talk to her about it, but have you really thought about what you will say or how she will respond?
Since your reaction could make a difference in whether she chooses to get help or continues to abuse drugs, success lies in the preparation.
We Need to Have a Talk
Let's take a look at some common excuses and how you can best handle them:
"I can quit if I want to."The typical knee-jerk reaction is "Okay, then prove it. Quit today." Of course, this is quickly followed by her typical response "Well, I could quit…but I don't want to right now."

What you can't do is make her quit. If she continues to deny her problem, the best thing you can do is educate yourself about addiction. Learn more about what she's going through – physically, emotionally and mentally. A better understanding of her situation improves communication and provides insight into how you can help.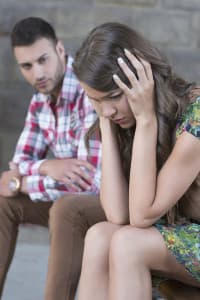 "I only drink to be social."
She feels awkward in social situations; turning to substances to help her "loosen up" and "have a good time."
Is she truly more social because of her drinking? Is her behavior socially acceptable? Get her to look at her overall drinking pattern, which likely includes drinking alone, and at her social life, which likely hasn't improved by drinking.
"I don't have time."Is she in the midst of a busy career? Is she in school? If she's struggling with addiction, her priorities are affected and her reality is skewed. She sees altering her schedule as too stressful. The thought of missing work or class sounds more detrimental than breaking the pattern of addiction.

Remind her that rehab will make her more productive in the long run. Her substance use will no longer consume so much of her time and energy. Her quality of life, career and health will improve.
"Treatment is too expensive."In-patient rehab facilities are pricey but there are more affordable outpatient options. Locate drug treatment centers in your area. Find out if any funding or scholarships are available based on need. Let her know there are options. Also, remind her that investing in sobriety is a better option than putting money toward a self-destructive habit.
"I'm not hurting anyone."She's convinced she's only hurting herself. Let her know her decisions have consequences that affect others. Gently tell her how her choices are hurting you. Let her know that you love her and that she isn't alone. Focus on the support you can provide.
The Excuses Will End; Be Prepared
Remember, you can't do the work of recovery for her, no matter how much you want to. What you can do is continue to talk about it. Turning to denial, shame or excuses won't help.
Continue to educate yourself about addiction and the resources available to both of you. Get yourself to a healthy, knowledgeable place. That way, when she reaches a place where she's willing to accept help, you'll be ready to give it.
Additional Reading:   True or False: Things Would be Fine if You'd Listen!
Image Source: iStock