When Addiction and Divorce Collide
Dealing with addiction in a marriage has become a common problem in today's society.
There are approximately 1.2 million divorces filed every year – a bulk of them directly related to drug and alcohol use.
So it Comes to an Ultimatum
Falling within this statistic was my mom and her second husband. Dave had always been a big drinker, but while in the honeymoon phase of their marriage, my mom simply rationalized his irresponsible behavior and looked the other way.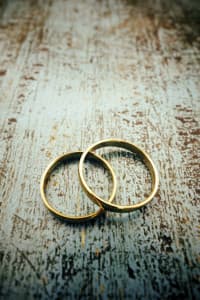 Over the years, his consumption increased and soon alcohol was affecting every aspect of his (and our) lives. He couldn't hold down a job, he'd gotten three DUI's and he blacked out so often my mom didn't know whether she'd find him in the local jail, hospital or morgue.
After discovering he'd racked up $30k in credit card debt, it became clear she couldn't live in this state of chaos any longer: it was either the drink or her.
Dave stayed sober for 11 days, but afterwards picked up the bottle with more determination than before. Thankfully, my mom followed through on her ultimatum and filed for divorce. As a result of his addiction, Dave lost his marriage, his relationship with his kids and any means of supporting himself. Yet, he still denies he has a problem.
Life with an Addicted Spouse
As a very difficult task for spouses to navigate, addiction can quickly grow and feel like an unwanted third party in a relationship.
Loving someone who is chemically dependent can leave you feeling powerless and angry at their inability to change. What's more, these feelings are heightened if:
She refuses to acknowledge that they have a problem
She refuses to seek professional help or treatment
She depends on you to enable her substance abuse
It's Never a Guaranteed Disaster
Not all marriages like my mom and Dave's have to end in divorce. Sometimes, all it takes is for that person to hit rock bottom and seek help for alcohol or drug addiction to get clean and turn things around.
For many addicts, losing a spouse and access to their children can serve as that low point. But it leaves very little to work with if the he isn't willing to get help. In these cases, divorce is likely the only option for self-preservation.
If you find yourself in this situation, seek out a good family law attorney and use this period to focus on yourself. Taking time to heal from the emotional roller coaster you've been put through is crucial in the recovery process.
Additional Reading: Living with Addiction-Fueled Dysfunctional Family Roles
Image Source: iStock