What I Learned About Alcohol and Depression
When I was sentenced to prison in early 2010, there weren't a whole lot of things going right in my life. But there was one bright light in my otherwise dismal immediate future: my then-boyfriend.
He was my rock; a man who motivated me to keep going when I thought I couldn't and someone who came to visit me every weekend.
I could hardly wait to resume our lives together.
A Not-So Happy Homecoming
When I was released nearly four years later, nothing was how I'd imagined it. I'd come home to a man I barely knew – one who was in the middle of a full-blown addiction.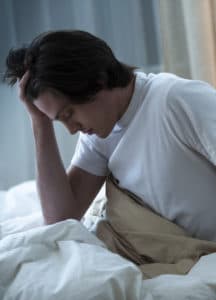 In the year we lived together after my release, he never went one night without downing a multitude of strong cocktails, and often times, he'd be so depressed he wouldn't get out of bed until the sun went down.
I felt so alone in that relationship, having to watch a loved one suffer through addiction and a mental illness while adamantly refusing to get help.
I'd often wonder which developed first during all those years I was gone? Did his regular drinking eventually lead to depression? Or did he develop a drinking problem because of his depression?
Adding Fuel to the Fire
According to a study by the National Institute on Alcohol Abuse and Alcoholism, depression usually precedes substance abuse, as depression is often rooted in childhood. Frequently, traumatic childhood experiences, such as physical or sexual abuse, trigger depression. When children reach adolescence or adulthood, they seek an "escape" from those painful feelings and memories by using drugs or alcohol.
Alcohol is a depressant and because of its neurotoxic effects, drinking enough of it increases the risk for depression. That means, if you're already depressed, drinking will make you feel worse and cause more frequent and severe episodes of depression. It can even interfere with your antidepressant medications, making them less effective.
Alcohol abuse and depression are both serious conditions that you shouldn't ignore. If you think you have a problem with either, talk to your doctor or psychologist. Life is short; you don't have to live in perpetual suffering – like my ex-boyfriend – when there is help available.
Additional Reading:   Connecting Life Purpose, Addiction and Depression
Image Source: iStock