Spotlight: Drug Abuse in the Over-60 Crowd
When you think of drug addiction, seniors are probably not the first age group that comes to mind. Yet, substance abuse among those 60 and older is one of the fastest growing health problems facing this country.
According to the National Clearinghouse for Alcohol and Drug Information, as many as 17 percent of this age group are abusing prescription drugs (44 percent of women compared to only 23 percent of men), the common ones being benzos like Klonopin, sleeping pills like Ambien, and opiate painkillers like Oxycodone.
And this number is expected to keep growing.
Growing Older, Getting Addicted
A study in the Annals of Epidemiology projects that the number of people age 50 and older abusing prescription drugs could increase 190 percent over the next two decades, going from 911,000 in 2001 to almost 2.7 million by the year 2020.
…a 2011 National Survey on Drug Use and Health found that 8.3 percent of adults 65 and older reported binge drinking.But it's not just pill-popping that's becoming a problem; it's alcohol consumption, too.
Numerous surveys have documented problematic drinking among the elderly. For example, a 2011 National Survey on Drug Use and Health found that 8.3 percent of adults 65 and older reported binge drinking, which is defined as having four or five drinks on one occasion in the past month.
The Quest to Control Chronic Pain
So, why are people in this specific age group turning to drugs in the first place?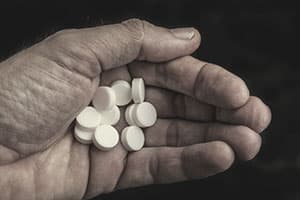 Unlike teens or young adults, seniors aren't turning to drugs and alcohol to "get high" or become less inhibited in social situations. Instead, they are seeking to alleviate chronic pain, grieve the loss of a loved one, or simply be provided a distraction from the boredom and loneliness of retirement.
This mass consumption comes at a price, however, leading to dire consequences for this age group. With age, the liver becomes less efficient at filtering out medications from the body.
Because of this slowed drug metabolism, an older person may get addicted at lower doses than a younger person would. As a result, serious side effects are more likely to occur, which can include depression, dangerous interaction with other medications, or causing falls that can lead to debilitating fractures or an early death.
Ignoring the Problem is not an Option
Unfortunately, substance abuse is often overlooked among older adults. Many times this problem is swept under the rug because health care providers aren't sure what to look for, while family members might be quick to justify the behavior out of fear they will offend or anger an older loved one.
The good news is substance abuse within the elderly population can be treated.
To make a difference and help older adults achieve sobriety, medical experts must identify the best ways to integrate the screening process into general practice and gain a better understanding of the issues seniors face.
Additional Reading: Breaking the Bank: The Hidden Costs of Addiction
Image Source: Pixabay