Packing for Rehab: What Should You Bring?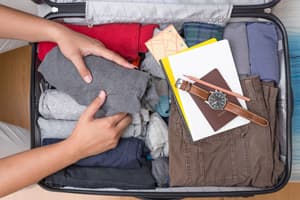 Going to rehab can be a scary and stressful time. One thing that adds to that stress is wondering what you should bring with you for your stay and time in treatment.
While every rehab facility is different, hopefully this list can help serve as a guide for what to pack. Be sure to look into the specifics of the rehab facility you are going to before you pack, though.
Below is a general list of items to be sure to bring with you that may help you feel more comfortable during your time away.
Clothing
Think comfortable! You're not trying to impress anyone in rehab, so do yourself a favor and pack clothes that you'll be comfortable in.
Try to bring about a week's worth of clean clothes.
Something to check ahead of time is what kind of laundry facilities will or will not be available during your stay.
Toiletries
Make a list of all of your special items that keep your personal hygiene in order. Think: toothbrush, toothpaste, shampoo, lotions, etc. Some facilities may have basic toiletries available, but pack your own to ensure you have an ample supply of your favorite products.
Personal items
Rehab facilities offer varying degrees of down-time, so you'll want to look into it ahead of time, but come prepared with some personal items to keep your mind busy when you're not doing organized activities or counseling sessions. Such personal items could be a good book or two, a journal, magazines, etc.
Medication
If you take any medication that has been cleared by your doctor and does not interfere with your rehab, be sure to bring enough of it to last you through your time in rehab. If you can't bring enough medication all at once, make arrangements ahead of time for a friend or family member to drop it off for you when you need it.
Bedding
Do you have a favorite pillow or blanket that you can't sleep without? Bring them! As long as it doesn't violate the rules of your specific rehab facility, bring a special pillow or blanket that will help you sleep extra well at night. Rehab is going to be exhausting, so you'll want all the quality sleep you can get.
Learn more about alcohol abuse and addiction.
Image Source: Pixabay, iStock