How Worried Should We Be About Benzos?
Those of us relying on Mother's Little Helpers, aka benzodiazepines, to get some sleep or fight anxiety have tried to ignore the scary research that has accumulated about dependency, death rates and general brain fog, but a new study strongly linking "benzos" to Alzheimer's Disease (AD) has us sitting bolt upright in bed.
Researchers at France's University of Bordeaux looked at long-term use of benzos—brand names include Xanax, Ativan, Klonopin and Valium—among a group of 10,000 elderly citizens in Canada's Quebec province. People who had ever taken a pill for six months were 84% more likely to develop AD.
The September findings have hit home because so many people take benzos beyond the few weeks officially recommended and because they're especially popular in the senior set. As many as one out of every two elderly people uses them in some countries.
Big News Sparks Sober Reassessment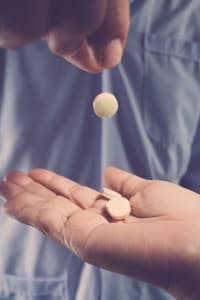 The main attention-grabber, of course, is the terror of losing one's mind. Dementia affects 25 to 30 percent of those over 80; AD accounts for roughly 70 percent of that, and there's no treatment available and no good explanation for what causes it. (Five million people in the U.S. suffer from the disease, according to the Alzheimer's Association, and by 2025 the number is projected to more than triple. Worldwide, 36 million are affected, rising to 115 million by 2050.)
In this study, the drug use associated with AD is cumulative—so the fear is that even periodic or low-dose use could be dangerous. (Ambien and Lunesta are part of a similar class of pills known as "z-drugs" that work much like benzos in the brain and are believed to have the same side effects.)
"Even though I haven't had the minimum number of doses that I think can start the problem, I very well might in the future," says Sara Faison, 81, who has been trying to cut her occasional bedtime Xanax use back to zero since reading about the study in the New York Times in September.
I'm tempted all the time to take a small bite, but now that the risks are so directly tied to a horrific, soul-stealing disease, that temptation is quashed.-Jeanne Baron
Jeanne Baron, at 48, isn't even in the study's age range, but she says, "This study definitely affects my attitude toward taking this drug. I won't do it." She has taken Valium and Lunesta on and off for sleep over a series of several years but weaned herself off the last of it recently. "I'm tempted all the time to take a small bite, but now that the risks are so directly tied to a horrific, soul-stealing disease, that temptation is quashed."
It's the same story with Frances*, 49, who says the study has convinced her to cut her Ativan use back. "I think it's easier to dismiss things like brain fog as temporary," she says, "whereas Alzheimer's feels like a nightmarish death sentence that leaves other people responsible for taking care of you or not."
Sophie Billioti de Gage, the University of Bordeaux researcher who was lead author of the new study, confirmed by email that she and her colleagues have not yet presented any proof that those under the age of 66 need to worry about the AD risk. "Our results are not generalizable to a younger population," she said. "Further studies based on a long follow-up would be necessary to evaluate the risk of long-term use of benzodiazepines in younger adults."
Billioti de Gage refers younger people to international guidelines for benzo use: one month maximum for insomnia; three months for anxiety. In other words, don't take too much or for too long. And taper gradually if you decide to stop taking them (while consulting with your doctor).
Drug Dependence Complicates Quitting
Getting off benzos may indeed be easier said than done. There's little doubt that dependency is a risk with this class of drugs, which reduce activity in the part of the brain that controls emotion by boosting the action of a chemical called gamma-aminobutyric acid (GABA).
A 2011 study found that up to 44 percent of chronic users became dependent.
Benzos' tenacity wasn't so evident when the drugs first came out in the '60s because at first they seemed to be less habit-forming than the barbiturates they replaced.
Benzos' tenacity wasn't so evident when the drugs first came out in the '60s because at first they seemed to be less habit-forming than the barbiturates they replaced. But they have been described more recently as harder to quit than heroin. Some former benzo users and opponents of psychiatry per se believe they are much too easily prescribed (and prescriptions too easily refilled); they trade dramatic addiction stories and withdrawal tips through sites like benzobuddies.org and benzo.org.uk: "Withdrawing from benzodiazepines is a marvelous achievement and one of the hardest things I have ever done," posts "Gwen" on the latter.
Often, the perception of addictiveness is enough to scare people off of benzos and z-drugs.
That's what spooked Marty Rubin, 82, who stopped taking Ambien way before the AD research came out: "I'm ambivalent about the dependency," she said. Also, she was alarmed by the drug's famous midnight amnesia; a former neighbor sleepwalked. "Before she died, she took Ambien every night and she used to say, 'I couldn't live without my Ambien.' But she…cooked these enormous wonderful dinners and put them in the garbage."
Take Our "Am I a Drug Addict?" Self-Assessment
Take our free, 5-minute "Am I A Drug Addict?" self-assessment below if you think you or someone you love might be struggling with drug addiction. The evaluation consists of 11 yes or no questions that are intended to be used as an informational tool to assess the severity and probability of a substance use disorder. The test is free, confidential, and no personal information is needed to receive the result.
The Medical Battle Over Benzos' Safety
It's hard to keep track of the various complaints against benzos and the z-drugs, but evidence of this or that ill effect has piled up quickly in the past decade.
Benzos' short-term cognitive effects were reported in several studies between 2002 and 2012, when the American Geriatric Society (AGS) began including them on its list of inappropriate drugs for older adults to take. The AGS was concerned not just about confused thinking but about its effects on frail bodies: "Large scale studies consistently show that the risk of motor vehicle accidents, falls and hip fractures leading to hospitalization and death can more than double in older adults taking benzodiazepines and other sedative-hypnotics… Use of benzodiazepines should be reserved for alcohol withdrawal symptoms/delirium tremens or severe generalized anxiety disorder unresponsive to other therapies."
Large scale studies consistently show that the risk of motor vehicle accidents, falls and hip fractures leading to hospitalization and death can more than double in older adults taking benzodiazepines…-American Geriatric Society
A March 2013 study found an alarming spike in death rates among people taking these drugs.
Last year, after the Australian government began subjecting Xanax to stricter prescribing requirements, Pfizer—the drug's maker—announced it would discontinue the Xanax brand in that country. Petitioners in the U.S. have had less success getting the U.S. Food and Drug Administration to start requiring a "black box" warning on benzo labels or influencing the U.S. Drug Enforcement Administration (DEA) to regulate them more strictly by moving them from Schedule IV of the Controlled Substances Act to Schedule III or even II.
Benzo's defenders argue that, when taken correctly, the class of drugs is safe—and irreplaceable when treating generalized anxiety disorder, panic disorder and obsessive-compulsive disorder. They say the anti-benzo campaigning can get a little hysterical.
"The rates of abuse of benzodiazepines are significantly lower than the rates of abuse of food," Rosario Hidalgo, a psychiatrist in South Florida, wrote in 2011. What's more, "To deliberately and selectively deprive people over 65 of benzodiazepines…could be considered age discrimination in violation of the Civil Rights Act of 1964."
Study Doesn't Prove a Causal Connection
The benzos-Alzheimer's connection is not cut-and-dried, either. The authors of the new French/Canadian study found an "association" between benzos and the disease, which isn't the same as cause and effect.
What if the drugs themselves don't cause AD, but instead early symptoms of the disease propel people to take the drugs? About 30 percent of AD patients reportedly have had depression prior to the onset of dementia, and anxiety and sleeplessness are common, too.
The researchers behind the September study tried to control for this "reverse causation bias" by only including subjects who had been prescribed benzos at least five years before their AD diagnoses. It was more than earlier studies had done to address this core doubt, but the results weren't decisive.
Billioti de Gage confirmed, "Our conclusions…reinforce the suspicion of a possible direct association," but "the nature of the link (causal or not) found in our study is still not definitive… Benzodiazepine use might also be an early marker of a condition associated with an increased risk of dementia."
That's the same general analysis offered by outside experts commenting on the findings in the weeks since their BMJ publication.
John Morris, a neurologist at Washington University in St. Louis, says the results support findings that "the relationship between sleep and AD may be bidirectional… Having clinical AD may cause poor sleep, and poor sleep may cause clinical AD."
Morris's colleague at Washington, David M. Holtzman, says benzos may even be slightly preventive of AD. "However, there are so many other things they do as well that can have side effects or diseases they are linked with that this likely outweighs their benefit," he says, "certainly when given chronically."
Benzo Users Do Their Own Risk/Benefit Analysis
If only it were easier to give up the peace and quiet these drugs can provide. Insomnia and anxiety are powerful motivations for continuing to take them—especially with the research still somewhat vague.
Sara Faison says, "If [Xanax] made it possible for me to sleep and I couldn't sleep otherwise, then I guess I would choose it."
Says Frances, "I sleep so much better when I've taken my little crumb of Ativan, so I've taken it a few times in the past week and am contemplating whether I really want to quit entirely, use it on occasion, or [take a little every night]."
"Mark" was one of many people openly weighing his benzos-vs.-AD options recently on the New York Times website:
"It appears that your risk of Alzheimer's is about 35% at age 85…which is really not so scary since the odds of living that long are not good. This has to be weighed against a 100% certainty that you will live every day with anxiety or insomnia if you go off your meds. I opt for meds."
Sally Chew is a journalist based in New York City. She was an editor at Time Inc.'s Health.com as well as at Vibe, Out and POZ magazines. She also authored a true crime book and worked as a wire-service reporter overseas.
*Name has been changed.
Photo Source: istock