Breaking the Dangerous Habit of Enabling
So, you've made the first step; you've determined you're an enabler. Putting others' needs before your own not only is self-defeating, but it also sustains your loved one's addiction. The second step, then, is to stop this behavior.
Easier said than done, right?
Tips to End a Pattern of Enabling
Luckily, it is possible to overcome the habit of enabling an addict – as long as you're committed to the change. Let's take a look at how you can stop enabling and start helping:
Tip #1   Stop the DenialYour loved one is an addict and this poses a lot of real problems. It's important to understand that these problems won't simply disappear by voluntarily sticking your head in the sand.

By realizing that your support is not helping – it's actually prolonging the inevitable consequences that he or she will face down the road – it will be easier for you to discontinue your enabling. It doesn't mean that you care for your loved one any less, it just means that you care enough to do the right thing, for them, as well as for yourself.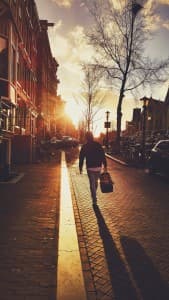 Tip #2   Don't Fear the OutcomeYes, knowing that your loved one may cause harm to themselves or others while they're under the influence is painful. But it is nothing compared to the heartbreak a long-term addiction can cause.

We learn by the consequences of our actions. Without feeling the repercussions, there's no reason for an addict to change his or her ways and get professional help.

Tip #3   Stand Your GroundAn enabler rushes in and removes the consequence, eliminating the opportunity to learn valuable lessons that come from making poor decisions. By setting firm boundaries, telling them "no" to all requests for help, and not backing down on consequences, you are pushing them one step closer to realizing how destructive their addiction has become and seek help.

So, the next time your loved one asks you to bail them out of jail, lie for them or give them more money for unpaid bills, give them a dose of tough love and allow them to finally experience the ramifications of their behavior.

Tip #4   Join a Support Group Al-Anon, Nar-Anon and CoDA are great resources for an enabler who is trying to make a behavioral change. Voicing your struggles with individuals who've been in your shoes is healing; it gives you the opportunity to draw on their experience, strength and hope.
Change Must Come from Within
Ultimately, an addict's desire to change must come from within – not through your enabling behaviors.
Forcing your loved one to face the harsh realities of addiction and the consequences it ultimately causes may just give them the incentive they need to seek treatment and thrive in sobriety.
Additional Reading: Enabling Behaviors: When Helping Really Hurts
Image Source: Pixabay