Addiction Rehab Treatment Resources for Nurses, Nurse Practitioners
Rehab Programs for Nurses and Nurse Practitioners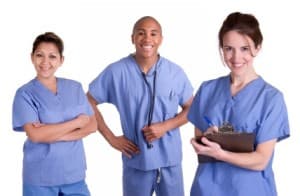 Nurses and Nurse Practitioners assist doctors by providing patient care and assisting with the patient coordination process. A nurse's role can also extend to patient education, helping provide a patient with the information necessary to self-treat an illness or disease.
Due to their work environment, nurses have disproportionate access to a variety of drugs. When addiction strikes a nurse, it is imperative to get help right away. According to American Nurse Today, 1 in 10, or up to 15 percent of all nurses, may be impaired or in recovery from alcohol or drug addiction. There are a variety of rehabilitation and addiction treatment options for nurses and nurse practitioners.
Inpatient Rehab vs. Outpatient Programs
Inpatient rehab, also known as residential rehab, involves staying at a substance treatment facility for a specified period of time, usually between 30 and 90 days. Nearly 10 percent of all Americans aged 12 or older required treatment for drug or alcohol abuse in 2009.
Treating addiction for a nurse could mean selecting from these two options. Inpatient rehab facilities treat a wide variety of addictions, but typically patients addicted to stronger drugs select residential rehab. Inpatient rehab offers support systems and around the clock care. Outpatient rehab programs are also available for those suffering from addiction.
Outpatient programs require patients to check in with a doctor during the day for a specified period of time. However, there are no overnight stays associated with outpatient facilities. Below are the different types of substances typically treated in each program associated with the drug, alcohol and behavioral disorder treatment for a nurse:
Inpatient Rehab
Alcohol
Heroin
Cocaine
Methamphetamine
Prescription Drugs
Morphine
Methadone
Ketamine
GHB
Methamphetamine
Outpatient Rehab
Tobacco
Alcohol
Prescription Drugs
Ecstasy
Cannabis
Heroin
Cocaine
Mushrooms
LSD
Khat
Should I Choose a Residential Rehab?
Treating addiction for a nurse could mean selecting a residential rehab facility. For individuals looking for addiction treatment options for nurses with a built in support system, residential rehab is very attractive. Most residential rehab facilities perform random drug tests and do not allow visitors overnight, reducing the opportunity for a potential drug relapse.
What Does Executive Treatment Offer Over Other Rehabs?
"Due to their work environment, nurses have a disproportionate access to a variety of drugs. When addiction strikes a nurse, it is imperative to get help right away."Executive treatment centers specialize in treating patients while only minimally impacting their personal and professional lives. While residential rehab, and to an extent outpatient rehab, can be disruptive professionally, executive treatment centers make sure to help patients without keeping them away from their obligations. executive treatment programs vary in leniency, but most allow working and communication via laptop or tablet during portions of the day when treatment is not ongoing.
How Long Will My Inpatient Rehabilitation Last?
There is no perfect answer to the question of how long inpatient rehabilitation can last. Treating addiction for a nurse is affected by a variety of factors, including severity of addiction, class of the abused substance, and patient personality or behaviors. Drug, alcohol and behavioral disorder treatment for a nurse can last as long as 90 days, or can be as short as five to seven days. Lengthy stays are usually reserved for the most severe cases. Often, rehab facilities offer the option to continue limited treatment after a patient has progressed well enough to leave the facility. Below are the typical options presented to patients checking into an inpatient rehab facility:
What Happens During Rehab?
There are several different phases patients must undergo to complete their rehabilitation process. The first process is intake and assessment, where personal factors that contribute to the addiction are found. Patients must be open and honest in order to complete this phase.
The next phase is detox. During detox, patients' symptoms are managed while they are moved off of the drug, until the drug is no longer in the patients' system. The next phase is addiction treatment, which usually consists of psychotherapy. Psychotherapy sessions help to create a positive environment for patients to prevent future relapse. Patients then go through specialized care and aftercare phases. During the specialized care phase, patients plan on how to limit their risk factors and live clean outside of the facility. During the aftercare phase, patients put their plan into action outside the facility with support from staff.
Paying for Drug, Alcohol and Behavioral Addiction Treatment
Inpatient rehabilitation and outpatient rehabilitation can be expensive. A full 90-day stay for drug, alcohol and behavioral disorder treatment for a nurse can cost several thousand dollars.
Outpatient facilities are generally less costly because they do not provide room and board. Most rehab centers do accept health insurance, which can significantly cut costs for patients. However, not all health insurance plans will cover the entirety of a rehab stay. Most rehab centers offer payment plans for debts that cannot be immediately paid to the facility. Sometimes, high risk jobs will provide funds to help cover the cost of treatment. This option is up to the discretion of each individual employer.
Should I Travel or Stay Near Home?
This is a personal decision, not a medical one, albeit a decision that will have an effect on the rehab process. Choosing a facility close to home provides patients with the option of having friends and family visit. Traveling to a distant facility can lessen the amount of distractions and allow patients to focus on becoming sober.
Support Groups to Stay Sober
There are a variety of support groups to choose from, regardless of your addiction. Notable support groups include Alcoholics Anonymous. Most rehab facilities offer patients aftercare services upon leaving the facility's care. Aftercare services typically include a support system that can be called upon in distress.
Using Our Helpline to Determine Your Rehab Options
Our helpline at can help to provide you with several rehab options. Call us today and we'd be happy to walk you through the process of getting clean.
It's Never Too Late to Turn Everything Around
There is always hope for sobriety, no matter how severe the addiction. Patients can overcome their disorder and stop the disorder from keeping them from the lives they've always aspired to. You can quit your disorder. Give us a call at to get started.
FAQs
Are Drugs or Alcohol Affecting Your Work as a Nurse or Nurse Practitioner?
If nurses or nurse practitioners are using illicit drugs, alcohol, or prescription drugs while on shift, it will affect their work performance. The abuse of these drugs outside of the work environment can also affect work performance.
Are There Legal Consequences of Using as a Nurse or Nurse Practitioner?
Yes, nurses found to be using can lose their nursing license and are potentially subject to jail time or fines.
Will My Company Keep My Treatment Private and Confidential?
Yes, companies are bound to keep medical treatments confidential due to federal law.
Will I Be Able to Keep My Job if I Undergo Treatment?
This is up to the discretion of each individual employer, as well as labor laws in the residing state.
Can I Continue to Work During Treatment?
Typically, medical professionals cannot continue to treat patients while being treated for substance abuse. There are several addiction treatment options for nurses who would like to continue work at a later date.
Can I Use My Phone or the Internet During Treatment?
While most rehabilitation centers do not allow phone or internet access, Executive Treatment Centers allow these privileges for work purposes.
Can Job Stress Cause a Drug or Alcohol Problem?
Job stress can have a direct impact on a patient abusing drugs or alcohol. This is not an adequate coping mechanism and must be addressed through treatment.
Can I Get Treatment for a Dual Diagnosis (Both an Addiction and Behavioral Disorder)?
Yes, most substance treatment facilities offer treatment for a dual diagnosis.
What are the Most Commonly Abused Drugs in the Workplace?
Nurses typically have access to a host of drugs necessary to treat patients, such as pain killers and prescription medicines. Pain killers such as morphine are commonly abused by nurses.
Make the Call And Start The Sobriety Process Today
Start the process of living free of drugs and alcohol today. Make a toll free call to and get connected to the best rehabilitation facilities in the area. Substance addiction can be rough, but with professional treatment and a support system, sobriety is within reach.
Recommended Rehab Treatment Articles
More resources about
Addiction Rehab Treatment Resources for Nurses, Nurse Practitioners

: