What to Look for in a Sober Living Home
If you have just completed a treatment program and are in the beginning stages of your recovery from addiction, it can be scary to think about returning to the life you knew. Realistically, it can be a big adjustment, which is why it might be beneficial for you to consider looking for a sober living home that can assist with your transition. Sober living refers to a group residence that will serve as an intermediary step between a residential treatment program and returning to your home environment.
In a sober living facility, you can reside amongst other sober individuals like you would in a residential program, except you'll have a greater level of freedom and autonomy. The house will still have rules, however, to keep your behaviors in line with your recovery. Sober living environments are associated with increased employment, decreased alcohol and drug use, fewer arrests, and improvements to mental health.1,2
All sober living homes are not created equal, however. If you're interested in this option, you'll want to do your due diligence in finding a safe and reputable home that meets your needs. Here are some things you might want to look for in a sober living home as you explore your options.
---
The Location and Setting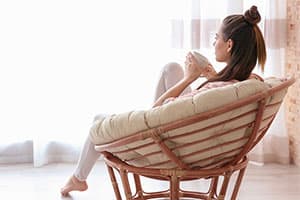 Before committing to any particular sober living home, try to visit the area and tour the home first, if possible. You will want to make sure that it is at least somewhat peaceful there and that it is in a good area so you don't have to be worried about your personal safety.
You should also pay attention to what else is around the sober living home so you can make a choice that aligns with your recovery needs. For example, some people prefer to be in an area as free from as many temptations or triggers as possible; others may find that it is helpful to have such cues present so they can learn how to deal with them while in a structured and supportive environment.3
Additionally, it may be important for you to select a home that allows you to remain close to your support system, such as family and friends and/or the locations of your 12-step meetings.
As you assess the location, pay attention to the general feeling you have while there. As you walk around and talk to people, do you feel comfortable? Can you see yourself living there? Your chances of remaining abstinent and being successful in your recovery may be increased by the types of relationships you form within your sober living community,1,4 so see how you feel around the people who are already there.
Think about it like this: you are not just looking for a sober place to live but rather trying to find your next home, and that's something you want to put some thought into. Make sure it feels like a good fit for you.
Affordability
Before committing to a sober living home, also be sure to understand the financial obligation associated with living at the home, as there is typically a fee that you will be responsible for just as if you were renting a place somewhere else. You will want to make sure you have a solid understanding of what the fees are and what they cover. For example, some questions you might want to ask include the following:
Is a security deposit required?
What forms of payment are accepted?
Are utilities included, or is there an additional fee for that?
It may seem overwhelming to think about meeting these financial responsibilities while you are trying to focus on your recovery, so it may be helpful to also ask what kinds of assistance might be available. For example, some sober living homes offer scholarships; others might be free for the first few weeks to allow you to secure an income before having to pay; and some have even partnered with financing companies to offer you additional options. It is a good idea to ask about all of these options so that you can make an informed decision.
If you have been in an inpatient treatment facility, they will also likely be able to help you search for a sober living home that is affordable for you. Make sure the cost is something you can afford, as you don't want to add any additional stress of worrying about whether or not you can meet your financial responsibilities while there.
Additional Amenities or Benefits
As you are trying to figure out what kind of sober living home is going to be the best fit for you, you will want to consider what, if any, additional amenities are offered.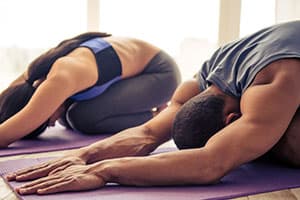 What are some extra things that might be helpful to your recovery? For example, some sober living homes have saunas and pools for fun and relaxation. Some may also offer a gym or other exercises classes or programs such as kickboxing, yoga, or even surf lessons to support healthy habits. Think about what you would need to feel comfortable and happy in your new living space. Would it be important for you to have computers with wi-fi or in-house laundry?
Take some time and put real thought into what would be most beneficial for you and seek out homes that offer those benefits.
Length of Stay
Ideally, you want to look for a place that allows you to stay as long as you want or need, provided you comply with their rules (e.g., staying alcohol- and drug-free and respecting your housemates).
In fact, there are some sober living homes that actually require a commitment to a 6-month stay because they want to make sure you are set up for success when you leave. There is no way to predict exactly how long you might need to stay in a sober living home, so it makes the most sense to choose a place that allows for flexibility in this regard so that you can take whatever time you need.
Structure and Expectations
A good sober living home is going to be one that promotes recovery and offers some level of accountability through established rules and expectations. Since a requirement of admission is sobriety, it is likely that residents will be subjected to random drug tests, and this can be very important to help keep them accountable. Another rule that may be in place to promote accountability and continued sobriety is an established curfew.
As previously discussed, one of the huge benefits of a sober living home is that it offers you a sober and supportive environment as you practice the skills you'll need to successfully return to your normal life. Your transition is going to be much easier if you are already engaging in everyday responsibilities that are going to help you live independently and be a productive member of society. Consider it a good thing if your sober living home expects residents to complete chores, respect and help each other out, and hold down a job.
Furthermore, a good sober living home will also encourage and/or require recovery behaviors such as continuing therapy or attending 12-step meetings (which research has shown can improve outcomes2).
Balance Between Structure and Independence
Try and find a sober living home that has a good balance between expectations and empowerment.Just as important as structure is the ability to exercise some freedom responsibly. If there is too much structure, then when you are ready to leave, you may have the same problems as if you had come back to the outside world straight from your treatment program. Ideally, your stay at a sober living home will help you begin to trust yourself again and act in ways that are conducive to your sobriety, which can only be done when you are given the opportunity to make some decisions for yourself.
Try and find a sober living home that has a good balance between expectations and empowerment. For example, maybe you are allowed to come and go as you please and are responsible for your own transportation and purchasing of groceries, but you also have to be home by curfew, wake up at a certain time in the morning, attend house meetings, and have a sponsor. This balance is what makes a sober living home a good intermediate step in your recovery after completing a treatment program.
Taking all of these things into consideration, remember that the best sober living home for you is going to be the one that meets your needs—so do some research, talk to people, take some tours, and find the home that you feel the best about.
---
References
Korcha, R. A., Polcin, D. L., & Bond, J. C. (2016). Interaction of Motivation and Social Support on Abstinence among Recovery Home Residents. Journal of Drug Issues, 46(3), 164–177.
Polcin, D. L., Korcha, R., Bond, J., & Galloway, G. (2010). What Did We Learn from Our Study on Sober Living Houses and Where Do We Go from Here? Journal of Psychoactive Drugs, 42(4), 425–433.
Heslin, K. C., Singzon, T. K., Farmer, M., Dobalian, A., Tsao, J. and Hamilton, A. B. (2013), Therapy or threat? Inadvertent exposure to alcohol and illicit drug cues in the neighbourhoods of sober living homes. Health Soc Care Community, 21: 500–508.
Jason, L. A., Light, J. M., Stevens, E. B., & Beers, K. (2014). Dynamic Social Networks in Recovery Homes. American Journal of Community Psychology, 53(0), 324–334.
More resources about
What to Look for in a Sober Living Home

: