Transitioning From Active Duty to Civilian Life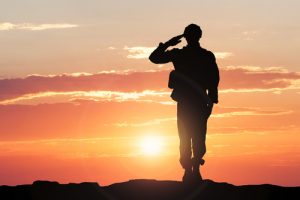 Around 200,000 service members transition out of the military every year, and 27% report difficulty reentering civilian life.1,2 Of those who have served in the 10 years post September 11th, the number of veterans who have struggled with the transition increases to 44%.2
While life in the military can be challenging, moving from active duty to civilian life may feel just as challenging. Those challenges may include mental and physical health trials, financial and employment struggles, and homelessness. Transitioning from active-duty military to civilian requires effort and patience from both veterans and their loved ones.
---
Civilian Life Reintegration Challenges
As active-duty service members transition to veteran status, challenges that they may face as the adjust to life outside the military could include the following:3
Joining a community.
Attempting to connect with others who may not understand their experiences.
Reconnecting with family and reestablishing their place in it.
Reentering the workforce.
Adjusting to different expectations than those held in the military.
Creating a routine that exists outside the military structure.
Acclimating to a different pace of life.
While the challenges that each veteran faces may be dependent on the individual, there are certain factors that may influence how challenging the transition feels. Those factors may include whether the service member:4
Graduated from college.
Was an officer or enlisted.
Is religious or spiritual.
Served in combat.
Faced a traumatic event.
---
Military to Civilian Transition Challenges
Having lived in a world where there were clear cut career paths and available training for needed skills, pursuing a career post military can be overwhelming. One key for a successful transition is how much a veteran's experience transfers to civilian job needs. Almost 70% of veterans have reported that finding a job is the greatest transition challenge.6
Beyond the workplace, it can also be difficult to transition to student life. Veterans may face challenges as they move into the educational world. Military vets must:7
Be in charge of their own lives, set their own schedules, and challenge authority—things that are not part of military life.
Deal with confusion, delays, and frustration when accessing VA educational benefits.
Figure out how to connect with students who might be younger and may have less respect for authority.
Spend time with students who may be against the combat or efforts that the veteran was a part of.
In addition to career and education challenges, veterans may also face personal relationship problems. For married veterans, the opportunity of easily transitioning goes from 63% to 48%.2
Mental and Physical Health Challenges
As veterans are dealing with the challenges of reintegrating into civilian life, they may also be dealing with the struggles of mental and health issues. Post-traumatic stress disorder (PTSD), anxiety, depression, and substance use disorders (SUDs) are often experienced by active-duty service members and veterans.
Upon returning from combat, between 19% and 44% of veterans will be diagnosed with one of those disorders, which is significantly above the rates reported by the civilian population.8 Dealing with a physical or mental health impairment can affect a veteran's ability to function normally and may increase the chance they could have trouble transitioning to civilian life.
Transition Stress
One major issue that veterans face after their service is transition stress, which is the turmoil they go through after leaving the military. With an increased level of transition stress, a veteran is at greater risk for physical and mental health problems, including suicidal thoughts. In fact, most veterans who attempt suicide for the first time do so after they have left active-duty service.13
Transition stress is exacerbated by various factors including:
Unresolved grief over the loss of fellow servicemembers.
Loss of identity as a member of the military.
Yearning for the companionship and unity of military service.
Feelings of isolation in the civilian world.
Dealing with problems alone and not seeking help.
All of these factors can contribute to a more difficult experience for veterans as they work to become a part of the general population.
---
Veterans and Substance Abuse
To cope with the various challenges they may face after serving in the military, some veterans may turn toward substance use and abuse. More than 1 in 10 veterans has been diagnosed with a substance use disorder (SUD), a number greater than that for civilians.9
There are numerous factors that contribute to these numbers, including the fact that alcohol has long played a role in military culture. Alcohol has been used for stress relief, recreation, and socializing at military events, and heavy drinking may often be a part of them. Alcohol may also be used by veterans as a way to deal with the stress that they feel as they attempt to reenter the civilian world.
Beyond alcohol abuse, the misuse of opioids is also a major problem. Opioids are often prescribed to service members and veterans for pain, and they can be very addictive.10 Veterans who are dealing with mental illness (including PTSD) and are prescribed opioids are more likely to develop an opioid use disorder (OUD).10
Substance abuse can get worse if there are additional mental health issues involved. PTSD and alcohol abuse often occur together. Among Vietnam veterans, 60-80% of those who pursued treatment for PTSD had a problem with drinking.11
Dealing with a SUD only further complicates things for veterans as they work to rejoin civilian life.
To find out if you are struggling with substance abuse, use the VA's substance abuse assessment tool.
---
Mental Health and Substance Abuse Treatment
There are various options available to help with treatment for both mental health and substance abuse. The VA substance use disorder locator can help you find a VA rehab facility across the country. VA can provide high-quality treatment for substance abuse and mental health issues, as well as other challenges you may be facing.
However, there are certain situations where VA is unable to provide treatment, due to a lack of accessibility or availability. In those situations, you may be able to access care through a community care provider, such as American Addiction Centers (AAC).
AAC has partnered with VA to provide private treatment at its Desert Hope and Recovery First facilities. Both facilities have a specially designed program, Salute to Recovery, that directly serves veterans who are dealing with substance abuse and mental health disorders. The program provides veterans with a safe environment where they can receive treatment, often from veterans, surrounded by other veterans. The shared experiences of both patients and staff give veterans the opportunity to feel comfortable and understood while they address their issues.
---
Sources
U.S. Department of Veteran Affairs (2020). Your VA transition assistance program (TAP).
Pew Research Center (2011). The difficult transition from military to civilian life.
U.S. Department of Veterans Affairs. Common Challenges During Re-Adjustment.
Morin, R. (2011). The Difficult Transition from Military to Civilian Life.
U.S. Department of Veterans Affairs. (2020). Your VA Transition Assistance Program (TAP).
Business Wire (2012). Veterans cite finding a job greatest challenge when returning to civilian life.
Elliott, Marta & Gonzalez, Carlene & Larsen, Barbara. (2011). U.S. military veterans transition to college: Combat, PTSD, and alienation on campus. Journal of Student Affairs Research and Practice, 48.
Kulesza, M., Pedersen, E., Corrigan, P., & Marshall, G. (2015). Help-seeking stigma and mental health treatment seeking among young adult veterans. Military Behavioral Health, 3(4), 230–239.
National Institute on Drug Abuse. (2019). Substance Use and Military Life.
Teeters, B. J., Lancaster, L. C., Brown, G. D., & Back, E. S. (2017). Substance use disorders in military veterans: prevalence and treatment challenges. Substance Abuse Rehabilitation, 8, 69-77.
U.S. Department of Veteran Affairs. (2019). National Center for PTSD.
National Institute on Drug Abuse. What are some signs and symptoms of something with a drug use problem?
Mobbs, M. C., & Bonanno, G. A. (2018). Beyond war and PTSD: The crucial role of transition stress in the lives of military veterans. Clinical psychology review, 59, 137-144.