Long-Term Drug and Alcohol Rehab Treatment Centers Near Me
What is a Long-Term Inpatient Rehab Center?
Long-term inpatient rehabs are facilities that provide substance abuse treatment over a longer period of time. Patients would typically reside at the rehab center as part of the treatment plan so the program is often referred to as long-term residential treatment.
Long-term alcohol and drug treatment programs that take 3 months (120 days) to 6 months (180 days) or longer can help treat chronic alcohol or drug addiction by providing intensive and structured treatments. Also, by helping the addicted person to sustain abstinence and reclaim his or her normal life at the completion of the rehabilitation stay.
For details on longer term rehab treatment programs, you can visit the following: 6 Month, 1 Year, 2 Year Drug and Alcohol Rehab Centers Near Me
The Need for Long-Term Rehabilitation Treatment
Addiction is a chronic condition that cannot be overcome by simply discontinuing the use of drugs or alcohol. It is a condition that benefits from focused, evidence-based professional care and treatment.
According to the Substance Abuse and Mental Health Services Administration, 8.6% of the U.S. population, or approximately 22.7 million Americans, needed drug or alcohol addiction treatment in 2013 alone.
In the same year, only 2.5 million, or 0.9% of those people received treatment at a long-term rehabilitation or mental health facility. The remaining 20.2 million people did not receive the necessary treatment for their addiction.
Drug or alcohol use disorders are diseases that significantly affects a person's physical and mental health. A single addiction treatment approach is not appropriate for everyone because substance abuse affects each person differently. At times it is necessary to seek proper care from an addiction rehab center that offers long-term residential treatment programs to increase the chances of long-term sobriety.
Does Insurance Cover Long Term Rehab?
If you'd like to know whether your insurance may cover the full or partial cost of rehabilitation at one of American Addiction Centers' various rehab centers across the states, simply fill in your information in the form below.
Long-Term Drug and Alcohol Treatment Programs
A substance abuse treatment program is often divided into various stages, which typically consist of medically assisted detoxification, rehabilitation therapy, and aftercare program. Different approaches to treatment are offered in either an outpatient or inpatient treatment facility.
Though treatment lengths will vary, on average outpatient rehab facilities offer relatively short-term substance abuse treatment, while inpatient or residential treatment centers are able to accommodate individual needs for longer-term drug rehab.
Long-term inpatient rehab centers or residential treatment centers typically involve several days of closely monitored detox, followed by 90 to 120 days of intensive substance abuse therapy and aftercare planning. This type of rehab facility works well for individuals with long-standing or severe addictions, as well as patients with dual-diagnosis. Additionally, those individuals who struggle with both a substance use disorder and co-occurring mental health disorder would benefit from long-term rehabilitation. Residential treatment centers can also provide assistance for adolescents addicted to drugs or alcohol. Other shorter term options are also available, such as the following:
According to the National Institute on Drug Abuse, highly structured long-term rehab programs in therapeutic communities typically last from 6 to 12 months.
Long-term residential rehab treatment programs are recommended for people who are exhibiting recovery challenges whilst participating in a more standard, shorter-term inpatient or residential rehab program. In addition to this, people who experience multiple relapses and other difficulties following the completion of one of these inpatient treatment programs would benefit from long-term drug and alcohol rehabilitation.
One form of long-term recovery which stems the therapeutic community distinctively tailors treatment for specific demographic groups, such as women who have children, pregnant women as well as adolescents. 

Does Your Insurance Cover the Cost of Rehab?
Rehabs.com is a subsidiary of American Addiction Centers (AAC) a leading provider of drug and alcohol addiction treatment nationwide. AAC is in network with many of the top insurance providers in the U.S. Verify your benefits now to find out if some or all of the cost of long-term drug and alcohol rehab is covered by your insurance provider.
Long-Term Residential Inpatient Treatment Process
The long-term treatment inside a residential inpatient facility begins with the detox process, during which the addicted person stops drinking alcohol or abusing drugs. Depending on the substance that was abused, an individual may receive supportive care and supervision, undergo medication-assisted detox, drug replacement therapy, or gradual drug reduction therapy.
These treatments are utilized to manage any potentially serious acute withdrawal symptoms while an individual's system adjusts to functioning without the support of the drug it has grown dependent on.
The process may take several hours or even days, depending on the substance being used as well as the severity and length of the addiction. Pre-existing physical and mental health conditions can also affect the duration of the detox process.
Detox is only the first stage of treatment. Without additional substance abuse treatment efforts, successful completion of detox rarely guarantees lasting recovery. Chronic alcoholics or drug abusers are well-advised to continue with some form of ongoing therapy as part of the rehab process that resumes when detox is completed. During this stage, the patient undergoes a variety of long-term therapeutic techniques, including:
Cognitive-behavioral therapy (CBT).
Multidimensional family therapy.
Contingency management.
Motivational interviewing.
What Is  Cognitive Behavioral Therapy?
Patients learn how to utilize CBT techniques to modify their attitudes toward drug use. CBT works by helping patients identify situations that put them at high risk for relapse, and help them to develop and utilize relapse prevention strategies. Behavioral therapies can also be used in conjunction with medication-assisted treatment (MAT) techniques — increasing the effectiveness of the medications (such as Suboxone or Naltrexone). Furthermore, behavioral therapies encourage patients to remain in treatment and avoid relapse at the completion of treatment. Cognitive-behavioral therapies are performed by the resident or on-call psychologists or counselors.
What Is Multidimensional Family Therapy?
Multidimensional family therapy (MDFT) is a home-based, multi-systemic program developed for adolescents with alcohol or drug addiction problems. This program encompasses the treatment of the four areas of influence, including the substance using adolescents, family members, friends, and the overall community.

MDFT involves therapy sessions for both the individual and the family. It is designed to help young people remain sober by working on reducing harmful behaviors while encouraging positive, healthy behaviors. Each member of the addicted adolescent's family is also encouraged to participate in a 12-step program as well as group therapy.
What Is Contingency Management?
Contingency management is utilized to encourage positive behaviors, such as maintaining sobriety or participating in assigned tasks. This can involve providing tangible incentives as a reward for drug-free urine samples, such as getting movie passes, food items, vouchers, or personal items.
Contingency management has been shown to be highly effective at keeping individuals in treatment and encouraging sobriety.
What Is Motivational Interviewing?
Motivational interviewing is another technique that is used to increase an individual's motivation to change, as well as encourage the patient to continue treatment and abstain from drug or alcohol use. Motivational interviewing is a non-confrontational and nonjudgmental approach that helps individuals learn about what is causing ambivalence to change, and helps them to resolve this.
These techniques can increase the patient's awareness of the adverse side effects of addiction and what can be gained by changing behavior toward these substances.
The Aim of Long-Term Drug and Alcohol Treatment Centers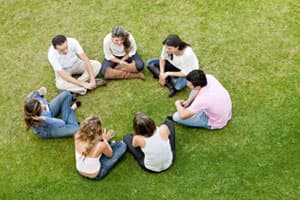 Residential treatment centers focus on long-term rehab programs and recovery processes, to help the patient regain sobriety in the most natural and effective way.
The ultimate goal of long-term residential treatment centers is to reinstate recovering alcoholics or drug addicts in their everyday environments and help them to become productive citizens. It also helps addicted individuals regain self-respect, confidence, and a sense of responsibility.
The Community at Long-Term Drug and Alcohol Rehab Centers
To deliver these goals, residential treatment centers develop long-term rehab programs that emulate a real community. Once the detox and rehab processes are completed, the recovering residents are allowed more freedom inside the rehab center. Many residential treatment centers for adolescents also offer community high schools and colleges.
Older clients may obtain jobs inside the facility to help in their continuing recovery. Most patients are involved with work of some kind, such as completing chores or regular tasks. These programs are developed to aid in restoring patients to their families and communities after they complete the rehab process.
Outdoor activities, such as nature outings, out-of-town trips, and outreach programs, are also a part of long-term rehab programs. Recovering patients can also participate in sports, skills training, and various activities inside the rehab center. Exclusive long-term rehab centers provide luxury treatment services, which may include:
Meditation sessions.
Massage and tai chi sessions.
Spa treatments.
Nutritional consultation and special meal preparation.
Private rooms.
Private rehab facilities may also offer:
Gender-specific addiction treatments.
Anger management.
Psychodrama activities.
Hypnotherapy.
Trauma workshops.
Art and music therapy groups.
Animal-assisted therapy.
Some residential addiction treatment centers offer long-term rehab programs that promote personal healing in beachside facilities or other scenic areas. Patients are introduced to various support groups, including Alcoholics Anonymous, Narcotics Anonymous, or Cocaine Anonymous, during the rehab and recovery process.
Recovering patients can also attend one-on-one counseling, group therapy, individual psychological counseling, and dialectical behavioral therapy even after completing the long-term rehab program.
Ready to take the first step?
If you or a loved one is seeking professional treatment, then learn more about AAC's facilities or call to receive assistance over the phone .
Finding Suitable Long-Term Rehab Centers Near Me
There are so many long-term addiction treatment options available that it can be difficult to choose one that meets your needs. Many of these long-term rehabilitation facilities offer different treatment plans and programs. These may be located near you or you may be required to travel out of State.
The best addiction treatment program for you is one that will address your addiction needs, creates a tailored program will be able to make you feel comfortable and secure. These facilities can specialize in various areas, catering to individuals who belong to specific age or gender groups, such as those geared toward teens, couples, elderly, women only, pregnant women, or mothers with children. The best long-term rehab program may not be located near you and therefore it is worth being open to travelling out of State.
Substance use treatment can be highly effective, and longer periods in treatment often predict future success with maintaining long-term sobriety. Finding the right long-term rehab doesn't have to be difficult. There are many resources available to help you fight addiction and start a life of recovery. A rehab admissions consultant can connect you with the right long-term rehab facility for you or your loved one.
What Do I Need to Organize Before Calling?
It's vital that you have your or your loved one's insurance card in front of you when you call a treatment center or helpline. An admissions consultant will then be able to verify your benefits.
It will also be useful for you to disclose what drugs have been abused, in what dose, for how long, and in what way (injecting vs. snorting). Include any previous withdrawal or treatment experiences and what they were like.
If you or someone you love has experienced complicated withdrawal, an inpatient detox program could be an appropriate option. Furthermore, if there are any medical or mental health disorders present in the one seeking treatment, provide that information to the admissions consultant. These details can be used to guide your rehab search.
Recommended Rehab Treatment Articles
Articles Related to Long-Term Addiction Treatment
More resources about
Long-Term Addiction Rehabs

: