How Long Is Inpatient Rehab and What Length of Stay Is Best?
Addiction is a chronic and debilitating condition. Individuals who struggle with addiction often need treatment to get and stay sober. Rehabilitation facilities offer treatment in different settings and for various lengths of time, based on the needs of the individual.
Rehab facilities can provide the help, safety, and support needed to recover from addiction. Individuals who struggle with addiction may be concerned about what to expect from rehab, what treatment is like, and the length of time that treatment lasts. The type of treatment and length of stay required at a rehab facility will depend on the individual person's situation.
What Is a Rehab Facility?
Addiction rehab facilities are designed to help individuals who suffer from addiction cleanse their bodies of the addictive substance, learn how to manage the addiction, and maintain sobriety. Inpatient rehab facilities are typically short-term residential treatment facilities that provide constant care to individuals trying to get sober. Private or luxury rehabs are also available, where there are posh amenities, resort like settings, and monitoring by qualified health professionals around the clock.
Most treatment facilities feature areas where patients can get some exercise, since physical activity may facilitate the treatment process and help individuals in treatment maintain a healthy lifestyle. At a luxury addiction rehab facility, individuals usually have access to many amenities; treatment also often incorporates alternative and holistic therapy techniques. Beyond the variety of available treatment settings and therapeutic approaches, many people have questions about the length of any addiction treatment process.
Length of Stay At Rehab Centers for Drug or Alcohol Addiction
"Studies have shown that a longer stay in rehab can have more benefits and be more successful than shorter treatment…" Rehab is about more than overcoming a physical addiction to a substance. Addiction affects many areas of a person's life, and all of these areas should be addressed in treatment. While it is necessary to eliminate the addictive substance from the body (something that occurs in relatively short order at the start of treatment), it is also necessary to work on the psychological aspect of addiction. The length of time for all forms of addiction treatment can vary. However, studies have shown that a longer stay in rehab can have more benefits and be more successful than shorter treatment, according to the National Institute on Drug Abuse.
Benefits and Effectiveness of Longer Term Rehab Programs
Rehab programs that are 90 days or longer are beneficial for a number of reasons. People who suffer from addiction need time to cleanse their bodies of the addictive substance the right way. Detoxification (detox) is the first step in the recovery process, and depending on the substance or substances used, there may be medications that can ease the symptoms of withdrawal, making it as safe and comfortable as possible. The detox process is only the first step, and while it allows the individual to safely remove alcohol or drugs from the body, it does not address the underlying issues of addiction.
While the method used to detox can vary from facility to facility, it does not change the fact that time may be needed to do it properly, especially when treating addiction to substances that can have life-threatening withdrawal symptoms, such as alcohol or benzodiazepines. Longer rehab programs allow a patient to take the time needed to properly stop abusing a substance and learn more about the recovery process. During the detox process, a patient must be monitored to ensure that he or she remains medically and emotionally stable during withdrawal and is not in any danger.
Another reason a longer rehab program can be beneficial is because it allows individuals who struggle with addiction the opportunity to work on the root causes of the addiction. In order to successfully overcome an addiction, the individual must understand why she is using substances. In contrast with relatively short treatment programs, longer addiction rehab program may provide individuals in treatment with the chance to more deeply explore the factors that contributed to their substance dependence.
Longer addiction rehab programs also allow the patient more time to work with trained professionals to determine the most effective ways for him to understand and cope with his addiction. It can take time to trust staff and open up about issues, and having a longer period in treatment can make this easier. The length and severity of the addiction should also be factored into the length of treatment. The time it takes to explore the reasons behind an addiction is a factor many patients should consider when they are wondering how long rehab takes.
Drug treatment program lengths do vary, not only for each individual, but for each treatment facility, as well. While a certain length of stay may be appropriate for one person, it may not be appropriate for another. Many treatment facilities typically offer patients short-term stays between 28 to 30 days. However, certain residential facilities may also offer extended stays for an additional fee, provided the patient is showing positive signs of recovery.
Inpatient Rehab Treatment Settings
Inpatient rehab facilities are designed to provide a safe, sober environment, and make all patients feel comfortable and at ease. Inpatient facilities may be located in hospitals but many long-term rehabs are typically private, residential facilities. They often have specific rules for patients to follow during stays to keep everyone safe and instill a sense of responsibility among those working toward their recoveries.
Luxury residential rehabs are generally located in scenic or remote locations. Many facilities often feature gardens, comfortable rooms, gathering areas where patients can relax, and opportunities to socialize with sober peers. It's important to realize that, while a luxury program may offer a wealth of amenities, the essential component of rehab is the therapeutic treatment offered; everything else is peripheral.
The goal of any long-term residential program is to ensure that the patient is able to focus on recovery for an extended period of time, without worrying about distractions or stressors from everyday life.
Choosing a Rehabilitation Program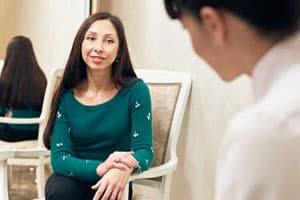 Many people who wonder how long rehab takes also often wonder how to make the decision on what type of facility they require. When someone suffers from addiction and needs help, there are a number of factors that must be considered before choosing a facility.
Not only should the length of stay be taken into consideration when choosing an addiction rehab facility, but also the method of treatment should be considered. Not all treatment methods are best for every person or every substance. For example, certain individuals may respond better to one-on-on sessions with a therapist, while other individuals may feel more comfortable discussing their addiction in a group setting. Effective therapeutic techniques have also been developed for treating specific addictions.
Other factors to consider when choosing facility include whether or not extended stays are available to patients who need additional treatment. While an individual may go to a treatment facility with the intention of only staying 30 days, having the option to prolong treatment can be beneficial if that individual realizes she needs additional care prior to returning to her daily life.
When questioning how long rehab takes, an individual struggling with addiction should consider his or her personal situation and not base a decision on how long it might have taken another individual. Depending on the person, recovery from addiction may take more time than originally intended. Addiction is a disease that is unique for each person and treatment should be tailored to the specific needs of each individual patient in order to be most effective.
If you'd like to know whether your insurance may cover the full or partial cost of rehabilitation at one of American Addiction Centers' various rehab centers across the states, simply fill in your information in the form below.
More resources about
Length of Addiction Treatment

: