Desoxyn Addiction Treatment
Desoxyn is a prescription, brand name formulation of pharmaceutical methamphetamine.1,2 Doctors prescribe Desoxyn in limited doses to treat attention deficit disorder (ADHD), obesity, and narcolepsy.3,4 Desoxyn is a Schedule II drug, which means that it has a high potential for abuse.1,3,5 Used as directed, Desoxyn can be a very helpful medication, but misusing it recreationally can quickly lead to significant physiological dependence and addiction. According to the National Institute on Drug Abuse, treatment can be very effective for those struggling with severe addictions to Schedule II prescription drugs like Desoxyn.6
Tolerance and Desoxyn Dependence
A person who develops Desoxyn tolerance may require increased amounts of the drug in order to produce the desired or therapeutic effects. It is very common for people to become tolerant to Desoxyn in as little as two weeks of taking the drug at originally prescribed levels.1 It will be up to a doctor to decide whether to increase the dose. People who consistently use stimulant medications may grow dependent on them.
Those who frequently increase their dose may be at heightened risk of developing physical dependence. If you've become dependent on Desoxyn, you may begin to feel badly or function sub-optimally without it.
Inpatient Treatment and Outpatient Clinics
If you've begun to compulsively misuse stimulant drugs like Desoxyn, substance abuse rehabilitation can help. If you're having trouble deciding between inpatient and outpatient Desoxyn rehabilitation centers, it's important to understand what each type of facility provides. Withdrawal from methamphetamine-based drugs like Desoxyn can produce symptoms that could be a serious challenge for someone to deal with alone.
In an inpatient Desoxyn rehab center, you will be able to obtain round-the-clock care from experienced medical professionals as you go through the detox process. Outpatient treatment options can also be immensely helpful, though they do not provide the 24-hour supervision inherent to treatment programs carried out in an inpatient or residential setting.
Do I Need a Residential Rehab Facility?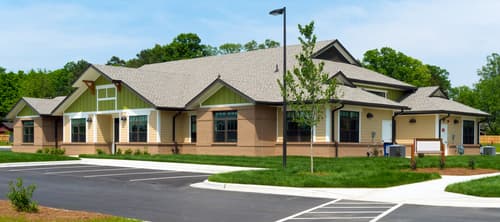 If you are at the point where you will do anything to obtain more Desoxyn, you may benefit from the intensive treatment environment of a residential treatment center. Not only will you be able to completely focus on your detox and recovery, but you'll be more equipped to avoid triggers and temptations associated with having access to the drug.
Free Online Insurance Coverage Checker for Desoxyn Rehab
Use the free online insurance coverage checker tool below to find out if your health insurance provides coverage for Desoxyn addiction rehab and other rehabilitation treatment plans for substance abuse recovery.
Are Desoxyn Rehabs Private and Confidential?
Reputable rehab programs will always take your confidentiality seriously. They understand that most people wish to remain private about their struggles with a substance use disorder (SUD). People addicted to Desoxyn may be particularly concerned about their privacy due to the stigma surrounding methamphetamine use.
Some Desoxyn rehabilitation facilities offer private rooms at an additional cost for people who desire complete seclusion. Check with the program you're interested in to see if this is an option.
How Long Does Inpatient Rehabilitation Last?
Many inpatient Desoxyn rehab centers include a formal detox period at the start of a longer-term rehabilitation program. Desoxyn use and addiction can lead to physical dependence which, when significant enough, will result in troublesome withdrawal symptoms that may take a while to resolve. In a long-term program, you'll be medically supervised as you go through detox and rehab, which will help put you on the path toward recovery. Desoxyn treatment programs may last anywhere from 30 days to over three months, depending on your recovery needs.
What Happens During Treatment?

Intake: The intake process will take place as soon as you arrive for your stay at the center. A staff member will go over the list of what you can and can't do at the center, review your goals with you, and evaluate you for any medical and mental health needs. Make sure you check with them in advance of intake to find out if you need to bring anything.
Detoxification: The detox process will be the next part of your stay. Different Desoxyn rehab centers have different methods of detox—for example medical detox or social detox; when choosing a facility, it is important to know which method they will use. The withdrawal symptoms from Desoxyn can be challenging; though there are no medications specifically approved to treat stimulant dependence, some programs will be able to provide supportive medications to keep you as comfortable as possible.
Addiction Therapy: Detox is a big step, but it's only the first step. Next, you'll work with counselors and therapists to address psychological/behavioral issues that may be contributing to your addiction. In both one-on-one and group settings, behavioral therapy will comprise a significant portion of your recovery work. If your Desoxyn addiction has affected other people in your life, such as family members, family counseling may also be sought to augment your recovery.
Extended care/aftercare: Once you leave the program, you'll want to have people you can turn to in those moments when temptation or doubt hits. For many, aftercare is an indispensable component of the recovery process. Many quality treatment programs will include diligent aftercare planning prior to program completion, and some will host their own follow-up and aftercare services for program alumni. Relapse is more likely to occur when there is no support system, so consider choosing a center that has its own aftercare program in place or will work closely with you to outline an aftercare regimen prior to program discharge.
Paying for Treatment
Desoxyn addiction treatment can be expensive, but there are other ways to pay for it if you can't afford it yourself. Many Desoxyn treatment facilities will offer some sort of financing options for their clients. Many of these plans will work with you to provide manageable payment options. You should also check with your insurance company to see what type of inpatient treatment they cover. You may also directly contact a treatment center to see if they accept your insurance. If other financing options are not available or fall short, you may be able to take out a personal loan from a bank to help cover the costs of your treatment.
I Want to Find an Executive or Luxury Rehabilitation Center
If corporate responsibilities have kept you or your loved one from getting help, executive rehab programs could be the answer. By combining great substance addiction treatment with the flexibility of computer and cell phone access, an executive or CEO can begin to recover with privacy and without forsaking important work duties.
Many modern drug, alcohol, or behavioral addiction treatment centers offer the luxury amenities one would expect to find in the nation's finest hotels, with your success and comfort being the top priorities. From private rooms and 5-star chef-prepared meals to fine linens and gym facilities, you can find addiction treatment yourself or your loved one while relaxing in style.
Are You Ready For Recovery?
If you think the time is now, take advantage of it. You don't have to make the decision yourself. There's a lot to think about, and you probably have many questions about Desoxyn addiction and how to overcome it.
More resources about
Desoxyn

: