Meth Addiction Rehabilitation and Treatment Options
It can be especially difficult to quit crystal meth once you're addicted because chronic crystal meth abuse may lead to certain lasting changes in the brain. When an addicted individual abruptly quits, they may experience severe depression.1 However, there are many crystal meth rehabilitation centers throughout the country that can help you get clean, and each one is unique. Anyone seeking help should do research to find the program that best suits their needs, budget, and situation. Without formal treatment and a strong support system, individuals may be more vulnerable to relapse.
Inpatient Versus Outpatient Facilities
There are two primary types of facilities to treat crystal meth addiction: inpatient and outpatient. Outpatient facilities allow people to reside at home and come to the treatment center on a regular basis. This option is beneficial for someone who has a relatively mild addiction, a strong sober support system, reliable transportation to the facility, and a strong motivation to quit crystal meth. People who want minimal disruption to their daily schedules often choose outpatient rehab. They can continue to fulfill responsibilities at home, school, or work while receiving addiction treatment. There are a few types of outpatient treatment programs with varying levels of intensity. Partial hospitalization programs (PHPs), or day treatment programs, involve several hours per day, 5-7 days per week of treatment from both medical and nonmedical staff members. Intensive outpatient programs (IOPs) involve about 6-9 hours per week of therapy. The staff members are typically nonmedical. Standard outpatient is the least intensive of the outpatient programs and may involve 2-4 hours per week in a clinic or doctor's office setting.2
Inpatient services provide a place to live and 24-hour support and treatment. This option is appropriate for those with severe crystal meth addiction, polydrug addiction, a co-occurring mental health condition, a medical condition, a medical concern or consideration, such as pregnancy, and previous crystal meth relapses.2
The setting that you choose may also depend on whether you have already completed a detox program or not. If you haven't and are severely physically dependent on methamphetamine, you may want to consider an inpatient rehab that also offers 24-hour detox services. Although crystal meth withdrawal isn't inherently life-threatening, depression can be very severe and may lead to suicidal thoughts or attempts. Professional inpatient detox can keep you safe during the withdrawal process.2
If you have already completed detox, then your treatment team should have provided you with a plan to transition to the appropriate level of substance abuse treatment, based on your addiction, mental health, physical condition, and other factors.
Inpatient Rehab Center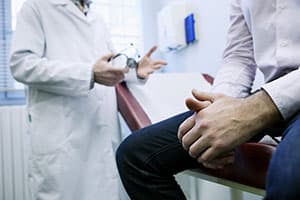 If you or someone you love is struggling with drug and alcohol addiction, you may need to find an inpatient drug rehab center. Inpatient drug rehabilitation centers can give you the intensive therapy and tools you need to quit abusing crystal meth so you can get back on the right path and live a successful, happy, and productive life. Read More
Outpatient Rehab Center
Outpatient treatment allows you to live at home while attending scheduled treatment sessions at an outpatient clinic. Many people benefit from this option because it has little to no impact on their daily routines and they can continue to fulfill responsibilities at home, school, or work. If you choose outpatient, make sure that you have reliable transportation to and from the facility. Read More
Do I Need a Residential Facility?
The thought of treatment at a residential facility may seem somewhat overwhelming because, for the treatment duration, you will not be working, going to school, or fulfilling your day-to-day obligations. Instead, you will be 100 percent focused on treating your addiction. If you have been abusing crystal meth for an extended period of time, have experienced serious impairment to your life as a result of crystal meth use, and are dependent on crystal meth, you may want to seek the structure of a residential program.
Dependence, although different from addiction, is a major sign of addiction. Chronic crystal meth use can lead to significant physiological stimulant dependence, which means that the body has adapted to the presence of meth and requires it to function normally. If a dependent individual abruptly quits using crystal meth, withdrawal symptoms will emerge. These withdrawal symptoms may be especially pronounced in those who used crystal meth in a binge and crash pattern—which consists of using the drug repeatedly for days at a time, forgoing food and sleep. Since these withdrawal symptoms can be quite distressing, individuals may immediately return to crystal meth use to alleviate them. This can promote the extremely maladaptive cycle of compulsive use, quitting, and relapse commonly seen in people with crystal meth addiction. Some common crystal meth withdrawal symptoms include:1,2
Severe crystal meth cravings.
Increased appetite.
Slowed movements and thoughts.
Profound fatigue.
Anxiety.
Intense depression.
Suicidal ideation or attempts.
Psychosis.
Paranoia.
If you struggle with compulsive crystal meth use, you may require the help of a residential treatment program to quit. Crystal meth abuse can have extremely dangerous and detrimental consequences, such as:1
Malnutrition.
Meth mouth (severe dental problems).
Stroke.
Heart attack.
Kidney failure.
Skin sores due to itching.
Hallucinations.
Paranoia.
Violent behaviors.
Sleep disturbances.
Confusion.
Coordination problems.
Memory deficits.
Anxiety.
Seeking a residential rehab center sooner rather than later can help to prevent or avoid some of these negative effects of crystal meth abuse by helping you achieve sobriety.
Take Our "Am I a Drug Addict?" Self-Assessment
Take our free, 5-minute "Am I A Drug Addict?" self-assessment below if you think you or someone you love might be struggling with drug addiction. The evaluation consists of 11 yes or no questions that are intended to be used as an informational tool to assess the severity and probability of a substance use disorder. The test is free, confidential, and no personal information is needed to receive the result.
Are Crystal Meth Rehab Programs Confidential?
Rehab programs are very confidential and required to follow the same Health Insurance Portability and Accountability Act (HIPAA) regulations as hospitals. This means that they are not allowed to release your records to anyone but you and anyone that you authorize. Attending a residential treatment center may require an extended absence from work, so you may need to consider how you will handle that and what you will say to your employer. Many places of employment sponsor Employee Assistance Programs (EAPs) that provide therapy and counseling for those who need help with an addiction to crystal meth or other substances.
How Long Does Inpatient Crystal Meth Rehabilitation Last?
Treatment length will depend on several factors, such as insurance coverage, addiction severity, the person's mental health status, the amount of time you can reasonably take off work or school, etc. Some patients start out on a one-month program and then continue on with an outpatient program for ongoing treatment. For more severe cases in which the patient may require significant medical and psychological help, inpatient treatment can last two to three months (or more, if needed). There may be more impetus spend even more time at a treatment facility if the environment you will return to could be detrimental to your recovery, such as an abusive home or one in which there are other negative influences.
What Happens During Treatment?
Treatment for crystal meth addiction generally follows a set pattern:
Taking the patient's medical and addiction history. This includes a description of how often and for how long the patient has been taking the drug, as well as factors that may have led to addiction.
The patient goes through detoxification. During this period, a patient no longer has access to the drug and will go through several days of withdrawal with the supervision and support of the treatment staff. Though there are no medications specifically approved to manage stimulant dependence and withdrawal, patients may be administered supportive medications to mitigate some withdrawal symptoms.
Therapy for psychological issues to get to the root of the addiction and address these underlying problems. This includes one-on-one therapy as well as group therapy.
Aftercare, usually outpatient, for follow-up counseling and support.
Paying for Crystal Meth Addiction Treatment
Crystal meth rehabilitation centers are not inexpensive, and luxury and top-rated facilities will cost more. There are state-supported services that cost less, but may not be as readily available to everyone throughout the country. Private inpatient facilities can cost anywhere from $14,000 to $58,000, depending on the services provided and the duration of treatment.3 Many insurance providers will pay for a portion of the fee for inpatient treatment facilities, but there is usually a limit. If you want a private room, then you may have to pay extra, but private rooms are available in some rehab locations. Make sure to call your insurance company to learn more about what your plan covers.
Should I Travel or Stay at Home?
If you have a strong positive support system at home, then there is no reason why you shouldn't be able to go to a treatment center near where you live. If that support system isn't there or if there are too many negative influences, then traveling out of state may give you a better chance at recovery.
Staying Sober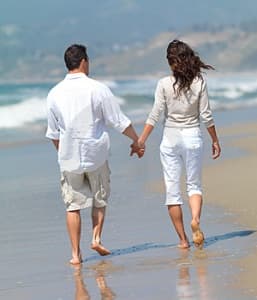 When treatment is over, patients can go back to their homes and lives, but they often continue their recovery efforts through active participation with various outlets of aftercare (e.g., support group meetings, outpatient therapy, etc.). There are also sober living facilities that provide housing for recovering individuals. In these environments, you will be surrounded by people in a similar situation that will act as a support system.
Further Reading and Information
If you or a loved one needs to kick crystal meth addiction, then there are many aspects of treatment that you can learn more about before choosing an inpatient rehab clinic. There are many different treatment options and philosophies. An addicted individual who does not recognize a need for treatment may need an intervention by family members to encourage him or her to enter treatment. You can learn more about treatment and detoxification procedures, residential versus outpatient clinics and faith-based versus traditional treatment methods.
Sources
1. National Institute on Drug Abuse. (2018). Methamphetamine.
2. Substance Abuse and Mental Health Services Administration. (2006). Detoxification and Substance Abuse Treatment, Treatment Improvement Protocol (TIP), 45.
3. American Addiction Centers. (2017).
More resources about
Crystal Meth

: