Alcohol Rehab Centers for Treatment, Detox and more…
If you have developed an alcohol addiction, understanding your options for treatment is important. Alcohol rehab centers can offer you the medical attention and support you need to pursue and maintain sobriety.
---
What is an Alcohol Rehab Center?
Individuals with more severe alcohol addiction, a dual diagnosis, significant medical issues, or previous complicated withdrawal experiences may benefit more from an alcoholism treatment program in an alcohol rehab center.2 Alcohol rehab provides patients with a stable, structured environment where they receive 24/7 medical care and support. Alcohol treatment facilities allow patients to receive care from a medical staff as they receive treatment for their alcohol use disorder (AUD). Many people benefit from inpatient treatment since they are separated from the triggers that lead to them drinking and can focus solely on their recovery.
Age
Alcohol abuse is a problem for all ages. In fact, about 623,000 adolescents between the ages of 12 and 17 years old had an AUD in 2015, and only about 5% of those who needed treatment received it.2
Mental Health
Mental health can play a major role in substance abuse and treatment. Many patients are not only dealing with alcohol addiction but are also dealing with co-occurring disorders where a mental health issue occurs at the same time as alcohol abuse.4 The combination of mental health and addiction issues are identified as co-occurring disorders.4 Either disorder may occur first and the combination of the two can require additional time in treatment to ensure that both are addressed and treated effectively.
Length of Stay
An alcohol rehab does not have a set amount of time because treatment depends on the individual. While treatment may last from 28 to 90 days, it should last no fewer than 7 to 10 days. Each patient's addiction and recovery is unique and it should last as long as is necessary for the individual to receive the necessary care and support to pursue recovery.
---
Types of Alcohol Rehab Programs
When it comes to alcohol treatment centers, there are various types of programs. One of the types of programs is inpatient residential rehab.
Inpatient Residential Rehab
There is both long-term and short-term residential treatment. Inpatient rehab can last for a wide range of time, with long-term residential treatment possibly lasting from 6 to 12 months and short-term residential treatment possibly lasting from 3 to 6 weeks (with variations for both).5
Short-term residential programs involve a briefer but intensive treatment based on a 12-step approach.5 Lasting between 3 to 6 weeks for inpatient care, patients then transition to an extended period of outpatient therapy, as well as participating in self-help groups (e.g., Alcoholics Anonymous).5
Long-term residential treatment involves care 24 hours a day for an extended period of time. One of the most commonly used residential treatment models is the therapeutic community (TC), which works on the reconnection of individuals with society and lasts between 6 and 12 months.
Both long-term and short-term residential programs involve detox as well as intensive substance abuse therapy and aftercare planning.
Partial Hospitalization Programs
Partial hospitalization programs (PHPs), also sometimes known as day treatment programs, are addiction treatment programs that provide a high level of care but permit patients to live at home during treatment.7 PHPs offer treatment that is similar to that of inpatient/residential programs.7,8 While programs vary, patients typically attend treatment at least 5 days a week for between 4-6 hours each day.7,8
PHPs offer services comparable to a residential inpatient program, including access to mental health care services, if needed.7 Services available through PHPs may include:8,9
One-on-one therapy.
Group therapy.
Family meetings.
Medication management.
Drug screening.
Medical services.
Treatment of co-occurring mental health disorders.
Partial hospitalization may be best for people who need intensive care but have a strong support system outside of treatment that will help them remain sober. In addition, it may be a good fit for people who are struggling to continue treatment, are at risk of relapse, or have a co-occurring disorder (e.g., depression or PTSD).9
---
---
What Happens in an Alcohol Addiction Treatment Program?
When it comes to treatment for an alcohol use disorder (AUD), detox is the first step.
What Is Alcohol Detox?
Alcohol detox involves medical management of alcohol withdrawal symptoms while the body eliminates alcohol from its system. Since alcohol withdrawal can potentially be fatal, due to grand mal seizures, the treatment team will utilize detox medications, such as benzodiazepines (Valium, Librium, etc.), to ensure your safety during withdrawal.2
Once you achieve a medically stable, alcohol-free state, the treatment team will prepare you to transition into a comprehensive alcohol addiction treatment program. Although detox is extremely effective and helpful for someone looking to quit drinking, it isn't a replacement for rehab.2
Alcohol Treatment after Detox
After detox, you will begin treatment in an appropriate rehab setting for you. Inpatient treatment can occur in a number of different program varieties, such as luxury, executive, standard, holistic, faith-based, etc.
It's important that you communicate with your detox team about the types of services and amenities you prefer so that you can find a program that's best suited for you. Regardless of the type of program, most inpatient treatment will include:
Individual therapy.
Group counseling.
Family therapy.
Medication, if applicable.
Peer support meetings.
Aftercare planning.
Individual therapy typically involves learning to recognize and cope with stressors and drinking triggers so that you can avoid relapse in the long run.
The therapist will address the underlying issues that drive your alcohol abuse and teach you to make healthier choices. In group therapy, a licensed mental health counselor facilitates a session in which patients learn sober social skills and can practice the relapse prevention and coping strategies they learn in individual counseling.
Alcoholism Treatment Medications
When it comes to rehabilitation for those looking to recover from alcohol use disorder (AUD), detox is often the first step in the process. Going through withdrawal from alcohol may be very uncomfortable or potentially dangerous, so certain medications may be prescribed to manage discomfort, stop or reduce the progress of worsening symptoms, and reduce the chance of further withdrawal complications.10 
Beyond medically supervised detox, there are medications that have been approved by the FDA to treat alcoholism and alcohol dependence. Some of the medications prescribed during the recovery process include:11-14
Disulfram: This medication (also known as Antabuse) is used to encourage abstinence from alcohol. Disulfiram interferes with the way the body breaks down (metabolizes) alcohol. When someone on Disulfiram drinks even a small amount of alcohol, they may experience unpleasant effects. This effects may discourage the individual from drinking.
Naltrexone: This medication is designed to reduce and suppress cravings for alcohol (as well as opioids). Naltrexone blocks the effects of alcohol, especially the "high" feeling that motivates individuals to continue drinking.
Acamprosate: This medication (often recognized as Campral) helps the brains of individuals who have imbibed large quantities of alcohol to function normally again. Acamprosate restores a balance in the central nervous system.
Take Our "Am I Addicted to Alcohol?" Self-Assessment
Take our free, 5-minute "Am I Addicted to Alcohol" self-assessment below if you think you or someone you love might be struggling with drug addiction. The evaluation consists of 11 yes or no questions that are intended to be used as an informational tool to assess the severity and probability of a substance use disorder. The test is free, confidential, and no personal information is needed to receive the result.
---
How Long Does Alcohol Rehab Take?
Alcohol rehab centers provide an environment free from the outside triggers and temptations to drink, which can be very important for some people in early recovery. Treatment frequently takes place over periods of 28-30, 60, or 90 days.
Longer stays can be accommodated, if necessary. Treatment duration varies depending on an individual's needs. It's important to find a treatment center that creates a treatment plan based on your unique situation and addiction.
Research has shown that most people dealing with substance use need to be in treatment at least 3 months to reduce or stop their alcohol use; longer involvement in treatment often brings the best outcomes.6
---
How to Choose an Alcohol Rehab Center
Learning as much as you can about these kinds of addiction treatment centers can help make the decision to enter and, ultimately, the transition into rehab easier. Every person is unique in their needs regarding alcohol abuse  and mental health disorders, so not every treatment program is right for everyone. There are thousands of treatment programs throughout the country, and you need to think about many factors when selecting the right one for you.
In choosing a rehab program, various factors need to be considered, such as:
Cost.
Location.
Amenities.
Insurance coverage accepted.
Levels of care available/intensity of treatment.
The Right Rehab Program Matters.
Rehabs.com is a subsidiary of American Addiction Centers (AAC) a leading provider of drug and alcohol addiction treatment nationwide. If you or a loved one is seeking professional treatment, call us to speak to an admissions navigator and receive assistance over the phone
Find a Luxury Alcohol Rehab
If workplace obligations and other professional concerns have stopped you or a loved one from getting help for alcohol abuse, executive rehabilitation programs may be what's needed.
Executive rehabs are designed to allow you to continue working while seeking recovery from alcohol addiction. These programs give you access to private workrooms, high-speed Internet, cell phones, and computers.
Do Amenities Matter?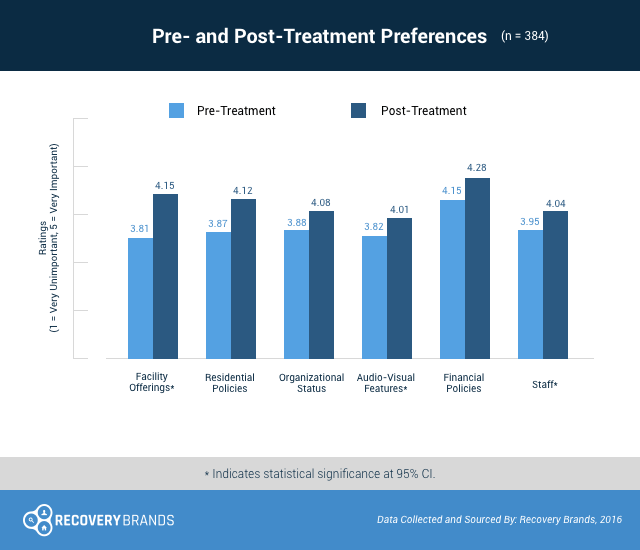 Recovery Brands collected data in 2016 that asked people leaving an addiction rehabilitation facility what center attributes they saw as high priority things to examine when looking at treatment programs.
The top-rated priority was the program's monetary policies, like financial support, payment options, and insurance accepted.
They also placed a high importance on the
program's offerings
(facility housing, recreation, food quality, etc.) a lot more upon leaving treatment. Those considering treatment will want to examine a center's financial policies as well as program offerings to inform their final facility choice.
Read More
Information Needed for Alcohol Rehab Centers
When you call our helpline, you'll want to have as much relevant information as possible so that you can adequately answer the admissions navigator's questions. Examples of info you may need to provide include:
Your insurance plan and policy number.
How long alcohol abuse has been going on (if calling for a loved one).
How severe alcohol addiction is.
If any other substances are being abused, and if so, list them.
Any medical concerns or limitations.
Any co-occurring mental health conditions.
How you or your loved one will travel to the facility.
These details may help the admissions navigator narrow down your appropriate treatment options.
Questions to Ask Alcohol Rehab Centers
If you'd prefer to do your own research, you'll want to call around to various facilities. Before you call a treatment center, you'll want to create a list of questions to ask them to ensure that they are a match for you.
Some common questions you'll want to consider include:
What type of insurance do you accept?
What is your treatment philosophy?
How long is your program?
What types of amenities do you have?
What types of therapy do you use?
Do you provide medical care?
What certifications do your staff members have?
Is your rehab accredited?
Do you offer medications to treat alcohol addiction (e.g., naltrexone, disulfiram, acamprosate)?
Do you offer any grants or scholarships?
What is your visitor policy?
Do you offer medical detox?
Do you create individualized treatment plans?
Do you create aftercare plans
Do you offer Alcoholics Anonymous meetings?
Do you have an alumni program?
You will also want to have your insurance card in front of you so that you can check if they take your insurance. If you don't have insurance, it's important to ask what type of sliding scale or financing options the alcohol rehab offers.
Does My Insurance Cover Alcohol Treatment Centers?
To find out what your insurance covers, you can click here or fill out the form below.
---
Finding a Suitable Alcohol Treatment Program
If you are seeking an alcoholism treatment program, you need to try and decide exactly what you want to get out of it. One important decision is where you will attend your rehab. Many people choose to attend rehab at a local center in order to stay close to home with family close by. Others may want to get away from the triggers around them at home and start fresh on their own. Whatever accomplishes your treatment goals is most important.
Alcohol Addiction Aftercare
Recovery doesn't end when rehab ends; it is an ongoing process. As you reach the end of your treatment program, your treatment team will create an aftercare plan for you. Aftercare consists of ongoing support and recovery efforts that can help you remain sober.
Examples of aftercare services include sober living homes, step-down treatment, such as partial hospitalization or intensive outpatient, individual therapy, group counseling, Alcoholics Anonymous (AA), non-12-step programs, and alumni programs.
Much like your treatment plan, your aftercare plan will be highly individualized and may include any combination of the above services. Committing to long-term recovery will help you avoid relapse even years after attending treatment.
---
Alcohol Use Statistics
Alcoholism affects people all across the United States. A 2015 survey revealed that about 86% of people ages 18 or older have consumed alcohol at some point in their lives, and an estimated 15 million people in this same age group meet the criteria for alcohol addiction—diagnosed as an alcohol use disorder (AUD). Chronic alcohol abuse can have detrimental and even fatal results.
Approximately 88,000 individuals die from alcohol-related causes each year.1 These deaths are highly preventable. If you or someone you know struggles with alcoholism, detox and rehab can help you on the road to a clean and healthy life.
Rehab for addiction may consist of either inpatient or outpatient treatment. Outpatient treatment is most appropriate for people who have a mild to moderate addiction, strong social supports, and reliable transportation to the facility.
---
Recovery From Alcohol Addiction
It is important to reaffirm aspects of your life that were neglected by your drinking. You can spend time with your family and pick up new hobbies that will help you build a life without alcohol.
No matter what, you need to know that it is never too late to get control of your addiction. Recovery from alcohol addiction could be the most important thing you do in your life.
---
Recommended Rehab Treatment Articles
Popular Rehab Center Locations
Sources
National Institute on Alcohol Abuse and Alcoholism. (2016). Alcohol facts and statistics.
Center for Substance Abuse Treatment. Detoxification and Substance Abuse Treatment. Treatment Improvement Protocol (TIP) Series, No. 45. HHS Publication No. (SMA) 15-4131. Rockville, MD: Center for Substance Abuse Treatment, 2006.
National Institute on Alcohol Abuse and Alcoholism. (n.d.). Alcohol's Effects on the Body.
National Alliance on Mental Illness. (2020). Substance Use Disorders.
National Institute on Drug Abuse. (2018). Principles of Drug Addiction Treatment: A Research-Based Guide (Third Edition): Types of Treatment Programs.
National Institute on Drug Abuse. (2018). Principles of Drug Addiction Treatment: A Research-Based Guide (Third Edition): Principles of Effective Treatment.
National Institute on Drug Abuse. (2014). Principles of Adolescent Substance Use Disorder Treatment: A Research-Based Guide: Treatment Settings.
Miller, S. C., Fiellin, D. A., Rosenthal, R. N., & Saitz, R. (2019). The ASAM Principles of Addiction Medicine, Sixth Edition. Philadelphia: Wolters Kluwer.
American Psychiatric Association. (2010). Practice Guideline for the Treatment of Patients With Substance Use Disorders: Second Edition.

Hugh Myrick, M.D., and Raymond F. Anton, M.D. (1998). 

Treatment of Alcohol Withdrawal

. 

Alcohol Health & Research World; 

22(1): 38-43.

MedlinePlus. (2019). Disulfiram.
U.S. National Library of Medicine. (2009). Incorporating Alcohol Pharmacotherapies Into Medical Practice. Treatment Improvement Protocol (TIP) Series, 49(3). 

 Substance Abuse and Mental Health Services Administration. (2009). 

Incorporating Alcohol Pharmacotherapies into Medical Practice

. 

Treatment Improvement Protocol (TIP) Series, No. 49(4), 27-35.

 

U.S. National Library of Medicine. (2021). MedlinePlus: Acamprosate.
More resources about
Alcohol

: