Men-Only Rehabs Near Me
According to the National Institute on Drug Abuse (NIDA), men are more likely than women to abuse most types of illicit drugs and to misuse prescription drugs. Additionally, illicit drug use is responsible for more ER visits and overdose deaths in men than women.1 Studies have indicated that men and women use drugs differently, have different responses to drugs, and even respond in unique ways to treatment.1 If you're a man struggling with addiction, an all-male rehab may be the right place for you.
Drug and Alcohol Abuse Among Men
Drug abuse and alcohol addiction are major concerns for both men and women; however, there are some differences in how these gender groups use drugs or alcohol. For example:
Men have higher rates of alcohol consumption, overall. With the exception of adolescents and young adults (individuals 12-20), men drink more and binge drink more than women.1
Marijuana use is more common among men than women.1
Men who have marijuana use disorders are more likely than women to also abuse other drugs or have antisocial personality disorder.1
Men use greater amounts of heroin on the whole than women, and they are more likely to inject heroin.1
Men report having used illegal drugs more often than women.3
Some estimates place men 2 to 3 times more likely than women to have "drug abuse/dependence" disorders.4
Do I Need Substance Abuse Rehabilitation Treatment?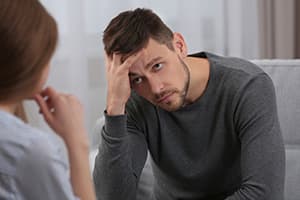 Addiction affects men, women, and young people all over the world. Many men have been socialized with traditional gender norms that make it difficult to be vulnerable,5 but there is absolutely no shame in struggling with a substance use disorder and admitting you need help. If you think you might have a substance abuse problem, ask yourself:6
Have I tried to stop using substances and not succeeded?
Have I been using drugs and/or alcohol for longer or in greater amounts that I intended?
Do I spend too much of my time in attempting to obtain drugs, using drugs, or recovering from their effects?
Have I given up activities that are important to me to use drugs?
Have I neglected to keep up with my personal responsibilities because of drugs or alcohol?
Have I had conflicts in my relationships because of my substance use?
Do I crave drugs or alcohol when I can't use them?
Do I use drugs before driving or in other physically hazardous scenarios?
Am I unable to stop using drugs even knowing that my mental and/or physical health has suffered as result?
Do I need to keep upping my dose in order to feel the effects/get high?
Do I have withdrawal symptoms when I try to quit?
If you answered yes to more than 2 of the above, you may already be experiencing the adverse effects of a substance use disorder—a condition that often requires treatment.6 It's difficult to admit you need treatment, but deep down you probably know if your substance use has become a problem—your finances, professional life, romantic life and health may all be crumbling. A life in addiction is a trying and lonely one, but recovery is possible, and it's an extremely worthwhile endeavor. Treatment that understands the social pressures put on men and the unique needs of the male population is available.
Why Men-Only Rehab Facilities?
Men are often brought up to be strong and remain unemotional. Men are often "expected to be independent, self-sufficient, stoic, and invulnerable."5 It may be embarrassing or challenging for them to fully express, understand, and handle their feelings.5,7 In fact, men may find it more challenging to even begin the process of seeking treatment.5
Once in a drug and alcohol treatment center, men may find it difficult to analyze their problems and may become aggressive, competitive, or combative with staff or fellow group members.5
Staff at male-only rehab programs will have experience working with recovering men and will understand the unique challenges of treatment and recovery that they face. For example, because men tend to be very goal-oriented, staff may focus on regularly reviewing with patients their next steps and ways they can prepare. They may also help to emphasize the freedom of choice, even when there are few options.
Staff will also likely help their male patients to come to view treatment as a sign of strength rather than a sign of weakness or a personal failure.5 Even simple things, like walking during counseling sessions may help men to burn off extra energy and avoid having to make eye contact with their counselors while discussing difficult emotional topics.5
Just being around other men in treatment may help patients to see that they are not alone, and that the disease of addiction affects so many other men.
Is My Privacy Protected at All-Male Rehab Centers?
Men may be particularly concerned about their privacy, worrying that their social standing may be affected as a result of seeking treatment.5 Fortunately, HIPAA laws protect your information, as rehab centers must comply with this standard.8 Staff at men-only rehabs must follow the same rules and regulations as any family doctor. No one on staff can share information about your case unless your consent is given or unless the situation necessitates the release of information, such as in a medical emergency where providers need certain information to treat you.8
Men's Inpatient Residential Treatment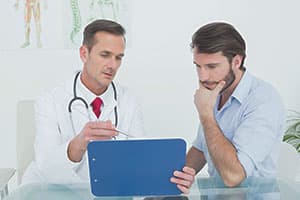 During inpatient residential treatment, you'll receive the individualized care you need to begin a meaningful life without substance use.
You'll begin your treatment with an evaluation in which you'll be asked about your substance use, medical history, mental health, and any other relevant issues. Your evaluation will be used to create a plan for care that is tailored to your specific needs.
Treatment often starts with medical detox (particularly important for alcohol and sedatives, due to the risk of life-threatening withdrawal seizures and other complications). Opioid-dependent individuals are also often good candidates for medical detox because withdrawal can be particularly painful and because there are several medications that can reduce the discomfort and cravings associated with opioid withdrawal.9
Addiction Therapy Treatment for Men
Once the withdrawal period has been successfully managed, you should be feeling better and more ready to begin engaging in therapy, which is where you'll focus most of your efforts in rehab. You will likely attend both individual and group therapy sessions during your rehabilitation.
Your therapist may utilize more than one type of therapy when working with you. Men often respond well to cognitive-behavioral therapy,5 in which the therapist works with you to discover the harmful thoughts and behaviors that keep you locked in unhealthy patterns and work to develop better ways of thinking and operating in the world. CBT also helps you to develop new ways of coping that don't include drugs or alcohol.10
Motivational interviewing is also commonly used among men in treatment5 and involves your therapist helping you come to understand and build on your own motivation to quit drugs or alcohol and attain recovery.
Treatment approaches vary, as do the treatment centers that administer them. Different programs will respectively tailor somewhat distinct personalized treatment plans, which will greatly shape your individual rehab experience.
How Long Does Inpatient Rehab Last?
Most rehab centers offer programs that last between several weeks and 90 days. Some centers also offer programs that run longer, sometimes between 6 months to a year. The longer programs often allow for some time offsite. As you progress in treatment, you can have time away from the center—you might spend several hours away from the facility each day or week to attend school or work, or you might be afforded a weekend at home with your family. Each program will have different rules for when and how patients can leave the treatment site.
Best Drug and Alcohol Rehab Centers for Men Near Me
If you're wanting to find the best inpatient residential rehab center for men near you, it's important to carefully consider the various types of treatment programs available to ensure your needs are met. Some rehabs are mixed gender but may still be able to private extra privacy and tailored therapy sessions based on individual needs.
Depending on your location, you may find there is not an appropriate treatment program in your area for men (all mens rehab). However, if there are programs nearby, consider the pros and cons of being admitted to a local program versus traveling out of state. For some people, leaving home for treatment may remove them from triggers or negative influences that may be contributing to their problems. Our rehab directory can help you search through treatment providers throughout the United States all-men or men-only rehab centers. Some popular States include California, New Jersey, Florida and Texas.
Is Drug or Alcohol Addiction Curable?
Attending a men-only rehab is not intended to be a cure. Addiction is a chronic condition that often involves relapse and that requires a continued focus to manage. A good treatment plan will incorporate aftercare, which is the continued treatment that occurs after rehab ends.
You may be encouraged to attend 12-step groups or outpatient therapy once you complete your rehab stay. You might also transfer to a sober living facility where you can practice your newfound skills with a group of others who are living in recovery. Your treatment team in rehab should help you to form an aftercare plan that works for you and takes into account your progress, your needs, and your personal obligations at home.
It is common for men who develop substance use disorders to feel shame about their conditions and reluctant to reach out,5 but it may help you to envision a life where every day is no longer controlled by the need to get and use drugs. Reach out now to begin again and uncover the possibilities a future in which you are no longer victim to your addiction.
---
Recommended Addiction Treatment Articles
Articles Related to Rehab for Men
Sources:
National Institute on Drug Abuse. (2018). Sex and Gender Differences in Substance Use.
National Institute on Drug Abuse. (2016). Substance Use in Women and Men.
Substance Abuse and Mental Health Services Administration. (2018). Age- and Gender-Based Populations.
Becker, J. B., & Hu, M. (2008). Sex Differences in Drug Abuse. Frontiers in Neuroendocrinology, 29(1), 36–47.
Center for Substance Abuse Treatment (US). Addressing the Specific Behavioral Health Needs of Men. Rockville, MD: Substance Abuse and Mental Health Services Administration (US); 2013. (Treatment Improvement Protocol (TIP) Series, No. 56.) 3, Treatment Issues for Men.
American Psychiatric Association. (2013). Diagnostic and statistical manual of mental disorders (5th ed.). Arlington, VA: American Psychiatric Publishing.
Center for Substance Abuse Treatment. Helping Yourself Heal: A Recovering Man's Guide to Coping With the Effects of Childhood Abuse. HHS Publication No. (SMA) 12-4134. Rockville, MD: Substance Abuse and Mental Health Services Administration, 2004.
S. Department of Health and Human Services. (2013). Summary of the HIPAA Privacy Rule.
Substance Abuse and Mental Health Services Administration. Detoxification and Substance Abuse Treatment. Treatment Improvement Protocol (TIP) Series, No. 45. HHS Publication No. (SMA) 13­4131. Rockville, MD: Substance Abuse and Mental Health Services Administration, 2006.
National Institute on Drug Abuse. (2018). Cognitive-Behavioral Therapy (Alcohol, Marijuana, Cocaine, Methamphetamine, Nicotine).
Center for Substance Abuse Treatment. Enhancing Motivation for Change in Substance Abuse Treatment. Rockville (MD): Substance Abuse and Mental Health Services Administration (US); 1999. (Treatment Improvement Protocol (TIP) Series, No. 35.) Chapter 3—Motivational Interviewing as a Counseling Style.
More resources about
Men-Only Rehabs Near Me

: