Setting Your Intention on Alcohol Recovery and Hope
Problems associated with alcohol use continue to be prevalent across the United States. Even the mildest of symptoms can be troublesome. Most people, remember, don't start as alcoholics – it can sneak up on the most unsuspecting and responsible drinkers. Of course, early identification of a problem and proactive change are best.
It helps to know the signs so you can make a change before heavy drinking leads to an "alcohol use disorder." This is a medical condition that doctors can diagnose when a patient's drinking causes distress or harm. In the United States, about 17 million people have an alcohol use disorder.
The Risks of Alcohol Use
You may have heard that regular, light-to-moderate drinking can be good for the heart. With heavy or at-risk drinking, however, any potential benefits are outweighed by greater risks, including injuries, health problems, birth defects.
When it comes to sexual consequences associated with drinking, consider this. An article from the NIH (National Institute of Health) opens with this line:
"Conservative estimates of sexual assault prevalence suggest that 25 percent of American women have experienced sexual assault, including rape."
Other health problems include negative effects on the liver, heart disease, sleep disorders, depression, stroke, bleeding from the stomach, sexually transmitted infections from unsafe sex, and several types of cancer. Also, drinking is known to cause problems managing diabetes, high blood pressure, and other conditions.
Drinking during pregnancy can cause brain damage and other serious problems in the baby. Because it is not yet known whether any amount of alcohol is safe for a developing baby, women who are pregnant or may become pregnant should not drink.
Beyond these physical and mental health risks, frequent heavy drinking also is linked with personal problems, including loss of a driver's license and relationship troubles.
Know the Solutions
The NIAAA (National Institute on Alcohol Abuse and Alcoholism) is raising awareness of the link between alcohol consumption and serious problems. The data is compelling and, moreover, the human experiences are heart-wrenching.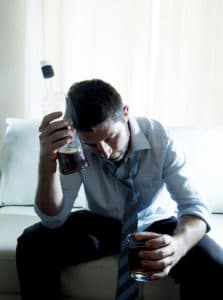 The NIAAA has a number of initiatives in place aimed at raising research awareness; they also have strategies designed to help people understand the implications of alcohol use and how to mitigate them.
Another key finding in research is that, with the explosion of social media (i.e. Facebook, Instagram, Twitter, etc.), there is a new platform for people to highlight their drinking patterns. Research has found that a drinking-supportive social network has a strong influence on heavy drinking and alcohol-related problems over time.
But there is also room for opportunity and prevention with regards to social media. An article in Alcohol Research points out that perhaps social media sites could identify high-risk drinkers through online display patterns. This could contribute to the development of prevention messages and interventions.
Awareness is key. Families, colleges and businesses can also foster open discussions about alcohol use. Even sharing with people the resources where they can get more information is helpful. For example, SAMHSA (Substance Abuse and Mental Health Services Administration) has a number of helpful tips ranging from early warning signs of problems to how to get help.
Options for reducing alcohol-related risks include:
Setting your own goals
Identifying whether or not you aim to stay within low-risk drinking limits or take steps to be safe when you drink or if you want to quit drinking altogether
A great website that offers tips to cut back on drinking can be found here. Among the strategies are things like pacing yourself, building in buffer drinks that are non-alcoholic avoiding triggers and knowing when and how to say "no" convincingly.
It's Never Too Late
As with anything in life, setting your intention with regards to alcohol is key. There are ample resources available to help you on your journey. It's a personal path and there are many roads you can go down. It's also the kind of journey that is easy to course-correct if you find yourself on an undesirable path down the road.
It is never too late for anyone suffering with an alcohol problem or someone who wonders if they are developing problematic alcohol use. There is no shame in reaching out for help, encouragement and support. Resources, recovery and hope are waiting for you.
Images Courtesy of iStock