Numbing Emotions: How a World of Negativity Can Perpetuate Substance Abuse
What do you see when you watch the news? How about when your phone buzzes with a news alert? Better yet, with that small glance at the day's latest updates – what do you feel?
My guess is probably not much.
It's not that terror, political divide, racism and social disregard are no longer harrowing. It's just that we are bombarded with graphic stories and images that leave one feeling less compelled and more disconnected.
Disconnection is the only way to deal with the negativity that constantly surrounds us can be otherwise overwhelming. It can also be depressing. And while many tweets and headline news stories are about addiction – the irony is that a world of negativity can be a perpetuating contributor to finding solace in substances.
The Problem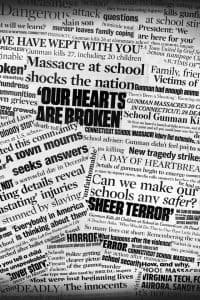 Headline stories about crimes, especially terrorism, dominate the news. Even entertainment programs have devoted considerable on-air time to exploring the worse of the world we live in.
There are many different kinds of terrorism and terror-violence. During the 1970s, Frederick Hacker, MD, proposed that terrorism could be divided into, as the title of his book suggested, "Crusaders, Criminals, and Crazies."
Terrorism always has been a mixture of propaganda and theatre. There are obvious conflicts among the rights of the media, the public's "right to know," protection of society, submitting to the publicity demands of terrorists, philosophy of censorship, and, of course, whether media activity matters very much one way or the other anyway. And social media's prevalence in this day in age provides yet another platform for the quick dissemination of news.
Let's now makes sense of our brains and what causes our emotional responsiveness and eventual numbing.
A Medical Overview and the Alluring Role of Substances
Consider two parts of the brain: the amygdala and prefrontal cortex.  Emotions are registered in the brain's amygdala – a part of our brain's limbic system. Each individual will respond to horror in a different way (for instance, some people register fear, others worry, and for some, intrigue). From what we know about neuroscience, the prefrontal cortex, controls our focus, strategizing, self-control and inhibition.
By turning off emotions, people can then be habituated in times of stress to go back to destructive behaviors that provide instant relief – or at least, momentary escape.
-Helen Farrell
Studies done looking at people's brains after exposure to violent video-games have shown that there is a greater activation of the amygdala and significant decrease in the activation of prefrontal cortex.
During traumatic events – including the day-to-day trauma of living in a world with constant threats, images, and fear of violence – the amygdala and prefrontal cortex are revved up. With repeated exposure, they will dim.  But for people lacking the ability to tolerate the flood of emotions, or to cope in healthy ways, substances can be alluring.
Drugs and alcohol can take someone out of their present state of being. The effect can be experiencing a sedating effect, a fleeting sense of euphoria, or a complete detachment from reality. Take alcohol, for example. It is a central nervous system (CNS) depressant and works by dimming all the neuronal connections to our emotional activating centers – including the amygdala. By turning off emotions, people can then be habituated in times of stress to go back to destructive behaviors that provide instant relief – or at least, momentary escape.
Healthy Coping Skills
There are ways to habituate oneself to the world we live in that incorporates healthy behaviors. Here are some tips below for navigating this beautiful, albeit frequently upsetting world:
Turn Off Your Television: If this seems unfeasible, then use it only for comedic shows and 'feel-good' Don't watch the news.
Switch Off Phone Alerts: If you're a news junkie, then catch up for a discrete period of time during the day. Give yourself an hour or thirty minutes of reading, but avoid the constant bombardment of news updates.
Stay Connected: Make sure that the television and phone are not your only sources of social relief. Talk on the phone with a friend or family member every day. Avoid the impulse to constantly send text messages. Make an effort to have real contact with other individuals.
Exercise: When you're feeling overwhelmed or dysphoric, get some relief through physical exertion. It does a world of good for everyone.
Journal: Start a gratitude journal. Write down everything you're grateful for at the end of the day. This will reinforce some positivity before going to be d and help you sleep well and wake up with a good outlook.
These are just a few tips to help you get started. Be sure to add your own and also use this as a talking point when you're reaching out to people. Numbing and disconnection lead to isolation – and that only feeds the problem. Staying connected is the best way to enjoy life, participate in healthy coping skills and gain the ability to tolerate the mix of emotions that come with being a human in this world.
Images Courtesy of iStock