My Journey Through Alcohol Dependence and Postpartum Psychosis
I had been a daily drinker since I was in college. I usually drank in the evening until I fell asleep or passed out. On the weekends, I binged. I often felt the effects of an alcohol induced hangover at work. I guess I thought I was a functioning drunk, except at the expense of disappointing and distancing family and friends. While I worked hard to present a professional exterior, I frequently didn't show up in the lives of people I cared about. Either by my physical or emotional presence. I also just plodded along in my employment. There seemed to be no incentive to reach for professional or personal goals. When I met my boyfriend, who would become my husband, I mellowed out somewhat.
After years of drinking until I passed out (if I had no responsibilities the next day), I endeavored to drink more like a "lady." I might have a few drinks on weeknights and more on the weekends. After I had been married to my husband for a year, we talked about having a child. From my internship at a children's hospital to my years in social work at a pediatric health center, children had always been part of my professional career. I was excited to become a mother, but I had not changed my habits.
The week before we were to start "trying" for baby, I tip-toed back and forth from the living room to our bedroom closet. While I watched a movie with my husband, I secretly drank a fifth of vodka.
Welcome to Pregnancy
Once I became pregnant, I became truly afraid of having a child with fetal-alcohol syndrome. As a social worker, I worked with a pediatric geneticist at the hospital. I knew what children afflicted with fetal-alcohol syndrome looked like, and I vainly thought more about my child's looks than the damage that may be inflicted on her brain, even though the World Health Organization (WHO) says that 50% of all intellectual disabilities can be attributed to fetal-alcohol-effects.
I wanted my daughter to have a fair shot. I was determined not to drink…for forty weeks. Without booze, however, I felt anxious all of the time. My brain never had a break. After years of drinking, I had no idea what normal people did to relax. I just got more anxious.-Joslyn Jelinek
I wanted my daughter to have a fair shot. I was determined not to drink…for forty weeks. Without booze, however, I felt anxious all of the time. My brain never had a break. After years of drinking, I had no idea what normal people did to relax. I just got more anxious. Soon, I started to imagine that nearly everything around me was a threat to my child. I imagined horrible things happening to me or to the baby during or after my pregnancy. I started to see a psychiatrist, a lovely psychiatric post-doc, who prescribed medication as well as therapy. The therapy was useful, but I was too afraid to take the medication. I thought I could still manage my symptoms on my own. Even now, I wonder if it would have reduced my anxiety.
At thirty-six weeks, I was diagnosed with preeclampsia. I wondered if my elevated blood pressure was due to my intense anxiety or simply a physical condition. I was not capable of relaxing. Regardless of the reason for my high blood pressure, my baby was in jeopardy and labor needed to be induced. Inducing my pregnancy was not part of my plan, but I thought everything would be all right because I had very caring midwives and my husband always at my side.
Twelve hours into my labor, I had adverse reaction to the pain medication. I started to hallucinate. Time started to stop and start at uneven intervals. I could not focus on music or even a conversation with someone in the room. When I think back on those hours in labor, I recall feeling like other people's words were underwater or on-delay. I was scared. I also could step outside of myself and see, as a therapist, what was happening. I needed help. I told my midwife that I was "clinically" concerned about my thought processes. The words stumbled out of me. I tried to explain the bizarre things that were happening to me, but no one heard me. The staff and my husband offered pithy reassurances.
Thankfully, after hours of pushing, the medication wore off. Our baby was born early in the morning. We spent some time enjoying our new perfect baby. When we returned to our room again, the panic returned. My thoughts raced a million miles an hour. I could not turn off my brain. Dread pulled at my body and brain. I didn't sleep the next night either. While I enjoyed seeing and holding my baby, I began to realize that I was experiencing something unusual. From my training, I gathered that as the progesterone dropped precipitously in my body, I was going through dramatic biochemical changes that were primed by my alcoholism.
Asking for Help
On day three postpartum, I knew I needed help. I still could not sleep. The anxiety did not decrease. Although I knew I was having a crisis, my husband could not understand what was happening to me. I knew I needed professional help. He needed me home with this brand new baby. The clinician in me knew that it was a matter of urgency that I got to the hospital soon. I was afraid of losing control or becoming even more floridly psychotic. I called my sister to help me figure out how to get to the ER. Against what my husband's wishes, I went to the hospital. Our baby was 3 days-old. My husband's birthday was the next day.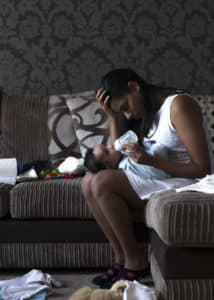 After spending hours in the ER, I was finally moved to the psychiatric ward and given a mood stabilizer and an anti-psychotic. For the next forty-eight hours, I felt as if I were bracing for a car accident. I feared every moment. Although I had lost contact with reality at the time, even years later, I clearly remember this psychotic episode. On the psych floor, I plunged into active audio and visual hallucinations. The equipment and instruments in my hospital room said funny things to me. My new breast-pump squeaked, "breast-milk, breast-milk, breast-milk." The clock on the wall loudly said, "It's time! It's time! It's time!" I thought the staff on the floor were familiar people from my own life.
After only a few days, I emerged back into a shadow of myself. There was a postpartum program at this same hospital, and every day someone from the program came to see me. They brought me books and let me know I would get better. The sweetest time was when my husband visited with our baby girl. I remember thinking that no matter how I felt, I would work hard to fix me. By day five, I was advised to stay, but I wanted to go home and knew that I could. (When I was admitted, even in my altered state, I had the wherewithal to sign a "five-day." In Illinois, if you sign this form on admission, the hospital cannot keep you past five days, unless they dispute the time limit in court, which most hospitals cannot afford to do.) All I wanted was to see my daughter and my husband. I promised I would do a two week stint in day-treatment. What came next was the most painful journey of my life.
Many days and nights I was convinced I was going to have to go back to the hospital. Recovery was rough at times, but eventually my competency as as parent grew while I stitched my mind back together. My training as a therapist helped me advocate for my needs and design what may be useful for healing. Additionally, I was able to take a solid seven months off for maternity through my company's great benefits, short-term disability, and the Family Medical Leave Act (FMLA).
One Day at a Time
Today my daughter is a vibrant seven-year-old. She loves gymnastics and art. She is in the gifted class at school. The fears I had about her likelihood of having emotional and physical problems never materialized. I try to live "one day at a time" and make plans to live my dreams. Those plans include:
A solid program of recovery:? I would never have been able to heal my brain unless I dealt with my alcoholism. When I tried a twelve-step program in my twenties, I didn't have much to lose. My sponsor was just someone that I usually had coffee with. I never worked the steps. I never stayed sober for long. This time around, I found a sponsor. I went to meetings three times a week. I worked the steps. I became certified as a Registered Dual Disorder Professional (RDDP) to help my clients overcome their own dependencies. I also found strength in other people's stories of recovery and healing. To find inspiration from others, check out sites like Crying Out Now (cryingoutnow.com) and The Bubble Hour (blogradio.com/the bubblehour). They remind me that my sobriety is golden. If you are dealing with alcoholism, treat it as a primary diagnosis. Don't miss your regular meetings, especially your home group. Call your sponsor and other alcoholic parents in recovery. My daughter grew up knowing the importance of all of the "mommy classes" (twelve step meetings) that I needed to attend.
Yoga:? In addition to training for some road races, including a half-marathon, I delved into yoga, an ancient form of mind-body exercise. I discovered that I could calm down my physical restlessness when I was on the mat. I finally had some breathing room. Getting to a studio did not fit seamlessly into my day, so I often did YouTube sessions in the living room while my daughter slept or sat in her swing. No matter what else was happening, I tried to do yoga at least once a day. It did not "work" at first. Months passed before I fully experienced the benefits of yoga, but I kept trying until I found great peace.
Recruit my tribe: My story is a fortunate one. My family really rallied around in a way that is not always practical for most busy or geographically separated families. When I was hospitalized, my sainted mother-in-law made the decision to retire. She drove in from out of state three days a week to care for her granddaughter. My mom also drove in from out of state once a month with a similar visit. My husband works from home and has alway been hands-on. The bond of our relationship was tested, but ultimately we we able to get through difficulties with humor. If you have family nearby, please do not be afraid to ask them for their help. In my clinical practice, I find so many parents who feel guilty or greedy about asking. Your family wants to help you! If your family is far away, Skype or Facetime on a regular basis. This contact is a great ritual to keep you well and support their connections with your children. Family is more than kinfolk. Reach out in rotation. Ask for a meal train. Talk to the pastor at church. More people are learning to understand that postpartum conditions are real, and they want to be supportive.
Find the mommies (parents) in your neighborhood: I often refer new parents to playgroups. It is an timely way to make adult friends and enjoy raising your kids with other close by. Meet-up.come was a great resource to locate neighbors with babies. Facebook has the corner on the market for many other new groups. Shout out to the Baby Wranglers of East Rogers Park (Chicago). After dorm life, making adult friends is never easy. Being a new parent is a great segue into new friendships. Go to mom and baby yoga. Drop by story hour at the library (you won't be the only one with an infant).
Please know that if anything in the story is resonant, you are not alone. There are many people who want to help you live to be "happy, joyous, and free." Keep doing the next right thing for your sobriety and live in gratitude for the moment.
Images Courtesy of iStock