What Medications Can Help You Get Sober?
Let's face it: giving up something you love is just plain hard.
Jackie D. recalled of her last night of drinking, "I bought a nice bottle of wine, and I wept. Not drinking completely scared me. I believed life wouldn't be worth living without it." Similarly, Frank L. looked back and said, "In the beginning, I grieved, I cried, I felt guilty." He wondered what would replace alcohol. Hard as it was, when I interviewed them for Sober for Good, my book about people in long-term recovery from serious drinking problems, they both found that the rewards of sobriety outweighed the difficulties.
Knowing how hard it can be, especially in early recovery, why aren't more professionals making medications that can make the task of getting sober and staying sober more accessible?
According to the most recent National Survey of Substance Abuse Treatment Services … only about one-fourth reported that they offered any of the three FDA-approved medications for treating alcohol use disorders (AUD.)-Anne FletcherAccording to the most recent National Survey of Substance Abuse Treatment Services, which asks the vast majority of U.S. addiction treatment facilities (more than 14,000 of them) about their practices, only about one-fourth reported that they offered any of the three FDA-approved medications for treating alcohol use disorders (AUD.) Hospital inpatient addiction treatment facilities (two-thirds of them) are far more likely to offer such medications, while just one out of five outpatient and somewhat fewer residential programs do. In short, if you go to treatment for a drinking problem, odds are that you won't be prescribed a medication that will make things easier, even though, overall, 40 to 60 percent of people treated once for a substance use disorder go back to using again.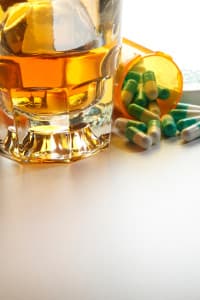 Hopefully, these numbers will improve thanks to greater exposure in a just-released scientific "best of studies" review of the three FDA-approved medications as well as a number of off-label medications (those approved and prescribed to treat a different condition) appearing in the Journal of the American Medical Association (JAMA). As unfortunately noted by experts Katharine A. Bradley, M.D., M.P.H. (Group Health Research Institute, Seattle, WA) and Daniel R. Kivlahan, Ph.D. (University of Washington, Seattle) in an accompanying JAMA editorial, "Patients with AUD receive poorer-quality care than patients with any other common chronic condition."

Therefore, it's high time that addiction treatment and primary medical care facilities step up to the plate in prescribing these medications more readily. And we need to get the word out to consumers, too, so they can advocate for themselves when their needs are not being met.

Drugs for Drinking Problems
Before taking a look at the "best of studies" report, it helps to know what's out there to aid the recovery process.
The three drugs approved by the Food and Drug Administration (FDA) for the treatment of alcohol use disorders are as follows:
Acamprosate (trade name Campral) – thought to normalize alcohol-related changes in brain activity and reduce unpleasant symptoms (disturbances in sleep and mood) of early abstinence that can lead back to drinking.
Naltrexone (trade name ReVia and also available in monthly injectable extended release form under the name Vivitrol) – blocks receptors involved in the pleasant sensations associated with drinking (so it's easier to stop before becoming intoxicated) and can reduce alcohol cravings. (When I asked Dr. Kivlahan why anyone who has a history of wanting to "get high" would elect to take a medication that would block alcohol's pleasant effects should he or she choose to drink, he said, "Naltrexone is considered by some to provide more responsive brakes that improve the 'stopping range' – that is, reduce the high when drinking, as well as reduce the craving when not using – but not block the high completely. He warned, however, that drinking to excess while on naltrexone could still be very dangerous.)
Disulfiram (trade name Antabuse) – discourages drinking by interfering with the body's metabolism of alcohol, which causes very unpleasant symptoms, including nausea, vomiting, palpitations, headache, and dizziness that occur when people drink alcohol while taking it. Anticipating a possible severe reaction increases commitment to abstinence. In short, disulfiram can greatly lower the odds of impulsive use of alcohol or being triggered by a situation that might make you drink.
A number of medications are used off-label to treat AUD, including:
Topiramate – thought to decrease cravings for alcohol by influencing transmission of certain neurochemicals. It's approved by the FDA for the treatment of seizures and migraine headaches but can be prescribed for individuals with alcohol problems.
There are other medications used off-label for treatment of AUD, including baclofen and gabapentin (Neurontin), but the new "study of studies" (see next section) concluded that there just wasn't enough evidence to determine whether they're beneficial – or the evidence suggested they are not.
Breaking News from the Study of Studies?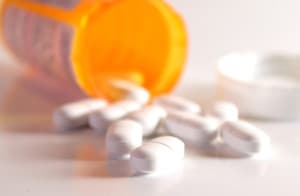 For the new JAMA review, Daniel E. Jonas, M.D., M.P.H. of the University of North Carolina at Chapel Hill and colleagues reviewed only well-designed studies involving adults with AUDs that lasted at least 12 weeks in an outpatient setting and identified 123 studies that met their criteria. They examined the extent (if any) to which these studies showed that medications helped prevent any drinking or a return to heavy drinking, as well as impacted the frequency and quantity in those who drank.
Most of the studies (nearly two-thirds of them) involved the medications acamprosate, naltrexone, or both. And, indeed, these medications were found to be the most effective of those researched. From the rigorous types of studies examined, the reviewers did not find evidence that disulfiram adequately prevented returning to drinking or any other improvement compared to a placebo. As for topiramate, they concluded, "…moderate evidence supports an association with improvement in some [alcohol] consumption outcomes."
While the new findings may bring more attention to medications that can help people with AUD get sober and stay sober, the findings may be a bit misleading and not tell the full story. (For instance, a number of experts I've interviewed feel that disulfiram can be a highly effective medication for AUD, under the right circumstances.)

What's Next: My next Pro Talk column will examine why there's more to the story and include insights from clinicians who use these medications with patients. We'll also listen to what some "takers" have to say.