Making the Transition Home After Rehab Easier on Your Family and Yourself!
Your bags are packed, you've gotten your aftercare plan, and you're ready to blow this joint.  I mean, leave rehab.  It's exciting to be free from the constraints of rehab and starting a new life, but it can be awkward and scary to come back home and try to reintegrate into the family you left behind.
Here are some tips for sliding into home, not crashing!
1: Everyone Feels Weird.
It is most likely that a crisis was what brought you to rehab in the first place. Your family (whether it's parents, spouse and kids, or chosen family such as people you live with to whom you're very close) is freaked out and doesn't know what to expect.  Don't take it personally if they act weird.  You may be in better shape than they are at this point!
2: Be as Predictable as Possible.
Routines are good for everyone, not just people in recovery.  Try to stick to your routines, and be courteous in letting your family know when you'll be out and back.  For example:  "I'm headed out to a meeting and running by the store.  Be home around 9."  Clearly the set up will be different if you're an adult vs. a teen, but the transition home will be smoother for everyone if your family isn't worried about where you are and when/if you're coming home.
3: Save the Amends for Later.
Early in recovery, most of us want to run around apologizing for everything we've ever done.  I wanted to apologize for the time I broke a glass while making dinner at my Dad's house the summer after 7th grade.  I am not joking here.  There is so much emphasis in the 12 Steps on moral inventory and amends that if you go to a 12 Step rehab, you may be obsessed with it.  An experienced sponsor, wise counselor, or sane person would advise you: save the amends for later on.  Get your feet firmly on the ground first.  The best thing you can do for your family and friends now is take care of yourself.
4: Don't Share Too Much Detail About Your Recovery Program.
Whatever it is, 12 Step, therapy, SMART Recovery, yoga and Zen meditation, training for a marathon while praying daily to a set of gods from a TV series: save the details for your therapist, sponsor, Zen teacher, recovery coach, priest, etc.  Your family a) is not trained to deal with these issues  b) is too emotionally involved  c) may pressure you to go in a direction that doesn't feel right for you (which will make things worse!)  d) will be emotionally triggered themselves by the conversation.  There's a lot to process when you're fresh out of treatment.  Finding good professional help and a good circle of friends with whom to talk it out is key.
5: Take Some Space.
Find ways to be alone, have quiet time, or do what you enjoy.  Take a walk, go the gym, go to a movie by yourself or with friends… just get out of the house or away from the family.  This can be hard if your family tries to put strict limits on your movements, and you have the right to discuss your needs for space with them.  If you are over the age of 18, remember that you are an adult.  The more you act like an adult, not a frightened child or a rebellious teenager, the more respect you'll get.
6: Ask Yourself the Question.
Understand the some families have been given the advice (or just decided) that they need to strictly monitor and limit your freedom. This may include not letting you be alone or leave the house without someone, monitoring your phone calls and computer activity, not giving you access to the car or your own money, etc.  If this is the case, ask yourself this question, and try to answer it as honestly as possible: Am I still in danger of drinking/using?
The Right Moment
Even if you eventually choose to drink in moderation, fresh out of rehab is not the time to try it.  If you've been using drugs that are still illegal, you are in serious danger of going to jail and/or getting a criminal record, as well as overdose, etc., if you use again.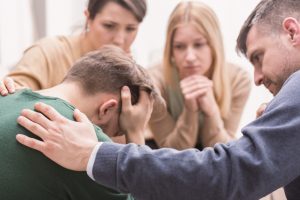 If you are really in danger, then they may be right.  Stick to your program, and remember that this is temporary.
If you are not in danger of doing these things, and are committed to not doing them, then it is unreasonable to lock you up.  Reintegrating into society and normal life will help you recover much more quickly, and maintain positive bonds with your family. You may need to call in the help of a professional to negotiate with your family.
If your family is attempting to put restrictions or requirements on you that you don't understand or agree with, try to talk it out in a calm, neutral setting when everyone is sober (including your parents/significant other/adult children – I'm guessing they drink too) and as sane as possible.  Let's face it: everyone is walking on eggshells now.  Listen first.  Ask why they feel x, y or z is necessary.  Feel free to take some time to think, including suggesting you stop chatting for now and come back later on.  Then think of your response.   Keep communications open.
Home After Rehab
Remember: at the end of the day, it's your life.  If you are quitting for your spouse, to please your parents, or to be the perfect little girl you used to be, this isn't going to work.  Making the transition as smooth as possible doesn't mean sacrificing your deeply held beliefs, freedom or identity.  It just means keeping everything as chill as possible until you can all go about the business of living life.
_____
Photos Courtesy of Shutterstock.