Is There a Way to End Doctor Shopping?
According to the Center for Disease Control, in 2014 there were 4,395 overdose deaths in California. That's the largest number of overdose deaths of any state in the nation. In 2013, California hospitals were treating one opioid or heroin overdose every 45 minutes.
If you've been following the news at all, you know that opioid addiction has become a national epidemic. In California, opioid addiction is reaching crisis levels and we at Alternatives are seeing it every week…
Addiction is not only destroying the lives of California residents and their families, it also accounts for more than 17% of the state's healthcare costs. According to the Partnership for Drug­ Free Kids, that's the highest percentage in the country. Fortunately, there might be help on the way.
Solutions in Motion
Prescription drug monitoring programs (PDMP) are staterun electronic databases that collect data regarding controlled substances prescriptions from the pharmacies in that state. PDMPs have been shown to make doctor shopping much more difficult. They don't eliminate the demand for prescriptions drugs, per se, but they do help address pill mills and other easy access points. They help make it harder for individuals to amass large quantities of pills for sales purposes. They can also, to some extent, reduce doctor shopping.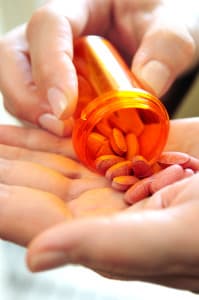 Doctor shopping is the practice of going to several different physicians each month for the same prescription in order to feed a patient's growing opioid addiction. Individuals who doctor shop are seven times more likely to die of opioid overdose.
PDMPs are very successful in states which have already passed similar bills. For example, in just the first year, doctor shopping decreased 75% in New York, and the number of doses of opioids dispensed decreased 10%. So far twenty­two states require pharmacies to submit data daily, and twenty­seven states collect data on a weekly basis. Ten states mandate physicians check a PDMP before prescribing a Schedule II­IV controlled substance. California might be on its way to becoming the 11th state to mandate PDMP review.
California's PDMP is known as the Controlled Substance Utilization Review and Evaluation System (CURES). A new bill, proposed by Senator Lara, would mandate all prescribing physicians check CURES prior to prescribing a Schedule II or III controlled substance for the first time and annually if the drug remains part of the patient's treatment program. Currently, pharmacies are required to submit prescription information to CURES within seven days. The bill also stipulates physicians who fail to comply are subject to disciplinary action by the appropriate licensing board.
The Work is Worth It
There's no doubt that this legislation would require extra work from prescribing physicians, and I believe they should be compensated for it in some way.
We know that a behavior as strong as compulsive drug use does not get fixed by regulation. But I do hope that passing such laws can help prevent new individuals from becoming addicted.-Adi JaffeHowever, research does show the monitoring of these drugs might be working in other states (there is some research disputing this, so we need to stay vigilant). Too many families are devastated and too many lives are lost due to this opioid addiction epidemic.
Mandating that physicians check PDMPs is by no means the solution to the addiction problem. Individuals who are addicted will continue finding ways to get their needs met and some doctors will likely ignore the regulation (and enforcement will be difficult). We know that a behavior as strong as compulsive drug use does not get fixed by regulation. But I do hope that passing such laws can help prevent new individuals from becoming addicted.
If we're going to use physicians as gatekeepers for these drugs, which we have since the passage of the Narcotics Act in 1914, we should at least put in place safeguards to secure the gates.
Images Courtesy of iStock