5 Alternatives to AA 12-Step Groups
The 12-step recovery program promoted by Alcoholics Anonymous, and offered nationwide at treatment centers and rehab clinics, has become synonymous with recovery from an alcohol substance abuse disorder. However, it is not the only framework that can help those with an addiction pursue sobriety and find support, despite the common thought among the public as AA being the sole option.
This isn't to say AA doesn't work: It does for many people. But, crucially, the 12-step process might not work for everyone. Those struggling or living with an alcohol addiction can find help and guidance in non-AA treatment programs if 12-step groups haven't been effective for them in the past. And while they remain popular across the country — and the globe at-large — a body of evidence points to only marginal success in attendees sticking with meetings long term. The spiritual element and perception of being coerced into attending 12-step groups by the law can also have dimming effects.
The problem is that many of the potential alternatives to AA don't have as big of a profile as the 12-step program. To help raise awareness for those who seek sobriety or have a loved one battling an alcohol addiction, here is some information on AA and five alternatives to 12-step programs.
What is the 12-step process, and how did it become popular?
Importantly, the AA 12-step process is not a treatment program. Rather, it is a mutual support group that offers individuals the chance to utilize peer bonds, sponsor relationships, and avenues of self-expression to help find sobriety. While these programs exist for narcotics addictions, the most well-known 12-step groups relate to alcohol addiction.
Started in 1935, Alcoholics Anonymous began in Akron, Ohio, as a way to connect people with alcohol use disorders and thereby support each other toward achieving sobriety.1 By 1939, 100 sober individuals had resulted from three group iterations, and one of AA's founding members published a text outlining the group's philosophy, as well as the integral 12-step process. These steps include:2
Admitting powerlessness over alcohol and that it has made life unmanageable.
Coming to believe that a higher power can restore sanity and order.
Making the decision to turn over personal will to the care of that higher power, devoting life to God.
Making a searching and fearless moral inventory.
Confessing to a higher power, to the self, and to another person the exact nature of personal wrongs and faults.
Readying the self for that higher power to remove defects of character.
Asking a higher power to remove those shortcomings.
Making a list of all persons harmed and becoming willing to rectify those wrongs.
Offering direct amends to such people wherever possible, except if doing so would cause them injury.
Continuing to take a personal inventory; prompt admitting of any wrongs.
Using prayer and meditation to strengthen the connection with the higher power.
Having had a spiritual awakening as the result of these cumulative steps, spreading the message to those in need, and practicing these principles throughout life.
By 1950, there were 100,000 people in recovery who progressed through the 12 steps, as endorsements by media and historical figures (like the captain of industry John D. Rockefeller) helped bring the cause and recovery program to the greater public. Its place in American culture continues to grow: As of January 2018, there were more than 61,000 12-step groups in the U.S. and nearly 1.3 million members.3 Globally, there were around 120,000 groups and more than 2 million members.
Drawbacks
While immensely popular, there are complaints many have with the 12-step structure. These generally fall into three camps: research that indicates questionable effectiveness; the fundamental role of spirituality and faith; and the specter of coercion among people forced to attend.
Evidence of effectiveness is mixed
AA generally touts a success rate of around 50 percent, and many studies examining its preferred 12-step approach have found it to be largely effective with those who stick with the program. However, that success is qualified by the fact many don't engage long term, lessening that seemingly broad, positive impact. A review of AA member surveys over a nearly 30-year period found 81 percent of newcomers stopped attending after one meeting, and nearly 90 percent had dropped out within three months.4 Only about 5 percent make it a full year. A separate review of experimental studies testing the effectiveness of 12-step programs concluded nothing "unequivocally demonstrated the effectiveness of AA or [12-step facilitation] approaches for reducing alcohol dependence or problems."5

Spirituality a barrier for many
Ultimately, AA approaches to recovery from alcohol addiction are rooted in spirituality and faith. These can act as massive obstacles to those who want to get sober, but do not hold religious views. Another pitfall is that while the group does not endorse any one religious ideology, the overwhelming context for its 12-steps is Christianity, which might make people outside that faith hesitant to attend and in search of a secular alternative to AA.
Perception of 12-steps attendance through coercion
As the dominant recovery program, AA has become a fixture in American treatment centers and other settings where the facility may require patients to engage with the program. Other mandates to attend result from legal judgements. In any case, forced participation can be a significant turn off for those who are in the program and can lead to further negative side effects, like guilt or behavior that leads to a relapse or exacerbates addictive behaviors.
What are the alternatives to AA?
With 12-step groups getting most of the attention, those seeking alternative to AA  or non-religious addiction meetings might have difficulty finding one, especially a non 12-step recovery program that is effective. To that latter point, a 2018 study published in the Journal of Substance Abuse Treatment compared the effectiveness of non-12-step programs to the AA framework.6
It found attendees of the mutual help, non-religious alcohol support groups had higher levels of satisfaction and cohesion, while exhibiting the same level of involvement and activity with those in the AA 12-step groups. It also revealed key demographic trends, as mutual help group attendees skewed less religious, of a higher socioeconomic status and not as committed to abstinence from drinking — meaning they might be more interested in moderation techniques rather than total avoidance.
Besides highlighting the efficacy of non-AA groups, the research also helped show they exist — something many aren't aware of. To that end, here are five alternatives to AA to consider:
1. SMART Recovery
One of the leading alternatives to 12-step recovery is SMART Recovery, which bills itself as a mental health and educational recovery program that helps individuals change their behavior and thinking regarding substance abuse.
SMART being an acronym for "self-management and recovery training" emphasizes a person-first approach that helps attendees build self-confidence that they can beat alcohol addiction, while giving them tools to do that: like a cost-benefit analysis worksheet for drinking.
This is done in part through cognitive-behavioral psychotherapy. Using a methodology called REBT — Rational Emotive Behavior Therapy — SMART Recovery can help participants fundamentally change destructive behaviors and perceptions.
Instead of a 12-step approach, SMART Recovery group meetings and interactions are centered around four core ideals:
Building and maintaining motivation.
Coping with urges.
Managing thoughts, feelings, and behaviors.
Leading a balanced life.
It is an abstinence-based program, meaning it a useful alternative for those with problem drinking tendencies. According to the non-profit, more than 3,000 SMART meetings take place across the world each week.7
2. Women for Sobriety
As the name might indicate, this mutual help group is focused on providing recovery support and services for women, who have unique needs and substance abuse pressures that can go underserved or overlooked in other settings. That's why WFS was started: to connect women other women, allowing them to help each other come to terms with addiction, change for the better and find sobriety.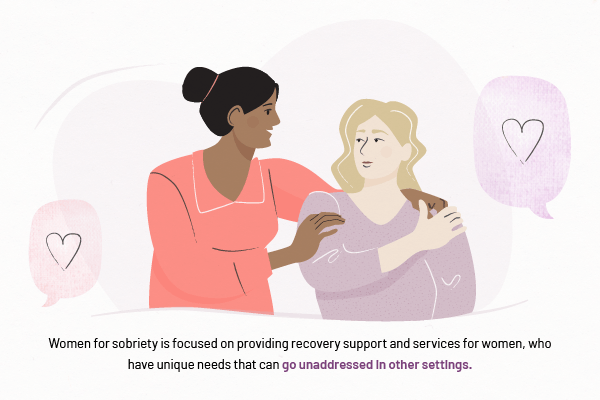 Women for Sobriety is an abstinence-based recovery program, and while it does not have a rigid 12-step structure, there are 13 affirmations to its New Life Program, which include mantras like:8
"Happiness is a habit I'm developing."
"Love can change the course of my world."
"All love given returns."
"I am a competent woman, and have much to give in life."
The general positive tenor of these affirmations can be a stark contrast to the 12 steps outlined by AA. Overall, WFS focuses on encouragement, cognitive strategies, healthy living through meditation and diet, and dynamic group involvement.
3. LifeRing Secular Recovery
LifeRing Secular Recovery is a relatively new alternative to AA meetings, only being active since 2001, but offers those in need a recovery program that does not place ultimate sobriety in the hands of a "higher power." The spirituality aspect of AA can be overbearing, and the secular identity of LifeRing welcomes people from all corners of both religious and nonreligious life — according to LifeRing, around 40 percent of participants attend a house of worship. The key difference being that spiritual beliefs are kept private and faith is not the central conduit to recovery.
LifeRing is an abstinence program and uses cognitive behavior approaches as well, which the organization defines as empowering the sober mind and constraining the mind of substance use. This is done through the "3-S" philosophy: sobriety, secularity, and self-help. LifeRing's mission can be boiled down to using "recovery methods that rely on human efforts rather than on divine intervention."9
4. Moderation Management
While the above groups are all focused on achieving abstinence from alcohol or narcotics use, Moderation Management allows adherents to chart their own course. MM is targeted at individuals who don't have as severe a problem, but who recognize moderation can lead to a healthier and more enjoyable life. This may limit its efficacy in treating those with more substantive alcohol abuse disorders and patterns. MM notes, for instance, that it can be a starting place to gauge whether one has a drinking problem, and if moderation is not attainable and the program is ineffective, it means a more involved recovery program is needed.
For those who don't have to abstain from drinking altogether, MM offers them a way to take personal responsibility, remain accountable to the self, assist others in reaching a healthy place, and refine internal mechanisms so that a couple drinks don't turn into a binge or harmful behavior. While MM is a non 12-step group, it does encourage participants to take a step-by-step approach to changing their behavior, which includes points like:11
Keeping a diary of drinking behavior and any consequences of it.
Undergoing an initial 30-day abstinence period to experience the positives of not drinking.
Being mindful of drinking after the abstinence stint and developing personal rules.
5. Secular Organization for Sobriety
Another secular alternative to AA and the 12 Steps, SOS was begun by James Christopher, who attempted to complete 12-step program to beat his drinking problem, but was put off by the overarching role of the "higher power" and its function of faith as sobriety. Knowing he likely wasn't the only one to experience such discomfort, Christopher started SOS as an alternative support group to AA that didn't stake sobriety on religious convictions.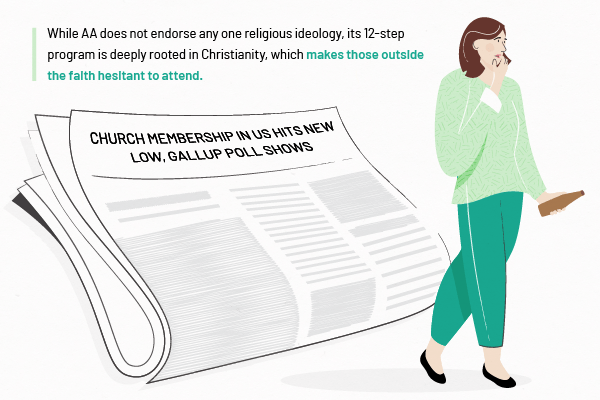 Organizationally, SOS is a collective of secular recovery groups that does not have an inherent structure besides focusing on promoting self-reliance, self-control, and self-empowerment in those who wish to stop using alcohol or drugs. It is an abstinence program with the final intention of getting attendees to quit substances for the long term.
Talk to American Addiction Centers about getting sober
Tried a 12-step process without success? Know a loved one who has tried to get sober but has trouble finding the right structure? American Addiction Centers is not a mutual help group, but a treatment provider that can help individuals begin and continue their journey to sobriety. Want to learn more about how we can help? Contact us today.