How the Japanese Deal With Alcohol
The social pressure to drink alcohol in Japan is overwhelming. Important life events such as wedding or a baby's first visit to the shrine are marked by ceremonial drinking of alcohol.
Business life requires drinking: employees are expected to go out for happy hour after work. A word has even been coined for networking over drinks: "nomunication," which is a combination of the Japanese word "nomu" which means "to drink" and communication. In an informal survey conducted by the Japan Times, when asked "Do you think people should feel comfortable drinking a nonalcoholic drink?" one respondent replied, "No, if your boss is drinking, you should drink as well."
Heavy drinking is the social norm.
The Impact of Alcohol in Japan
It is unsurprising that Japan has a serious problem with Alcohol Dependence (AD) and Potential Alcohol Dependence (ADP). The Japanese health ministry estimates that 1.09 million people had alcohol use disorders in 2013.  Another 10 million fell into the potentially alcohol dependent category. Out of those, only 40,000 to 50,000 have received treatment.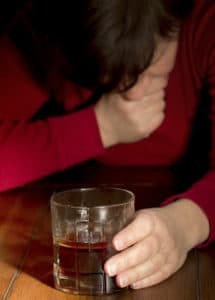 There is tremendous stigma in Japan around being diagnosed as alcohol dependent or considered an "alcoholic." While excessive drinking is tolerated and even encouraged – in fact, according to the Japan Times, it is not unusual to see company workers passed out on benches during the day – the label of alcoholic is one that carries with it images of laziness, moral weakness, and mental defect. According to a 2014 study, family and friends and colleagues of AD patients associated the AD label with daily drinking, family problems, becoming violent while drinking, mental illness and mental weakness. Excessive drinkers without the label alcohol dependent, however, were much less frequently perceived to have mental illness and mental weakness. Researchers considered the stigma around diagnosis of alcohol dependence to be one of the main reasons why alcohol dependent individuals seek treatment so infrequently, and often wait to seek treatment until they suffer serious physical problems. Other possible impediments to seeking treatment included that there is frequently a requirement for hospitalization at the beginning of treatment, and that many patients are not willing to consider total abstinence.
Attitudes around the goal of treatment are changing, however. Harm reduction approaches, where total abstinence is not required, but an emphasis is placed on minimizing the harms that come to the patient even if he or she continues to drink, is becoming more widely accepted by the medical community in Japan and by family and friends of people with alcohol dependence and potential alcohol dependence as well. In a survey of 200 Japanese physicians who treated at least 20 patients with alcohol use disorders in the last year, 68% reported that "the treatment goal depends on the characteristics of the individual patient," while 75% of physicians were open to pharmacotherapy to help patients who were not able to abstain completely to achieve controlled drinking.
Eliminating problem drinking at earlier phases can avoid the physical and social damage that occurs as alcohol dependence potential progresses to full blown alcohol dependence.-Kenneth Anderson
More and more physicians are willing to consider reduced drinking as a valid goal of treatment as opposed to requiring total abstinence, especially since reduced drinking can slow the progress of liver damage and improve liver function. This is particularly important because reduced drinking is a goal that is more acceptable to patients in earlier phases of alcohol use disorders than abstinence, and primary care physicians, who are likely to be the first health care providers these patients come into contact with, are able to present reduced drinking as a possible goal. Eliminating problem drinking at earlier phases can avoid the physical and social damage that occurs as alcohol dependence potential progresses to full blown alcohol dependence.
Interestingly, the preferred goals of treatment varied by physician specialty. Of all the specialties, psychiatrists put the highest value on abstinence. Internists were more concerned with quality of life, whereas gastroenterologists aimed for reduced volume and greater control of drinking.  Other specialties put more value on physical health than psychiatry. The goals of treatment presented to the patient could vary greatly depending on where in the healthcare system they were first diagnosed.
The families of people with alcohol dependence were very positive about reduced drinking as a goal. This could be explained by their concern for their family member's health. Potentially alcohol dependent individuals were more concerned about their relationships and mental health than about their physical health. Most were positive about reduced drinking, or harm reduction.
As in the United States, support groups have been identified as helpful to the resolution of alcohol problems. The largest support group for those with alcohol use issues in Japan is called the All Nippon Abstinence Association. It has a great deal in common with Alcoholics Anonymous, but with a distinctly Japanese twist. It has approximately 800 members and 650 chapters. Instead of steps, it has an abstinence vow that reads:
We admit we are powerless over alcohol and we need help to break the habit.
We will participate in meetings and speak frankly about ourselves.
We will reflect on our mistakes and accept the damage that alcohol has caused.
We will strive to change and create a new life for ourselves.
We will repent for the trouble we have caused our families and others.
We will help others struggling with alcohol abuse by sharing the joy of abstinence.
"Danshu no Chikai" or "The Vow of Abstinence"
Founded in 1963, it took many ideas from AA but wanted to remove AA's Christian emphasis and replace it with Japanese values. Like AA, complete abstinence is its goal, and members believe that it is impossible for an "alcoholic" to return to controlled drinking. However, a key difference between the All Nippon Abstinence Association and AA is that there is no concept of anonymity. Members sign in at the door and are called on by name. The secretary-general of the Association, Gen Otsuki, says, "This is a place to come out in the open by using your real name, and to build relationships based on that. You cannot hide your true self here." This is a strong stance in a society that stigmatizes those who identify as alcoholics so much that they are often cut off from society, including their families.
Alcoholics Anonymous does exist in Japan, but has only approximately 5,700 members.
Becoming abstinent or reducing drinking may be difficult in the United States, but the social pressure to drink at all occasions and stigma around admitting that one has a problem make it much more difficult in Japan. As harm reduction approaches become more acceptable and widely offered as options to those who find themselves drinking more than they want, it will be easier to reduce the negative physical and social impacts of alcohol dependence without requiring people to label themselves, potentially cutting themselves off from society and their families. 
In a country where drinking is woven so thickly into the cultural fabric, abstinence is simply not a desirable or attainable goal for most people. Harm reduction approaches that put the patient's own goals and needs first, including the need to socialize at work and participate in the ceremonies that mark life events, will be much more effective than treatments that require abstinence. While some might find that abstinence is their preferred choice, harm reduction will be a better solution to the public health crisis caused by widespread alcohol dependence.
Images Courtesy of iStock