How Body Image Affects Our Sex Drive
Our body image has a strong influence on how we behave towards ourselves as well as towards others. A major area where body image comes into play is our sex lives. As you might imagine, feeling horrid in and about one's own skin doesn't make intimate encounters all that enjoyable – especially for women.
Several studies show that among women who dislike or feel shameful about their bodies, sexual risk-taking (think: having sex without a condom or having casual sex with multiple partners) is higher. This may be due in part to the lower sexual assertiveness found among women with poorer body image. It may also be due to the higher likelihood women with poor body image have of consuming alcohol or substances, if not only to quell the anxiety and discomfort they experience in regards to their appearance.
Under the influence, women are more likely to make unsafe decisions than they might make while sober – or less likely to be able to effectively articulate physical and emotional boundaries.
Studying Body Image and Female Sexual Experiences
Interested to better understand how different aspects of body image influenced specific aspects of women's sexual experiences – namely: their desire, arousal, and ability to achieve orgasm – a team of researchers at the University of Guelph led by Christopher Quinn-Nilas recruited 88 women between the ages of 18 to 25 to fill out several questionnaires measuring body and relationship satisfaction: The Global Measure of Relationship Satisfaction (GMERL), the Eating Disorders Inventory-2 (EDI), the Body Esteem Scale for Adolescents and Adults (BESAA), the Body Image Self-Consciousness Scale (BISC), and the Female Sexual Function Index (FSFI).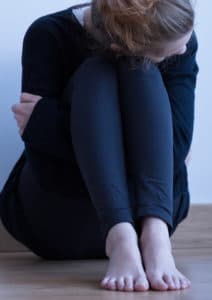 The GMERL asked women to rate questions (such as "In general, how would you describe your overall relationship with your partner?") along dimensions such as good­–bad or pleasant–unpleasant. The EDI was used to assess evaluative body image (the cognitions or thoughts women had about their bodies) by asking women to rate along a scale ranging from "always" to "never" how often they had thoughts such as "I think my stomach is too big." The BESAA, which measured affective body image (the feelings women had about their bodies), allowed women to rate on a scale ranging from 1 (never) to 5 (always) how often they experienced certain sentiments such as "I like what I look like in pictures." The BISC assessed how women's sexual behaviors were affected by her thoughts related to her body by asking women to rate on a scale ranging from 1 to 6 how much they agreed with statements such as "While having sex I am (would be) concerned that my hips and thighs would flatten out and appear larger than they actually are." Finally, FSFI measured women's arousal, desire, and orgasm frequency within the four weeks leading up to the study by having them rate their responses to questions like "Over the past 4 weeks, how would you rate your level (degree) of sexual desire or interest?" on a scale from "very low or none at all" to "very high" and questions like "when you had sexual stimulation or intercourse, how often did you reach orgasm (climax)?" on a scale from "almost never or never" to "almost always or always"
Quinn-Nilas and his team found that women who reported more negative evaluations of – and feelings towards – their bodies had lower sexual desire and lower sexual arousal over the past four weeks than those who reported more favorable evaluations of and feelings towards their bodies. Women with more negative thoughts and feelings related to their appearance were also more likely than women with favorable body-related thoughts and feelings to state that their sexual behaviors over the past four weeks were influenced by body image concerns. Additionally, women with poorer evaluations and more negative feelings about their bodies reported more difficulty achieving orgasm than women whose views about and feelings towards their bodies were more positive.
Interpreting the Data
Several explanations exist for the multi-pronged effects that poor body image can have on women's arousal, desire, and orgasm. On the one hand, negative emotional experience of body dissatisfaction can sap enjoyment from sexual activities (and all events leading up to them). On the other hand, body dissatisfaction, as Quinn et al. suggest, can interfere with a woman's perception of "cues necessary for sexual arousal."
The fact that women who have poor body image both experience less pleasure from sex and are more likely to have risky and more frequent sex is troublesome. Clearly, negative body image is a risk factor for physical and emotional health concerns…-Katherine Schreiber
As Quinn et al. point out, prior research has established that women's sexual desire is heightened by perceptions of another person's interest in her. If, however, a woman is so caught up in her own self-consciousness (or, in some cases, self-hatred) that she fails to pick up on such clues, such a significant trigger of arousal is that much less salient to her. As a consequence, her own desire may decrease – as might the quality (or existence at all) of her orgasm, which may otherwise have been enhanced by perceptions of desire from her partner, via that perceived desire's heightening of her own arousal and desire.
The fact that women who have poor body image both experience less pleasure from sex and are more likely to have risky and more frequent sex is troublesome. Clearly, negative body image is a risk factor for physical and emotional health concerns (from STIs and unintended pregnancies to low self-esteem, depression, and anxiety). But it is also a risk factor for never or rarely experiencing the pleasure derived from fully inhabiting one's own skin, imperfections and all. Less severe as this may seem, when compared to physical health risks, such a lack of pleasure sets the stage for the deep disappointment, disembodiment, disconnection and emotional flatness that can increase one's propensity to reach for substances or behaviors to fill those voids.
The Benefits of Improving Body Image
In seeking to improve women's body image (men's too, for that matter), treatments aren't just frivolously raising self-esteem. They are empowering women (and men) to more fully experience their bodies – so that they do not feel compelled to compensate for an emptiness inside of them by further harming their physical and emotional health.
Images Courtesy of iStock