Growing Research Interest in Non 12-Step Support Groups – Slow But Sure
For a long time I've been frustrated about the dearth of research on non 12-step recovery support groups. I've noted previously that government funding and researchers' interests in this area have been largely directed toward the study of Alcoholics Anonymous (AA) and its 12-steps, while the study of alternative support groups has been neglected. (The professional name for support groups is "mutual help groups" – they include 12-step groups, SMART Recovery, LifeRing Secular Recovery (LifeRing), Women for Sobriety (WFS), among others. For a description of AA alternatives, see If Not AA, Then What?)
The focus on 12-step groups is, in large part, because AA is so widely available and so many people attend it, with most recent estimates of 60,698 groups and 1,262,542 members nationwide. Since up until the last decade or so, this widely used support group, which most addiction programs use in some fashion, was subjected to little study; it's certainly warranted researchers' attention.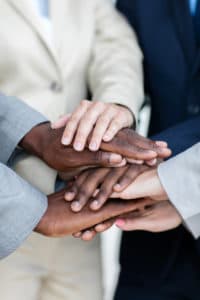 However, as researchers point out in a new study on non 12-step support groups in the Journal of Substance Abuse Treatment (JSAT), "12-step groups are not appealing to many, and providers have had limited success in cultivating consistent, long-term engagement among clients seeking substance abuse treatment…treatment studies reliably indicate that most people fail to meet the recommended, minimal threshold of regular, weekly attendance during the year following treatment."
In addition to poor adherence, the researchers express concern that mandating 12-step involvement is "legally and ethically problematic," noting higher court rulings that such coercion violates first amendment rights because of what the courts judge to be religious aspects of 12-step groups. (See my articles, You Can't Make Me – Or Can You? Mandated AA Attendance and the Law and You Can't Make Me – But You Can Help Me Find An Alternative to AA.) In short, there are good reasons to have alternative support groups available to individuals with substance use disorders, but the groups need more scientific study.
The new JSAT findings, released by Sarah Zemore, Ph.D. and fellow experts at the Alcohol Research Group in Emeryville, California, not only offer insights about how members of leading support groups compare and contrast, but also suggest that exposing clients to diverse support groups is wise. In addition, the study provides the best summary I've seen to date of research on non 12-step support groups.
Past Research on AA Alternatives
In their summary of the limited research that does exist on AA alternative support groups, the Zemore group included the following highlights:
A small number of studies examining single mutual help groups, including WFS, SMART, Secular Organizations for Sobriety (SOS), and Rational Recovery (which used to have groups but is now an online program) reported positive associations between length/intensity of involvement and length of sobriety plus other beneficial outcomes. (This is in accord with findings of many studies suggesting that greater 12-step group involvement is associated with better recovery outcomes.)
A study published in 2007 in the Journal of Substance Abuse Treatment involved more than 800 attendees of 12-step groups, WFS, SMART, and SOS. The researchers found that involvement in any recovery group directly increased the amount of time participants stayed sober and that there were no significant differences between the different support groups. However, religious individuals were more likely to be involved in 12-step groups or Women for Sobriety. Nonreligious people were more likely to actively participate in SOS and SMART and significantly less likely to participate in 12-step groups.
The researchers did not mention (perhaps because it had not been published at the time their study went to press) the largest study to date on SMART Recovery, which I wrote about in May of last year. This Australian study involving more than 5,700 prisoners showed numerous positive outcomes for an adaptation of SMART Recovery (Getting SMART) for prisoners. Getting SMART brought about more favorable reconviction outcomes than any other drug and alcohol programs (including AA, NA, and general drug and alcohol abuse programs) inmates attended, based on time to any new conviction.
The Peer Alternatives (PAL) Study
In what they've named the Peer Alternatives in Addiction (PAL) Study, Zemore and her colleagues conducted the first longitudinal* study comparing members of 12-step groups with the major alternatives, WFS, SMART Recovery, and LifeRing. On-line surveys were completed by 651 respondents – all reporting a history of an alcohol use disorder – to measure mutual help participation, substance use, psychiatric and clinical variables (such as recovery goal – ranging from total lifetime abstinence to controlled use), demographics, plus other variables.
*In a longitudinal study the same individuals are observed over a period of time. The PAL Study will have three "waves" of data collection: baseline, 6-month, and 12-month follow-up. The current study includes baseline data.
Attendee Differences:
The researchers found significant differences among attendees of a mutual help group on nearly all the variables they studied. Following are some of the more notable ones:
Members of all of the 12-step alternatives were less likely than 12-step members to identify themselves as religious or spiritual and more likely to identify as agnostic/unsure or atheist. Differences were greatest for LifeRing and SMART. (My note: Perhaps WFS members were more likely to be religious than the last two groups because one of the WFS tenets is, "The fundamental object of life is emotional and spiritual growth.")
Recovery goals differed significantly across groups, with LifeRing and SMART members being less likely than 12-step members to endorse the most stringent goal of total lifetime abstinence.
Despite lower levels of in-person meeting attendance, members of all the 12-step alternatives showed equivalent activity involvement and higher levels of satisfaction and cohesion than did 12-step members. (My note: This is interesting in light of the emphasis on frequency of meeting attendance in 12-step circles.)
Members of all 12-step alternatives were generally higher on education and income.
The authors emphasize that the differences they found across the groups they studied may be relevant when advising clients on choosing a mutual help group. They say:
Unfortunately, encouraging clients to shop around for support groups with varying philosophies appears to seldom happen. I find that many clients have only heard of 12-step groups – even though a good number of them have made the rounds at various treatment programs..-Anne Fletcher"The mutual help alternatives may be especially appealing to secular, highly educated individuals because these alternatives emphasize cognitive–behavioral (i.e., scientifically informed) strategies rather than religious or spiritual change – somewhat in contrast to the Twelve Step program of recovery, which calls for admitting powerlessness over alcohol, acknowledging a power greater than ourselves, and making a decision to turn our will our lives over to the care of 'God as we understand Him.' (Alcoholics Anonymous,1939)."
However, they also indicate that it may be hard to know in advance which group might appeal to a person. University of Washington's Daniel Kivlahan, Ph.D., a prominent researcher in the substance use disorder field added, "The way people choose to affiliate with groups may not be the way they would most likely benefit. It seems to me that the emphasis should be more on the researchers' conclusion that their findings suggest that providers wishing to facilitate mutual help group involvement might encourage clients to try multiple groups. In other words, I'd encourage people to shop around."
Unfortunately, encouraging clients to shop around for support groups with varying philosophies appears to seldom happen. I find that many clients have only heard of 12-step groups – even though a good number of them have made the rounds at various treatment programs. Failure to inform clients about AA alternatives not only gets in the way of such groups' growth, but the many people who fail to connect with the 12 steps often wind up with no long-term support.
Images Courtesy of iStock