Fentanyl is a Ticking Time Bomb
In September 2016, I wrote a Pro Talk article with the alarming title "OxyContin's Killer Offspring: Fentanyl and Carfentanil". I was terrified by the increasing prevalent practice of lacing street drugs with powerful fentanyl (50 times more potent than heroin) and the super powerful carfentanil (100 times more potent than fentanyl).
Reality has turned out to be much more hideous than my worst nightmare. Fentanyl deaths are increasing exponentially. And recent drug busts in New Jersey and Massachusetts explain why.
A drug raid in New Jersey netted a whopping 100 pounds of fentanyl. Since just one quarter of a milligram can be lethal, this cache alone had the potential to kill 18 million people – that would wipe out everyone living in New York City plus the entire state of New Jersey. All neatly packaged in one small, easily transportable bundle that can fit conveniently into the trunk of a car. Oh, so easy to smuggle.
Independently, cops in Massachusetts seized 33 pounds of fentanyl. In divided doses, this would be enough to kill all the state's population of 6.8 million people. District Attorney Daniel Conley said opioids now "claim more lives in Massachusetts than all homicides, all suicides, and all car crashes, statewide, combined."
This bust also clearly illustrates the utter futility of the U.S. "War on Drugs" – at the very moment the Trump administration is set to escalate it.
The fentanyl was to be distributed by the Sinaloa Cartel. You will recall that, until a few years ago, Sinaloa was led by the notorious Joaquín Guzmán, now on trial in New York City. "El Chapo's" high profile arrests and extradition were the pride of our DEA and his escapes were the stuff of movies. But putting Guzman in prison, probably for life, has done nothing to stop the flow of drugs. Drug cartels are resilient and, after some bloody in-fighting, sprout new heads without missing a beat.
Fentanyl's Spectacular Rise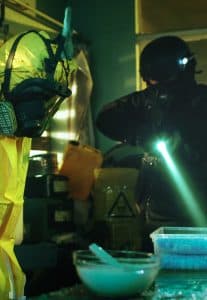 The total number of overdose deaths in the U.S. has been increasing dramatically – up to about 65,000 per year.
Most of the bulge is due to fentanyl-related deaths, which have exploded from 3,000 to more than 20,000 in just three years. Until recently, fentanyl was an exotic and only occasional killer. Now it has become the leading killer, surpassing both legal prescription opioid pills and illegal heroin. Fentanyl is "Public Health Enemy #1."
And fentanyl is a stealth drug, making it particularly hard to contain. Many, perhaps most, of the people killed by fentanyl don't even know that they have taken it.
Because it is so powerful, fentanyl is often added secretly to boost the potency of street drugs, or sold as a counterfeit form of OxyContin. But just a little too much fentanyl can be lethal, especially in naive users who have no tolerance and never knew what hit them.
The widespread use of fentanyl has completely swamped already limited state treatment and prevention resources. And the geography of death is also changing. While OxyContin deaths concentrate in poorer states (like West Virginia), fentanyl hits heavily in more prosperous states (like Maryland) – probably because it is so often laced into or sold as a counterfeit form of other drugs.
The bottom line is that street drugs have never been so dangerous. Buyers can no longer really "beware" because you never know what you are buying and your seller often doesn't know what he is selling. No street pill or powder can ever again be trusted again, however innocent looking, however "reliable" the seller or giver seems to be. A single "party pill" can end a life.
Time for Efficient Damage Control
Fentanyl can never be stopped by Trump's brand of law-and-order toughness. It is too easy to synthesize – numerous labs in China and Mexico are producing large quantities. It is too easy to smuggle via normal postal service. And it is too easy to distribute.
We have done the interdiction "war on drugs" experiment for 45 years, and it has failed miserably for 45 years. If the DEA couldn't constrain heroin, how will it ever have any meaningful impact on the much more elusive and deadly fentanyl?
If the DEA couldn't constrain heroin, how will it ever have any meaningful impact on the much more elusive and deadly fentanyl?-Allen Frances
The cat is out of the bag with fentanyl. It will never go away. The best we can do is efficient damage control.
Most immediately, we desperately need a widespread and aggressive public education campaign to highlight fentanyl's scary prevalence, stealth preparations, and terrifying risks.
Effective advertising scared people off smoking and might give many second thoughts about casually buying, or accepting the gift of, street drugs before, or at, a party.
Overdose antidotes must be made widely available, at reasonable or no cost, along with education on proper use to all first responders.
The Bottom Line
Fentanyl use feeds on the extent to which other drugs, especially, but not just, opioids, are used in the general population. Easy access to treatment for all addictions may be the most enduringly effective way to reduce fentanyl deaths.
And the complete impossibility of fentanyl interdiction raises again, and most poignantly, the controversial question whether all drugs shouldn't be legalized. This would ensure their provision in predictable and safer dosages, as well as cutting out the cartels and raising revenues.
The current political Trump trend is all toward failed law-and-order solutions…and away from a more sensible public health approach. But sooner or later, we must hope that sounder policies will finally prevail.
Images Courtesy of iStock