Do You Need Meetings to Recover? 
Get to a Meeting!
When someone suspects (or when their family suspects) that they have a substance problem, the first thing they usually hear is: "Get to a meeting!"
So they look up Alcoholics Anonymous or Narcotics Anonymous (even though there are many lesser known alternatives, such as SMART Recovery, Refuge Recovery, and Harm Reduction, Abstinence and Moderation Support) and end up in a church basement, drinking coffee and listening to the 12 Steps.
Do Meetings Actually Work?
Either they like the people, vibe with the Steps, and decide to come back, or they don't feel quite comfortable.  Some people are not religious and don't believe in a "Higher Power."  Others just don't want to accept the one-size fits all approach of AA.  Most don't continue to attend after 30 days, and even fewer after a year.  In spite of its claim that "It works if you work it," AA's actual success rate is about 5-8% per year.1
According to AA's own 2011 survey, 14% of members in the US and Canada were court-ordered to attend.2  Those who attend without court order are often mandated by employers or pressured by family members.  It looks like most people don't actually want to go to 12 Step meetings.
So why this insistence – from courts, employers, families, and television and movies – that those with substance use issues should attend meetings?
AA's "90 Meetings in 90 Days Suggestion:" Some Reasons Why:
Going to meetings provides social support. Isolation can be a main driver of substance use problems.
Meetings are an alternative to drinking/using. Go to a meeting after work instead of stopping at a bar.
Going to meetings creates a sense of accountability.
Addiction often leads to a life of chaos: going to meetings can provide structure.
What Does the Scientific Research Say?
But is going to meetings really necessary for recovery?  The data says a definite "No."  According to the National Institute on Alcohol Abuse and Alcoholism's (NIAAA) National Epidemiologic Study on Alcohol and Related Conditions (NESARC), a giant survey of over 40,000 individuals repeated in several waves over multiple years, recovery without meetings or any sort of treatment is by far the norm, not the exception.3  According to the NIAAA, "About 75 percent of persons who recover from alcohol dependence do so without seeking any kind of help, including specialty alcohol (rehab) programs and AA."3
Did You Quit Smoking?  Did You Need Meetings?
Stanton Peele, JD, PhD, an addiction expert with a forty year history of researching, writing about and treating addiction from a science and common sense, not religion-based, perspective, often uses the example of smoking.  Dr. Peele asks an audience: "What's the hardest addiction to quit?"  Most people will say, "smoking."  Then he will ask, "How many of you have quit smoking?"  Many raise their hands.  "Of those of you who quit, how many attended meetings?"  Of course, almost no one had even heard of a Nicotine Anonymous meeting.
So why go to meetings?
The short answer is: Go to meetings if you want to.
John, who battled alcohol for over 30 years and now no longer drinks, said, "I did lots of AA meetings, but as an atheist I never 'got' the program.  Still, feeling isolated contributed to my drinking.  Now I attend other, non-12 Step fellowships such as SMART and Refuge Recovery, which weren't around when I first got sober. I attend several meetings a week, including some AA meetings, and find the bonds I've developed help me keep from drinking."
Sally Sanders, a SMART Recovery facilitator from California, says, "I always remind participants that the goal is to live a balanced, addiction-free life.  Recovery meetings should not be a lifelong thing.  It's not helpful to be constantly reminded of something you have worked to put behind you."
Steve Ellis, a facilitator for Buddhist-based Refuge Recovery, shared that "Being in community, meditating and sharing openly all leave me feeling lighter, hopeful and connected."
Can Meetings Hurt?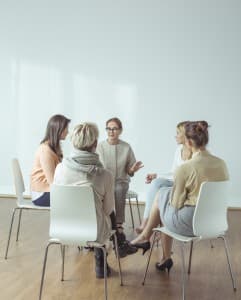 Yes.
If you feel pressured into going, shamed, forced to share, or triggered by other people's stories, that meeting is doing more harm than good.  Many people find that just talking about drinking or using all the time makes them want to drink more!
Taking on an identity as "addict" or "alcoholic" can become a self-fulfilling prophesy: the more you believe that you are an addiction, the more likely you may be to continue to act that way.  That's why SMART, Refuge Recovery, and Harm Reduction, Abstinence and Moderation Support all refuse to use labels.
Are there alternatives?
Yes!  If you want support, there are plenty of alternatives to meetings!
First, you can join a group that isn't about substance: clubs, meet-ups, sports leagues.  I once did 90 yoga classes in 90 days!  Just doing something positive on a regular basis can help.
There are also plenty of online support groups.  Harm Reduction, Abstinence and Moderation Support is almost entirely online, with over 6,000 members worldwide in several vibrant Facebook groups, including one for women only.  HAMS supports all goals, from abstinence (not drinking at all) to moderation to  safer drinking.  Said one HAMS member: "Online allows me access to support when and where I need it.  I also worry less about anonymity.  I can share more openly with people who don't judge me.  And there's no pressure to show up!"  SMART also has online forums.
Should I Go To Meetings?
Go to meetings if you find them helpful.  But do you need them to recover?  Definitely not.
References:
1 Dodes, Lance M. The Sober Truth : Debunking the Bad Science behind 12-Step Programs and the Rehab Industry. Boston: Beacon Press, 2014.
2 Fletcher, Anne.  (July 14, 2018) "You Can't Make Me – Or Can You? Mandated AA Attendance and the Law"  Rehabs.com, ProTalk.  https://rehabs.com/pro-talk/you-cant-make-me-or-can-you-mandated-aa-attendance/
3 NIAAA Spectrum.  Alcoholism Isn't What It Used to Be.  https://www.spectrum.niaaa.nih.gov/archives/v1i1Sept2009/features/Alcoholism.html
_____
Photos Courtesy of Shutterstock