Changing Thoughts, Changing Patterns: A Therapeutic Approach to Solving Problematic Drinking
What would you say if I told you that actively changing your thinking can solve problematic drinking? It might seem too good to be true. But studies have shown that cognitive reframing (i.e. changing thoughts) can lead to desired changes in behavior.
It's true; emotions, thoughts and behaviors all directly influence each other.
Yielding Healthier Behaviors
Consider two scenarios. Mr. X receives a job promotion. This leads to emotions that are happy, excited, and fulfilled. The thoughts that follow these warm and buoyant emotions are gratitude that his hard work has paid off and strategizing about what business moves he'll make next.  The behaviors that naturally follow these positive thoughts include things like calling his family to celebrate, going for a run to burn off energy, and he buys a new planner to start organizing his calendar.
Now consider Mr. Y. He also receives a job promotion. Emotions that saddle Mr. Y include fear and nervousness. His thoughts automatically go to wondering if he was the right choice for the job, and he worries that he won't be able to handle more responsibility. Mr. Y's actions are less healthy and include calming nerves with alcohol and other substances that tend to relax his mind.
But although positivity comes naturally for Mr. X, it does not have to elude Mr. Y. With the right therapy, motivation and goals, anyone can change their automatic negative thoughts to yield healthier behaviors.
Cognitive Behavior Therapy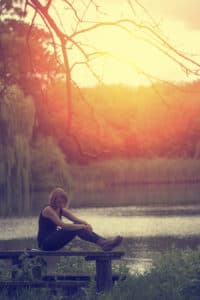 Cognitive behavioral therapy (CBT) has been widely studied and applied to different mental health issues including anxiety and depression. Positive results are also seen when CBT is applied to addictions. In practice, CBT is a short-term, goal-oriented form of psychotherapy that takes a hands-on, practical approach to problem-solving. CBT works on the premise that moods and actions follow thoughts. Its goal is to change patterns of thinking that lead to problematic actions. Drinking in excess or compulsively can be one such behavior that causes disturbances to individuals.
The history of CBT is robust and interesting. Alfred Adler was one of the first therapists to notice how unhealthy behaviors arise from negative thinking. His thinking followed Freud, who had theorized that certain types of thinking can lead to emotional distress. And later in the 1960s, Dr. Aaron Beck formally developed CBT as a tool to help patients be aware of their "automatic thoughts." Such thoughts could manifest as distressing behaviors such as anxiety, restlessness, self-harm, or possibly substance abuse. Once an individual learns to be aware of and name their thoughts for what they are – automatic and negative, they can begin the work to reframe that thought.
Over the decades, CBT has evolved. Mainstream CBT assumes that changing maladaptive thinking leads to a change in behavior. More recent trends suggest that the pivotal work emphasizes changes in one's relationship to maladaptive thinking, rather than changes in the thinking itself. An abundance of information on the topic can be found at the Beck Institute. Here, you'll learn more about the following key terms:
Cognitive formulation: Beliefs and behavioral strategies that characterize disorders
Conceptualization: Understanding of clients as individuals with unique beliefs and behavioral patterns
Cognitive model: How an individual's reaction to a situation can influence their perception of it
Automatic thoughts: Unconscious beliefs
Phases of CBT include; assessment, reconceptualization, skills acquisition, skills training, maintenance and post-assessment follow-up. The cultivation and evolution of a trusting and honest therapeutic alliance is the essential foundation of CBT. Sometimes that relationship will lend itself to the assignment of "action tasks" that can be completed between sessions and then reviewed together. And CBT incorporates an approach of "togetherness" between patient and provider, where a key point is collaborating on the goals of treatment.
And CBT could also become mainstream in the treatment of depression, according to the National Institute for Health and Care Excellence (NICE). And the UK's National Health Service announced in 2008 that a greater emphasis on CBT would be promoted. Therapists are trained to provide CBT at government expense as part of an initiative called Improving Access to Psychological Therapies (IAPT).
Emotions and Thinking
It's true that emotions, thoughts and behaviors all directly influence each other. Reframing thinking can solve problematic behaviors – such as addictions.
Remember the cases of Mr. X and Y – they were in similar situations, but it was the link between their emotions and thinking that led to vastly different behaviors. It's possible to reframe the thinking with a goal towards healthier behaviors with CBT.
To learn more about CBT and whether or not it might be right for you, consider checking out more information at the Association for Behavioral and Cognitive Therapies.
Images Courtesy of iStock