Can Connecting With Your Future Self Help You Beat an Addiction?
How well do you know your future self? Who is that person and how closely aligned is that person to the one you see now?
I recently explored this question with a group of clients at the substance use/mental health disorder clinic at which I work, while helping them think about their "recovery vision."
Envisioning Your Future Self
They shared future visions that included finding new and meaningful careers, having better relationships with their children, being able to write and perform music again (without being under the influence of alcohol or other drugs), looking forward to having grandchildren and being "present" for them, writing a memoir, and writing books that help children deal with trauma.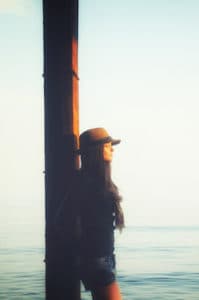 I then showed them an interview on YouTube with Stanford University-affiliated health psychologist Kelly McGonigal, Ph.D., author of The Willpower Instinct: How Self-Control Works. Why It Matters, and What You Can Do to Get More of It (among many other books.) In the interview, McGonigal talks about research showing that most people view their future selves as total strangers – and that the more you feel like your future self is a stranger, the less likely you are to do things to protect that person's health and happiness.  (Why would you invest in a stranger when you can indulge someone –your present self – you know and love?) She also says that if you believe that who you are is someone who wants indulgence – someone who will only be satisfied with immediate gratification – your willpower will run out because every choice you make for your long-term good is going to feel like deprivation.
For instance, this research suggests that if you see yourself as "an addict" or "an alcoholic" who can't envision climbing out of that role (with all the baggage it's brought), rather than connecting with some greater future goal or vision of whom you want to be, it's much easier to sink into a "poor me/why me" role. The latter is more likely to use to meet your immediate needs. However, if you instead see yourself as a strong non-using person – one who is going to reconnect with family, go back to school, and/or move on professionally – then you're more likely to be able to work toward those goals by not doing things that will get in the way.
McGonigal is alluding to research reviewed in the Annals of the New York Academy of Sciences by Hal Hershfield, PhD, a UCLA professor who's been following this line of research for many years. (For instance he's been involved in studies on the "future self and its impact on ethical decision making and on weight management.) He concludes that the evidence suggests that "when the future self seems similar to the present self, when it is imbued with realism and vividness, and when it is seen in positive terms, people are more willing to make sacrifices today that may benefit them at some point in the years to come."
How Can You Stop Seeing Your Future Self as a Stranger?
Most of us view self-defining moments in the past, not the future. The past is what we know – for instance, we recall the birth of a child, getting a diploma, or landing a promotion. But one of the ways to connect to your future self, McGonigal says, and in turn to be able to delay immediate gratification, is to identify a "self-defining future memory." She explains that to the degree that you can look into your future and imagine something that is going to feel important and be of enduring value, and then try to think of it like a really vivid memory that has already happened, it can greatly increase motivation and willpower and help to support important changes.
To imagine this life you'd like to have and who you'd like to be in the future, McGonigal suggests an activity in which you write a letter from your future self to your current self…-Anne Fletcher
To imagine this life you'd like to have and who you'd like to be in the future, McGonigal suggests an activity in which you write a letter from your future self to your current self, expressing gratitude and congratulating your present self for having the courage and willingness to do things differently now.
She says, "Really imagine yourself as that future self, looking backward with this great gratitude and compassion – to the person who was willing to make that change when it was difficult. It gives you the sense of both connection to a future self and the sense that it's possible. And believing that change is possible is actually part of what drives our willingness to do things when it's still quite difficult."
Letters to Clients From Their Future Selves
I've showed McGonigal's video to clients numerous times, but until recently didn't suggest that they actually carry out her suggestion to think about self-defining future moments and then try their hands at having their imagined future selves write letters of congratulations, encouragement, and compassion. Once they got into it, it was hard to get some of them to stop. One woman said, "This was an incredibly powerful experience." Almost all of them chose to read their letters out loud, and I encouraged them to share their letters with their counselors.
Here is a compilation consisting of some highlights of what they wrote:
"Dear past self,
I just wanted to let you know a couple of things: 1) You did it and 2) it was totally worth every second and ounce of energy you put in. Congrats on not giving up when you were seemingly given no chance. Thank you for being so resilient with everything that has happened to you in your life. Thank you for all of your willingness and drive to want to get sober and healthy. I feel great mentally right now and that's all due to you deciding to start therapy for your trauma/PTSD. Congratulations for not giving up on yourself.
Thank you for all the times you put yourself into treatment and for all the counseling and therapy you have done. I'm so grateful for all the 12-step meetings you attended. Thank you for working with a doctor and being open to taking medications. I'm proud of you for taking the time to walk, read, and meditate each day and most of all for your sobriety.
I'm very proud of you for stepping out of your discomfort and building better relationships with your children and grandchildren. You have developed a great relationship with your parents, which in the past wasn't strong. Now that you have found peace in your sobriety, it has brought the family so much closer. You fought the battle and won.
I love you. You are enough."
Images Courtesy of iStock