Antidepressants and Weight – The One You Choose May Help You Lose (or Gain)
A common concern when first prescribed an antidepressant is, "Will it make me gain weight?" That's a legitimate question, now more fully supported by a long-term study on weight change after starting an antidepressant.
Antidepressants are among the most frequently prescribed medications in the U.S. According to the U.S. Centers for Disease Control's latest Health report, nearly one out of 10 adults were on at least one antidepressant in the past 30 days. Because they're so frequently used and people are often on these drugs for long periods of time, at the same time that obesity rates keep climbing, the researchers' findings raise cause for concern.
In scientists' lingo, they say that the cause is probably "bidirectional" – that is, obese adults are at greater risk of depression, and people with depression are at greater risk of obesity.-Anne FletcherWhen it comes to the national picture on obesity, a new study published in the Journal of the American Medical Association indicates that nearly 38 percent of U.S. adults are obese. An all-time high of about 40 percent of women are now considered obese as are 35 percent of men, about the same since 2005. (Authors of an accompanying editorial state: "Obesity threatens to reverse decades of improvements in mortality.") Thus, any widely used medications that might add to the problem should be chosen wisely.
To compound the issue with antidepressants and weight change, authors of the first study, published in the Journal of Clinical Medicine, note that obesity and depression often go hand-in-hand. In scientists' lingo, they say that the cause is probably "bidirectional" – that is, obese adults are at greater risk of depression, and people with depression are at greater risk of obesity.
Which Antidepressants Do What to Weight?
The team of researchers who examined the relationship between long-term antidepressant use and weight change was led by David Arterburn, M.D. of the Group Health Research Institute, the research department of a large group health delivery system. Using electronic health records, they included adults with a diagnosis of depressive disorder who started treatment with a newer (termed "second-generation") antidepressant between 2005 and 2009, excluding patients who had other conditions, underwent procedures, or were taking other medications that have a significant effect on weight.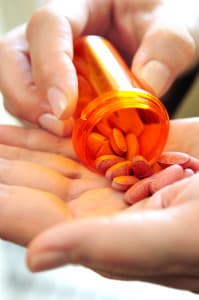 In the end, out of thousands of patients, they identified 227 whose weight was recorded over a period of two years, who took the same antidepressant for the entire time. Since fluoxetine (Prozac) was the most commonly used antidepressant, weight changes on other antidepressants were compared with those on fluoxetine. Because bupropion is also used to help people quit smoking (trade-named Zyban when used for smoking cessation and Wellbutrin for depression), the researchers examined its weight-related effects in smokers and non-smokers separately.
Only two antidepressants were associated with weight change: sertraline (Zoloft) and bupropion. Sertraline users gained an average of about 6 pounds more than fluoxetine users.*
*Note that a number of antidepressants, such as escduloxetine (Cymbalta) and escitalopram (Lexapro) were not evaluated because they were either not on the health plan's formulary or too few patients were taking them to estimate two-year weight changes.
After 2 years, non-smoking bupropion users weighed an average of about 7 pounds less than non-smoking fluoxetine users, who had gained 4.6 pounds. Those who took bupropion for the entire 2-years weighed an average of 8.4 pounds less than non-smoking fluoxetine users.
On the other hand, smokers who took bupropion gained an average of just over 2 pounds more than smokers who took fluoxetine. When I asked Gregory Simon, M.D., another of the study's researchers, why he thought bupropion was associated with weight gain in smokers, he stated:
"We can only speculate.  Maybe those people reduced or quit smoking, and weight gain associated with that cancelled out effects of bupropion. We do know that quitting smoking leads to weight gain."
Since there's no evidence that antidepressants differ in their efficacy and bupropion is the only one associated with long-term weight loss, the researchers concluded that "this medication should be the first-line drug of choice for all overweight and obese patients unless there are other existing contraindications" such as a history of seizure disorder, anorexia nervosa or bulimia.
I wondered, however, if the caution about eating disorders doesn't depend on whether the disorder would be in long-term remission and if perhaps bupropion might be helpful in stabilizing an overweight or obese bulimic patient – for instance, that they might be less likely to purge. Dr. Simon said:
"You are right. The specific concern is that bupropion can increase the risk of seizures in people who are purging or restricting so severely that they have electrolyte disturbances. I personally believe that the warnings about bupropion for eating disorders are too global."
Underscoring the Importance of Therapy
It's important to know, too, that in the guidelines used by the health care system from which the researchers recruited the study participants, cognitive-behavioral therapy, is recommended as part of first-line treatment for depression. Yet the researchers found that prescribing antidepressants surpassed psychotherapy as the initial treatment of choice for depression in the system with 75 percent of antidepressants prescribed by primary care physicians.
However, studies indicate that CBT can be as effective as second-generation antidepressants in treating depression. According to the Association for Behavioral and Cognitive Therapies:
"Research suggests that medications often work but they do so only for so long as you keep taking them, whereas CBT may reduce risk for subsequent symptom return long after treatment is over."
CBT can also address such problems without causing side effects and on an enduring basis – you can learn skills in CBT that may reduce your risk of problems coming back. Ideally, antidepressant use and therapy should go hand in hand.
Image Courtesy of iStock