My Patient is Addicted to Alcohol
My Patient Has an Alcohol Addiction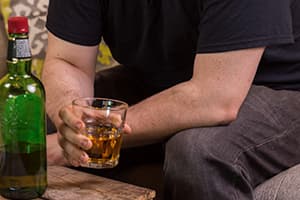 Alcohol addiction is a complicated issue that intersects with many other aspects of life, including law enforcement. Helping your patient get clean and to stay drug free is an important and often necessary step toward moving past difficult situations. Patients addicted to alcohol can face a number of serious consequences related to their addiction, including child abuse or neglect, problems with social service agencies, difficulty holding down a job and crime related to needing to obtain more money for drugs.
Encouraging a Patient to Seek Rehab
Most people have some awareness that their alcohol use has become a problem. Alcoholism interferes with their personal relationships or employment. Being arrested or losing a job is a very good reason to convince your patient to seek rehab. It may be easier to convince your patient to seek rehab when they are receiving treatment for alcohol-related illness or injuries or during recovery from illnesses where alcoholism may make it difficult to get well. You have many available alcohol addiction resources for healthcare professionals to suggest to patients.
Rehabs.com is an American Addiction Centers resource and understands the challenges of helping patients maintain their recovery. Rehabs.com is here to help your patients get the treatment they need. We're here for them, and for you, 24/7 @
Pros & Cons of Inpatient Rehab vs. Outpatient Services
Patients addicted to alcohol each have different issues and preferences. Inpatient rehab is a good solution for patients who have the time to devote to a lengthier stay, at least 28 days, and a greater need to remove themselves from their usual environment and relationships while they get well. Outpatient services are a good choice for patients who need to maintain a job during treatment or those who have families to care for. It still offers some counseling and treatment options without requiring full time residency. Both are effective and useful types of treatment resources for healthcare professionals to help alcohol addicts.
Is Residential Rehab the Best Option?
Residential rehab is a comfortable, homelike setting where patients are able to spend more time getting the care that they need. There is a community environment with the cohort of other patients who are going through treatment at the same time, and this will be a peer group that can offer support to your patient. However, residential treatment is expensive and it can be difficult to maintain a job or care for a family while pursuing this treatment option.
What Does Executive Treatment Offer over Other Rehabs?
Executive treatment provides a relaxing environment where busy or high profile patients can go to get well. Although executive treatment facilities still have the same great counseling services to help the patient as any other facility, the executive center is more luxurious and seems more like a resort than an institution. An executive treatment center is also more accustomed to dealing with high-profile or celebrity clients.
Explaining the Rehab Process to Your Patient
Intake and assessment

Intake and assessment is the part of treatment where your patient's alcohol addiction will be evaluated by a trained counselor. The intake counselor will determine a basic level of issues that your patient is dealing with, as well as any underlying health issues that must be addressed.
Detoxing

Withdrawal from alcohol addiction can be a very serious medical issue and can even be fatal. Therefore, a medically supervised detox period must be part of any rehab plan.
Addiction treatment

Addiction treatment encompasses many things to help your patient get better. Some of the included treatments will include individual and group therapy, any necessary medical treatments and education about coping skills.
Specialized care

Alcohol addiction is often co-morbid with other physical and health conditions, including depression, anxiety, chronic pain and sometimes issues such as diabetes.
Extended care/after-care

Recovery from alcohol addiction will be a lifelong process and does not end when your patient leaves rehab. Patients are prepared to succeed in sobriety with a variety of ongoing treatment and support groups.
Is it Private and Confidential?
Because substance abuse is a legitimate medical issue, information about treatment is protected under the Federal privacy guidelines set forth in the Health Information Portability and Accountability Act (HIPAA.) Only appropriate medical professionals related to the patient's treatment will have access to the information, unless the patient authorizes other individuals when he or she signs a waiver at intake.
Can my patient have a private room?
"Withdrawal from alcohol addiction can be a very serious medical issue and can even be fatal." Many facilities do have private rooms available. However, some insurance plans (if applicable) do not cover the extra expense usually associated with having a private room.
Paying for Drug, Alcohol and Behavioral Addiction Treatment
How much will it cost?
The cost for drug, alcohol and behavioral addiction treatment varies based on whether the treatment is inpatient or outpatient, the length of treatment, the amenities offered by the facility and whether the patient receives any extra services such as prescription care. Treatment ranges anywhere from $10,000 to $35,000 or more.
Do rehabs accept insurance?
Many rehab facilities do accept insurance coverage. However, it is the patient's responsibility to find out if the facility they choose accepts the type of insurance he has.
Can the patient finance treatment?
Because treatment is expensive, most facilities are able to help patients find some type of financing so that patients who need treatment can find a way to get it.
What Treatment is Available to Patients without Insurance Coverage?
Many rehab facilities offer treatment on a sliding scale, which provides low-cost or free care to patients based on income. Some community organizations and non-profit groups also offer free or low-cost treatment to individuals, and still other facilities may offer scholarships to defray the costs.
Suggesting Support Groups for Patient Sobriety
Support groups are one of the most popular tools to help patients get and stay sober. Whether it's a 12-step program for alcoholics like Alcoholics Anonymous, a community-based support group through a health department or hospital, or a church-sponsored recovery group, peer support from others in recovery can make it easier to stay sober. Providing Helpline Information for Patient Rehab Options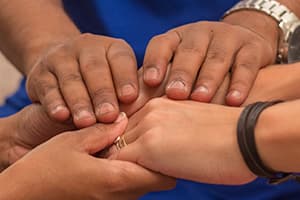 Healthcare professionals offering help for alcohol abusers should always have the phone number on hand for local addiction helplines. These staffed hotlines have trained counselors who can help your patient seek treatment whenever he or she decides it's the right time to get help.
You Owe it to Your Patient to Help!
Alcohol addiction has devastating effects on your patients' quality of life and that of their loved ones. As a healthcare professional, you have both the impartial observations of the patient and the knowledge that help is available. When you want to help your patient overcome alcoholism, you owe it to him or her to make all of these resources known. When your patient is ready to accept help to get sober, please call us at for assistance working through your patient's options.
Questions and Answers
Signs and symptoms of your patient's alcohol addiction According to the Mayo Clinic, signs of alcohol addiction include the following:
Drinking alone or hiding drinking
Feeling unable to stop drinking
"Blacking out" – drinking so much that they can't remember events
Having bottles of alcohol hidden in unlikely places
Having trouble with personal relationships or employment as a result of drinking
Should my patient travel for rehab?

Your patient can consider travel for rehab if their health permits them to do so. Many addicts have emotional issues related to where they live, including unhealthy relationships or places they regularly visit, which contribute to their addiction. A change of scenery can be part of successful recovery.
How is substance abuse information protected in the patient medical record?

Substance abuse information is part of every individual's private medical record that is protected by Federal law. It cannot be shared with the general public and only authorized individuals are allowed access to the information.
More resources about
My Patient is Addicted to Alcohol

: