Hangover Choices: Bad Eating Habits

If you've ever drank the night away with friends and thought waking up with a nasty headache was the worst thing happening to your body, think again. Research has shown even casual or social drinking can leave behind long-term negative effects including depression, dehydration, and skin problems. However, there is something many of us do after heavy drinking that we may not realize is another cause for concern: eating.
Late night munchies are certainly no stranger to the post-drinking paradigm. Not only does alcohol contain calories (some drinks more than others), but also it can lower people's awareness and lead to mindless eating. The daily caloric needs of women are about 1,600 to 2,400 calories per day, while men are between 2,000 and 3,000 calories. However, in certain post-drinking scenarios, people may consume over half of their recommended calories in these meals alone.
So what food stops do most people make after they've had one too many drinks? To find out, we surveyed over 5,900 people about their post-heavy drinking eating habits. Want to know just how bad some of these "hangover cures" really are for you? Read on to see what we discovered.

National Food Favorites

Across the country, people were split on their favorite food stops after a night of heavy drinking: McDonald's, Taco Bell, and Waffle House.
If you've ever gotten a craving for "junk" food after drinking, you're not alone. The search for food with the highest caloric intake (and subsequent burst of energy) with the least effort possible is virtually hardwired into the brain. Gorging on calories may not be smart, but research suggests resisting the temptation might be harder than you think.
In most states, the most common food stop was clear: Taco Bell. Where tacos, nachos, and crunchwraps reign supreme, finding excess calories might not be particularly difficult. States like Texas, Florida, and Colorado agreed this fast food take on Tex-Mex was the way to go.
Still, if you're not in the mood for cheese roll-ups or quesadillas, there are other popular options to choose from. States like California, New York, and Massachusetts opted for McDonald's, while Southern states including Georgia, Alabama, and Mississippi preferred Waffle House.
Dining Under the Influence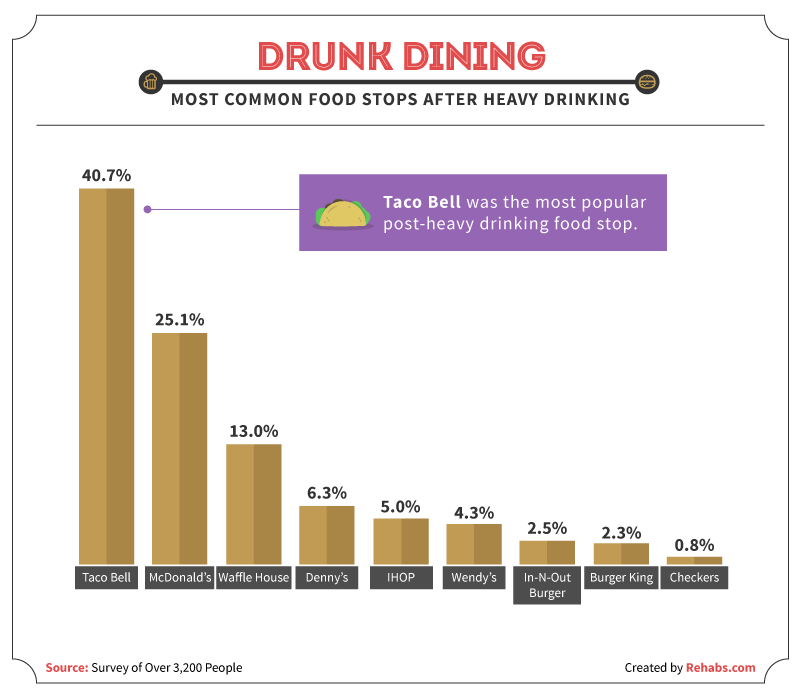 For nearly 41 percent of people, Taco Bell was the top pick for drunk dining. Of course, it's not impossible to order something healthy if you find yourself thinking outside the bun in the middle of the night.
In reality, Taco Bell offers some of the healthiest fast-food options, at least compared to other drive-thru restaurants. In recent years, Taco Bell has reduced the amount of sodium in its food, added a new low-calorie "Fresco" menu, and even cut antibiotics out of its chicken. That doesn't mean ordering your fill of tacos and burritos is necessarily a healthy option, however.
For those who preferred thinking inside the bun, roughly 1 in 4 people opted for McDonald's over any other food stop while under the influence. All-day breakfast options elsewhere were also pretty popular, including Waffle House (13 percent), Denny's (over 6 percent), and IHOP (5 percent).
Hefty Eating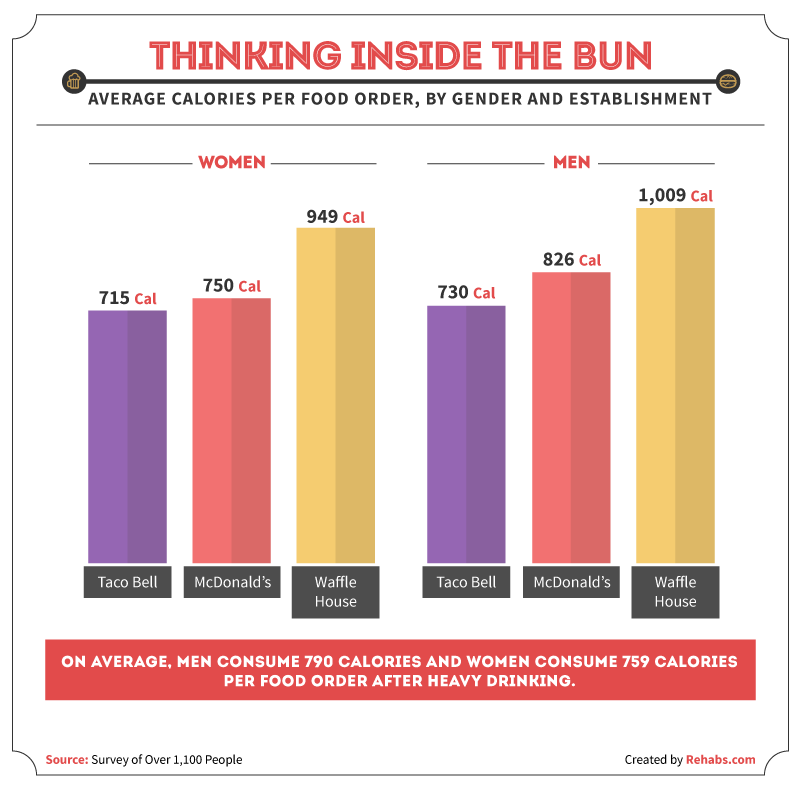 You may have heard that breakfast is the most important meal of the day, but when it comes to drunk dining, pancakes and waffles could come back to haunt you. Even avoiding these classic carbs could still result in a massive calorie intake though.
According to our research, both men and women looking to eat after a stint of heavy drinking consumed the most calories at Waffle House. While women ate 949 calories worth of food on average, men consumed an average 1,009 calories. Despite there being healthier options at this 24/7 breakfast diner, a place that's known for serving 145 waffles every minute is sure to have a few calorie-bombs available too.
Men and women opting for McDonald's over Waffle House typically saved roughly 200 calories on average and even more when eating at Taco Bell. All told, on average, men consumed 790 calories per order after a night of heavy drinking, and women consumed 759 calories on average.
Yo Quiero Calories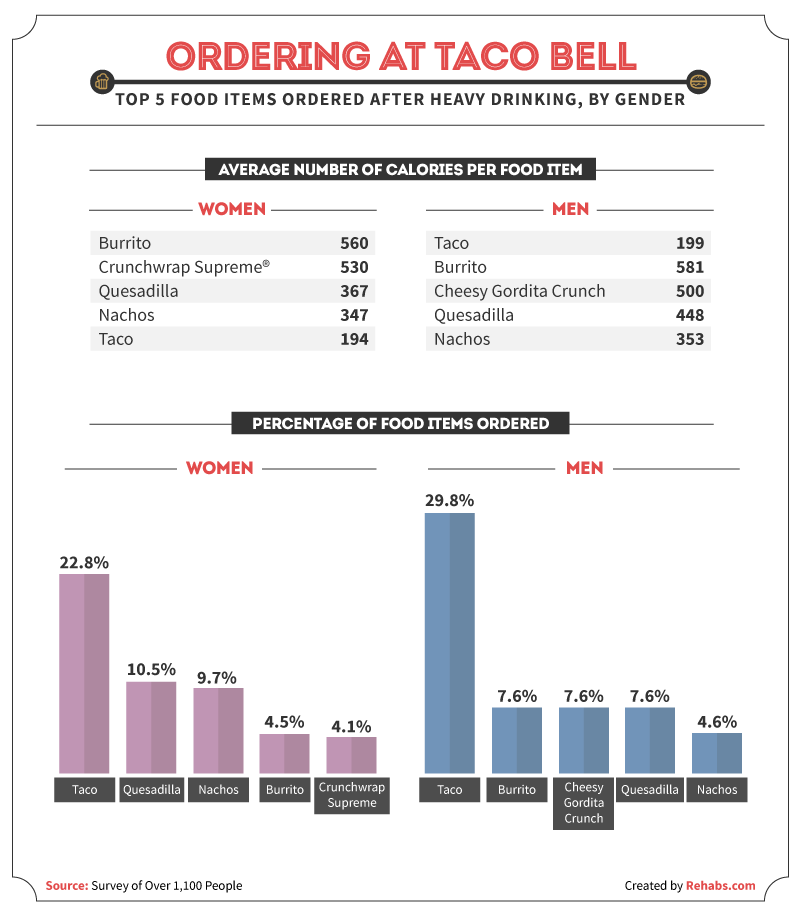 Would you ever consider serving Taco Bell at your wedding? Using a taco as a prop in your high school portrait? How about getting a Taco Bell tattoo? Even if your answer is no, consider that Taco Bell is one of the most popular fast-food restaurants in America with its secret menus and low-cost hacks.
So just how many calories are you ingesting when you order your very own "fourth meal"? Well, that depends on the item. Tacos were one of the most popular options after heavy drinking and also happened to have the fewest number of calories overall. Nearly 30 percent of women and almost 23 percent of men opted for tacos, tallying to just under 200 calories per item.
Looking for more than a simple taco to satisfy those post-drink cravings? Quesadillas, nachos, and burritos were among the most commonly ordered menu items for women and ranged in calories from 347 to 560. Men were more willing to splurge on some of the highest-calorie items, however. Nearly 8 percent opted for the Cheesy Gordita Crunch instead, adding up to 500 calories.
Would You Like Fries With That?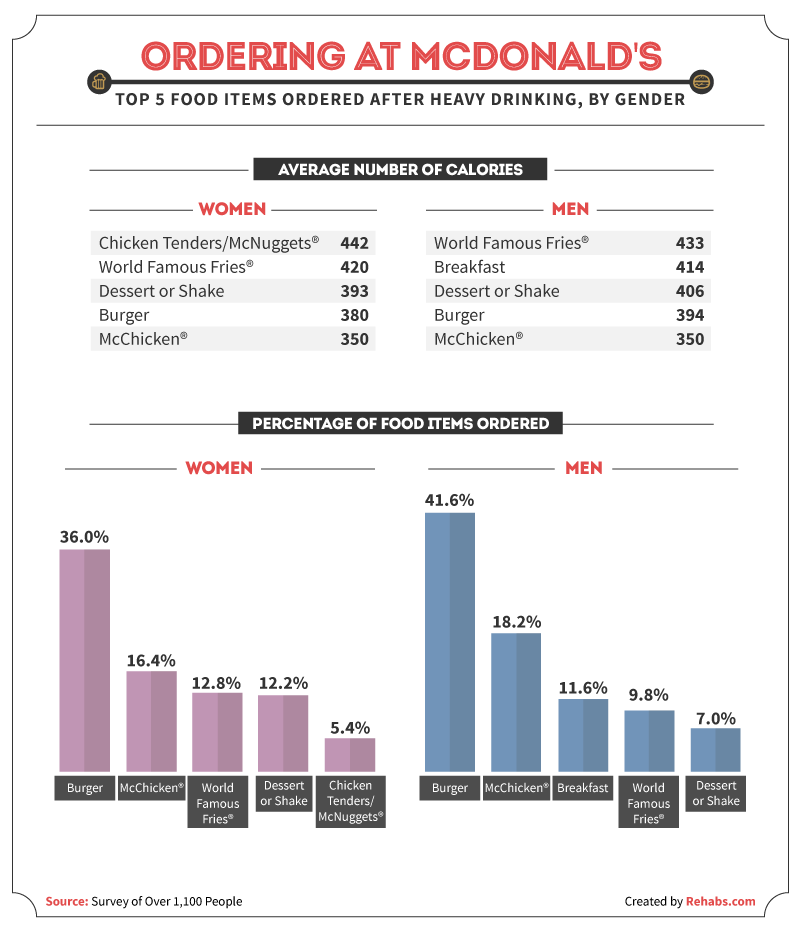 Considered to be among the most iconic and recognizable logos anywhere in the world (and certainly in the U.S.), you can't drive too far in any one direction without running into the Golden Arches. As the biggest name in fast food – and with the highest revenue – McDonald's was one of the most popular choices for drunk dining according to our survey.
Ordering a burger? You may get more calories than you bargained for. Being the most popular food item for over 1 in 3 women and nearly 42 percent of men, the various burgers available on a McDonald's menu can add up to between 380 and 393 calories on average.
Want fries to go with it? Salty substances have been known to help eradicate the effects of a bad hangover, but french fries might not be the best way to go. While slightly more popular among women than men, opting for a side of fries can add an average of over 400 calories to the meal.
Breakfast, Lunch, and Diner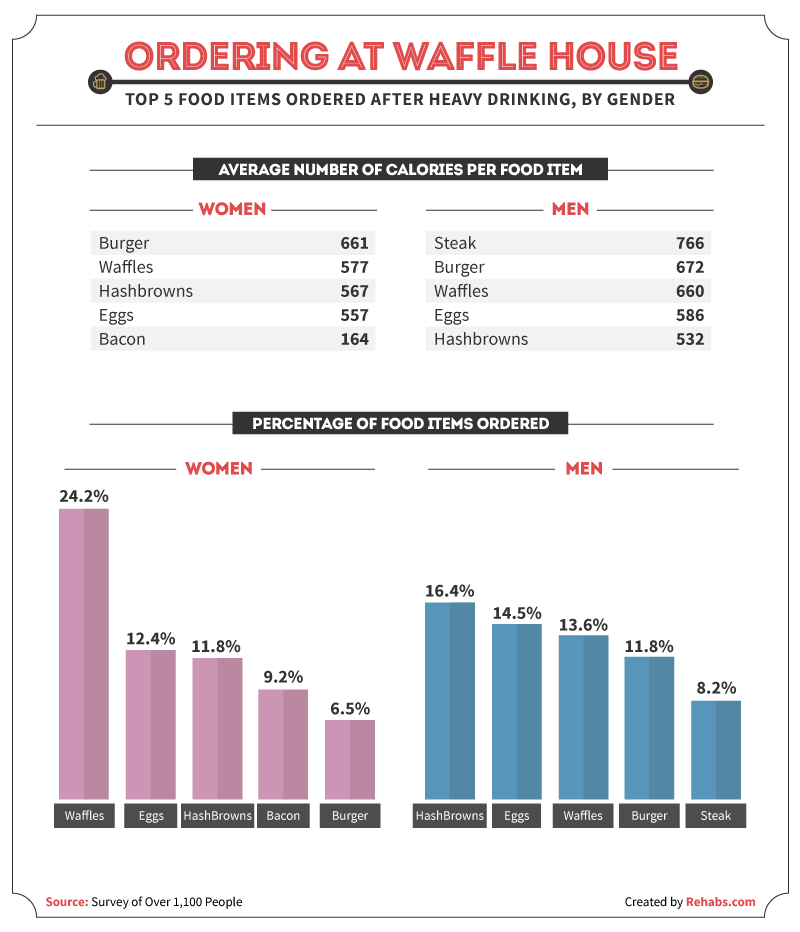 You may already know Waffle House serves more than just the breakfast food of its namesake, but no matter what time of day you pull into this iconic Southern diner, breakfast is sure to be front of mind. With over 2,000 locations across 25 states and more than a billion waffle sales, a vast majority of people wanted one thing: breakfast to help cure the effects of having too much to drink. Both men and women consumed more calories eating at Waffle House than any other popular fast food chain.
And in the unlikely event that you ordered something other than pancakes, waffles, or eggs? The burgers and steaks at Waffle House have even more calories on average than its breakfast food.
Fast-Food Fallout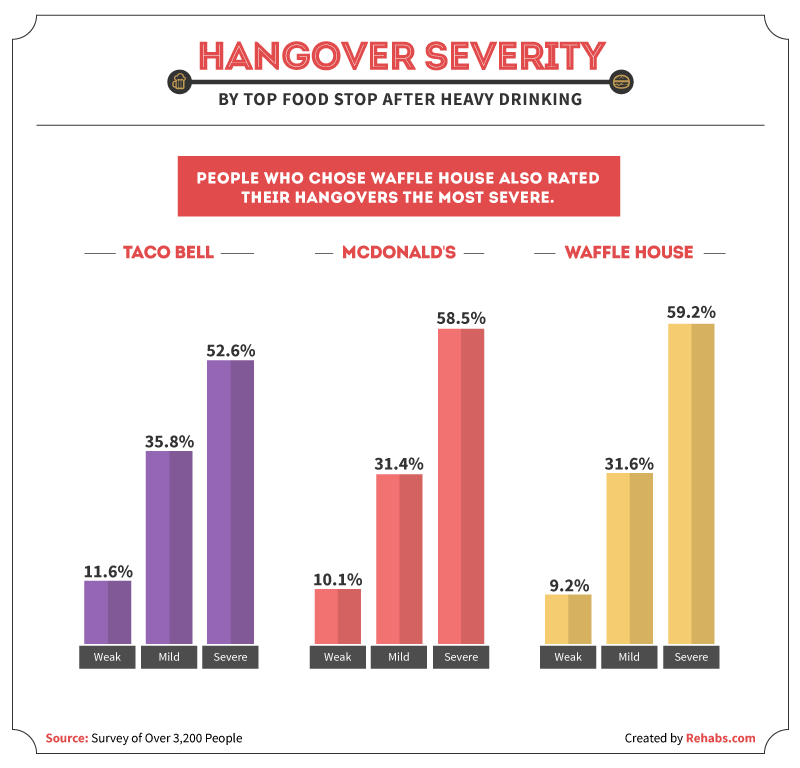 A bad hangover is one of the most obvious ways you know you've had too much to drink. Whether its a headache, dizziness, or even nausea and vomiting, the severity of a hangover is usually linked to how much alcohol you've consumed. Other factors that can impact a bad hangover include eating on an empty stomach, not getting enough sleep, or combining alcohol with other substances. In some cases, the symptoms may be severe enough to warrant seeing a doctor or calling 911.
People who opted to eat Waffle House after a bout of heavy drinking were more likely to report having severe hangovers than those eating at Taco Bell or McDonald's. Interestingly, though, while people eating at Waffle House consumed the most calories (over 1,000 per order for men on average) and voted their hangovers as the most severe.
All Good Things in Moderation
There are many reasons why alcohol is often linked to weight gain. Hidden calories, added sugars, and even binge eating are all a part of the equation. No matter what you're drinking, research shows it's always going to be harder for the body to burn fat when there's alcohol in your system. While every drink should be matched with an extra mile on the treadmill, many of the 5,900 people surveyed might be doing just the opposite. On average, men and women consume hundreds of calories at fast-food chains after a night of heavy drinking.
At Rehabs.com, our mission is to keep you informed with the latest research, studies, and statistical data. Whether you're looking for the best rehabilitation facilities or information to help keep someone from drinking, Rehabs.com is your best resource for overcoming and avoiding alcohol addiction.

Methodology

We surveyed 5,956 people who've consumed alcohol at some point in their lives. 3,848 of them were men, and 1,457 were women. Their ages ranged from 18 to 69, with a median age of 31. Respondents were then excluded from our analysis if they chose a favorite place to eat after drinking not listed in our survey, we were left with 3278 respondents.
Our collection means were a combination of Amazon's Mechanical Turk and Reddit. The limitations of a Reddit-based survey mean we are confined by the demographics and tendencies of the respective subreddits in which we posted. To obtain the foods ordered per establishment, we had a tool built where respondents could input their orders, which you can find here. We had 578 men and 586 women use this tool to order from either Waffle House, McDonalds, or Taco Bell. These data and this content are purely exploratory.
Recommended Articles
Popular Rehab Center Locations
Sources