MDMA (Ecstasy) Treatment Centers Near Me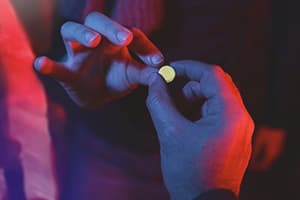 MDMA, commonly known as ecstasy or Molly, is a synthetic amphetamine drug that alters mood and perception. Because of its unique chemical structure, it possesses both stimulant and hallucinogenic properties, and is capable of producing feelings of energy, elevated mood, and euphoria.1
Ecstasy was initially popular as a "club drug" at all-night dance parties, though it now affects a broader range of people. If you think you have a problem with ecstasy abuse or addiction, you're not alone.
Dangers of Ecstasy Use and Addiction

A Life of Recovery
The journey to a healthy, sober life is not a quick and easy one. It is a lifelong commitment of dedication and hard work. The rewards gained from transforming a life of addiction into a life of recovery, however, are immeasurable and well worth the effort. 
Read More
Ecstasy increases the user's heart rate and blood pressure, and high doses of MDMA can affect the body's ability to regulate temperature.1 Spikes in high body temperature can occasionally lead to kidney, liver, or heart failure—even death.1 In 2011, there were 10,176 ecstasy-related emergency room visits involving patients under the age of 21, a 128% increase since 2005.2
Adding to this danger is the risk that pills or powders sold as ecstasy may contain other drugs in addition to MDMA. Much of the ecstasy seized by police contains additives such as cocaine, ketamine, methamphetamine, over-the-counter cough medicine, and synthetic cathinones ("bath salts"). These substances can pose overdose dangers when people do not know what drug they are taking, especially if they are mixing ecstasy with other substances such as alcohol or marijuana.1
Despite the risks of ecstasy use, many people develop patterns of abuse that could lead to MDMA addiction. According to the American Psychiatric Association, people may have a problem with addiction if they exhibit at least 2 of the following symptoms within a 12-month period:3
They take more of the drug than they planned.
They have difficulty controlling their use of the substance.
They spend a good deal of their time obtaining, using, and recovering from the drug.
They crave the substance.
They fail to carry out major life roles at work, school, or home because of their drug use.
They continue to use the drug despite social consequences from its use.
They give up or reduce activities that were previously important to them, such as work, friendship, and leisure activities.
They use the drug under dangerous circumstances, such as when driving.
They continue to use the drug even though it causes, or makes worse, a psychological or physical issue.
Ecstasy Detox and Withdrawal
Many inpatient ecstasy rehab centers provide MDMA detox programs with 24-hour supervision and support while patients allow any remaining MDMA, as well as its lasting toxic influence, to clear from their bodies. MDMA detox may be somewhat unpleasant, but the treatment professionals at MDMA rehab centers can help manage withdrawal effects. Symptoms of ecstasy withdrawal can include the following:1
Fatigue
Depression
Loss of appetite
MDMA Detox is just the first step of ecstasy addiction treatment. Rehab centers may use a variety of behavioral treatments and other therapeutic methods to address your addiction to MDMA and any underlying psychological issues that may have contributed to the addiction.
When you enter ecstasy rehab, the treatment team will work with you to develop an individualized recovery plan that best suits your needs. A successful treatment program will address the unique circumstances that led to your addiction, any medical or mental health issues you may have, possible triggers that may cause you to relapse, and your barriers to recovery.
Choosing Between Inpatient and Outpatient Ecstasy Rehab
At inpatient ecstasy rehab, you can remember how to interact with others—and even have fun—while sober.
At inpatient ecstasy rehab centers, patients live at the facility while receiving addiction treatment, offering the most intensive level of care and supervision. Outpatient ecstasy rehabs allow the patient to continue living at home while attending addiction treatment sessions at the facility. Outpatient programs vary in intensity—some require daily attendance at treatment sessions, while others offer sessions 2-3 times per week.
Good candidates for outpatient therapy will have a strong, sober support network at home. If substance abuse is a major part of your social life, trying to avoid ecstasy and find the support you need may be difficult. Inpatient MDMA addiction treatment programs remove you from negative social influences and provide a new support network of people with similar experiences and struggles with addiction. At inpatient ecstasy rehab, you can remember how to interact with others—and even have fun—while sober.
Free Online Insurance Coverage Checker for MDMA Rehab
Use the free online insurance coverage checker tool below to find out if your health insurance provides coverage for Ecstasy addiction rehab and other rehabilitation treatment plans for substance abuse recovery.
What Type of MDMA Addiction Treatment Is Right for Me?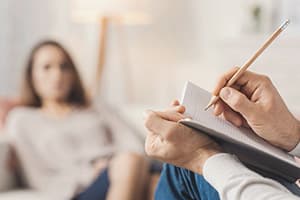 Several therapy options are available to treat ecstasy addiction, and no single method is best for everyone. One of the most common is cognitive behavioral therapy (CBT). During CBT, patients learn to recognize and correct problematic behavior patterns associated with the substance abuse issue being treated.4 Addiction therapists teach skills that help rehab patients think about their choices and interactions differently, leading them to make better decisions. CBT helps prevent relapse by preparing patients to deal with the challenges they will face when they leave rehab.4
Another method of ecstasy addiction treatment is contingency management (CM). CM is an effective approach to reinforce positive behaviors and sobriety. Patients earn rewards, such as prizes or vouchers, for completing treatment-related goals, such as staying sober for a certain length of time.5
Other common treatment methods for MDMA addiction include group counseling, individual therapy, and 12-step programs. Every patient is unique, so your addiction treatment program will depend on your personal circumstances, the length of time you've abused ecstasy, your physical and mental health, and your personal preferences and needs.
Specialty Rehab Centers for Ecstasy Addiction
Though many inpatient rehab centers have a fairly standard residential treatment model, you may want to consider the variety of specialized options.
Luxury rehabs: These treatment centers offer high-end amenities in addition to drug abuse therapy. Luxury rehab centers may offer upscale lodging, exotic locations, swimming pools, spas, massage therapy, yoga, acupuncture, and other alternative treatments.
Executive rehabs: These rehab facilities cater to CEOs and other high-level business professionals who need to keep up with the demands of the office while they receive addiction treatment. Depending on your needs, executive rehabs may offer access to office space with computers and phones, a flexible schedule to travel and visit clients, or other assistance meeting business needs.
Facilities that meet other personal preferences: Would you be more comfortable receiving addiction treatment in an all-male or all-female environment? Is your identity as LGBTQ an important factor in your drug addiction recovery? Do you prefer to travel to a remote location or stay close to home? Numerous options are available, so you can choose the rehab that will give you the best chance for lasting success.
What Happens After Ecstasy Rehab?
Having a place to turn to when triggers arise is critical to preventing relapse, which is why aftercare treatment is an important component of maintaining long-term MDMA recovery and sobriety.
Before leaving inpatient ecstasy rehab, you will work with counselors and medical staff to set up an individualized aftercare treatment plan. This could include family therapy, group therapy, or individual therapy sessions with a counselor. Peer-to-peer support groups, 12-step programs such as Narcotics Anonymous (NA), and ongoing individual therapy are common components of successful aftercare programs.
Returning to regular life after spending time in an inpatient rehab center can be difficult. Even after leaving rehab, you may find that the same triggers and temptations to use ecstasy are still there. These might include stress at work or school, the weekend social scene, or friends who still use MDMA. Having a place to turn to when triggers arise is critical to preventing relapse, which is why aftercare treatment is an important component of maintaining long-term sobriety.
Thank you for your feedback.
American Addiction Centers (AAC) is committed to delivering original, truthful, accurate, unbiased, and medically current information. We strive to create content that is clear, concise, and easy to understand.
While we are unable to respond to your feedback directly, we'll use this information to improve our online help.